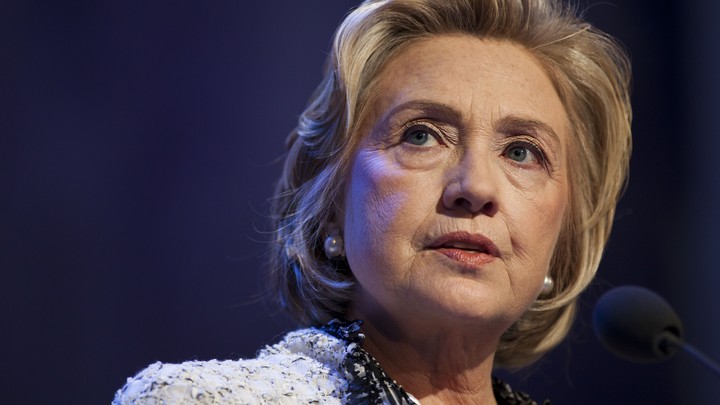 Clinton Cash gets released Tuesday, and Hillary Clinton's campaign is going on the offensive to undercut the book and discredit its author before the message ever reaches readers' hands.
With everything from a YouTube video to emails for supporters to Medium posts to a 42-page opposition research report from a Clinton-aligned group, the Democrat's team is throwing everything it has at Clinton Cash.
The book, by conservative author Peter Schweizer, accuses Clinton of dirty dealings during her time as secretary of State, alleging that she traded access and influence for foundation donations—including those from foreign donors. The accusations have been a headache for Clinton since before she announced her campaign, spawning headlines in major newspapers and shifting the national conversation about Clinton far, far away from her campaign message.
(RELATED: Bill Breaks Hillary's Silence on Clinton Foundation Donations) 
When the accusations first surfaced, Clinton herself was largely quiet on the topic, dismissing it as an attempt to distract voters from more substantial issues. Since then, they've slowly ramped up their defense efforts: Clinton's campaign issued a lengthy condemnation of a New York Times story regarding a Canadian Clinton Foundation donor getting State Department approval to sell uranium holdings to a Russian company, and her allies launched a fact-check of the Schweizer's allegations when excerpts from the book were floated.
Now, with the book's full release, Clinton's team is going all out, suggesting they don't see the accusations as controversies that will burn themselves out, but rather as a fire they need to actively extinguish.
For campaigns, pushing back on unflattering reports is pro-forma, but the team's effort goes above and beyond the standard plan. On Tuesday morning, Clinton's campaign launched what it's calling "The Briefing," a new section of its website, paired with videos and posts on other social-media platforms, that aims to combat what an email to supporters describes as "whatever far-flung theories [Republicans] can find in order to try and distract from Hillary's record of fighting for everyday Americans."
(RELATED: Hillary Clinton and the Tragic Politics of Crime) 
In the 2.5-minute introductory YouTube video, Clinton press secretary Brian Fallon says the book is "full of sloppy research and attacks pulled out of thin air with no actual evidence." Fallon goes through all the biggest allegations from the book, cutting to footage from various TV networks, all of which point out the lack of direct evidence or a "smoking gun." (The new Clinton website also lists "10 Things You Should Know" about the book, linking to media coverage of various sections of it.)
"The bottom line is this: as secretary of State, Hillary Clinton made decisions based on her commitment to protecting America's national security and standing up for freedom and dignity around the world, not the interests of donors to the Clinton Foundation," Fallon says.
Clinton campaign chairman John Podesta posted to Medium about the new effort, pointing to Clinton Cash and the Benghazi proceedings on the Hill as proof that Republicans "seem to only want to distort Hillary Clinton's record."
(RELATED: Martin O'Malley's Passive-Aggressive Campaign Against Hillary Clinton) 
The new book is getting further pushback from the pro-Clinton group Correct the Record, which served as an unofficial rapid-response operation before her campaign was announced. In a 42-page report, Correct the Record goes line by line through the various allegations in Schweizer's book, including questions about the Clinton Foundation's involvement in the Russian uranium company purchase, Bill Clinton's dealings in Kazakhstan, and questions over Hillary Clinton's support for a U.S.-India nuclear deal.
The response is far different from two months ago, when Clinton—who then had not yet launched a full campaign and communications operation—waited eight days to hold a press conference following the revelation that she'd conducted State Department business on a private email server. With Clinton Cash in the news these last few weeks, her team has been pushing back pretty consistently, an approach that appears likely to be norm going forward.
We want to hear what you think about this article. Submit a letter to the editor or write to letters@theatlantic.com.
Emily Schultheis
is a writer based in Berlin with a fellowship from the Institute of Current World Affairs. Her writing has appeared in
Foreign Policy, The Guardian,
and
Politico
, among other publications.