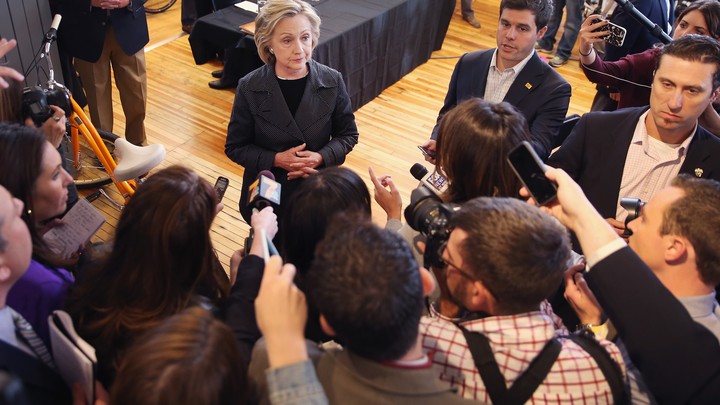 Hillary Clinton found out Tuesday what happens when a presidential candidate goes almost a month without taking questions from the press: a feeding frenzy of reporters.
The former secretary of State faced a barrage of questions after a campaign event in Cedar Falls, Iowa, and answered questions on topics ranging from Iraq to the Clinton Foundation to her family's wealth.
The brief Q&A came after reporters have focused on their lack of access to Clinton in recent weeks—before Tuesday, Clinton had answered just 13 questions during the campaign, by NPR's count. That relative silence from Clinton has allowed a spate of news stories, ranging from questions about the Foundation's financial dealings to the release of her emails, to pass by without comment from the candidate herself.
That tension was apparent earlier Tuesday, when a reporter shouted out during the event to ask whether she would take questions afterward. "I might. I'll have to ponder it," Clinton replied, adding that it would only be "when I finish talking to the people here."
Clinton also got a tough question during the event itself, when one of the roundtable participants asked her to clarify her position on the Trans-Pacific Partnership trade deal. Trade has divided the Democratic Party: President Obama supports the deal, but progressives—including Sen. Bernie Sanders of Vermont, Clinton's sole official primary opponent thus far—have vehemently opposed it. Clinton had previously commented on what it would take for her to support the deal, but had not taken a stance either way.
"I've been very clear on this," Clinton said, reiterating her previous statements that any trade deal she supports must increase jobs and wages, increase the United States' competitiveness globally, and be good for U.S. national security. But she expressed concern over several provisions in the potential deal, saying she will wait to decide until the proposed agreement has been finalized.
"I have said I want to judge the final agreement," she said. "I have been for trade agreements, I have been against trade agreements. I've tried to make the evaluation depending upon what I thought they would produce, and that's what I'm waiting to see."
Here's what she said in response to questions from the five reporters she answered:
On the release of her emails by the State Department: Clinton said she hopes the State Department—which said this week that it will not have completed its review of her emails until January 2016—can "expedite the process" however possible. "I want them out as soon as they can get out," Clinton said, adding that she has asked the department to "please move as quickly as they possibly can."
On her relationship with Sidney Blumenthal: Clinton also answered a question about her relationship with Blumenthal, whom The New York Times reported sent her numerous memos about the security situation in Libya before the Benghazi attacks occurred. She defended her relationship with Blumenthal, saying, "I have many old friends. "¦ I'm going to keep talking to my old friends no matter who they are."
On the Clinton Foundation and questions about its donors: "I am so proud of the Foundation. I'm proud of the work that it has done and that it is doing," she said, adding that she would "let the American people make their own judgments about that."
On whether the invasion of Iraq was a mistake: Clinton has previously said her 2002 vote to authorize the Iraq war was a mistake, and she reiterated that Tuesday as the issue has come back into the headlines in recent days. "I've made it very clear that I made a mistake, plain and simple, and I have written about it in my book, talked about it in the past, and you know, what we now see is a different and very dangerous situation."
On her personal wealth and whether regular Americans can "relate" to her: Clinton, asked about her wealth after personal financial-disclosure forms revealed that she and her husband made $25 million in speaking fees since 2014, said both of them remember their roots. "Obviously, Bill and I have been blessed and we're very grateful for the opportunities that we had, but we've never forgotten where we came from and never forgotten the kind of country we want to see for our granddaughter," she said. "And that means that we're going to fight to make sure that everybody has the same chances to live up to his or her own God-given potential."
This post has been updated to clarify the number of questions Clinton took, including follow-ups and multi-part questions.
We want to hear what you think about this article. Submit a letter to the editor or write to letters@theatlantic.com.
Emily Schultheis
is a writer based in Berlin with a fellowship from the Institute of Current World Affairs. Her writing has appeared in
Foreign Policy, The Guardian,
and
Politico
, among other publications.