Hill Democrats Aren't Prepping for Potential 'Policy Armageddon'
They are confident the Supreme Court won't strike down Obamacare subsidies.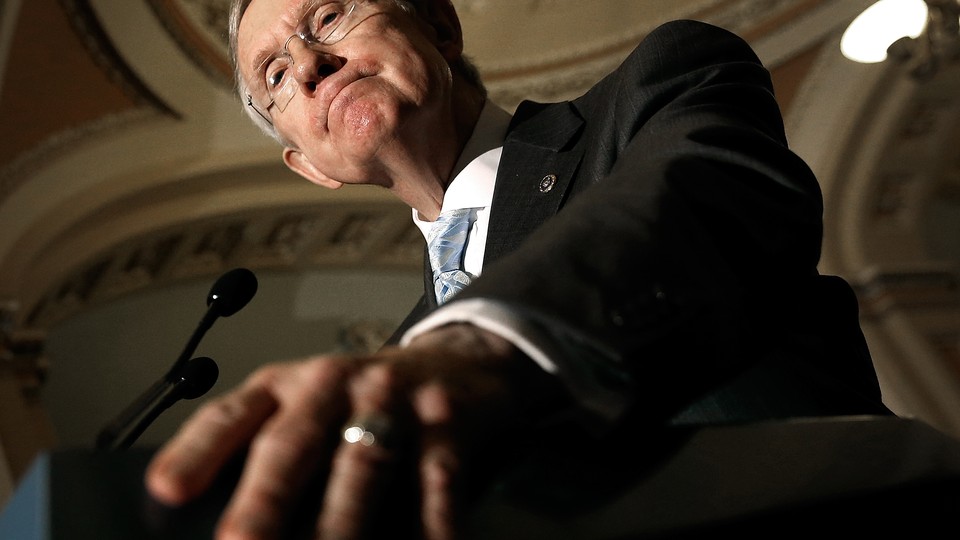 A month before the Supreme Court is expected to rule on the future of federal health care exchanges under the Affordable Care Act, Hill Democrats have taken a uniform policy stance: They are not ready to talk publicly about potential fixes in case the court ruling doesn't go their way.
Brought by conservative opponents of Obamacare, the court case, King v. Burwell, will determine whether subsidies offered on federal exchanges under the Affordable Care Act are legal. If the plaintiffs win, as many as 8 million people could lose the law's tax subsidies.
"I don't think they will [win]," Senate Minority Leader Harry Reid said in a recent interview. "If they do, that's a problem that the Republicans have."
Other members of his party, it seems, couldn't agree more.
"It's not that we won't" come up with a plan, Sen. Debbie Stabenow said. "It's just that we are hopeful that the Court won't rule in a way that increases taxes on millions of working people, which is what that would do, and Republicans are the ones who repealed the Affordable Care Act so the question is, where's their replacement?
"They are the ones who repealed it, they are the ones that need to replace it," she added.
"I sincerely believe that the Supreme Court is going to uphold that, so I've given some thought to alternatives but I'm not really prepared to talk about them until we know the outcome," Sen. Richard Blumenthal said. "If the Court rules adversely, which I sincerely believe it will not do, then we'll have to consider some alternatives, and obviously we're at least entertaining that possibility."
And Sen. Bob Casey: "I'm hoping the Court will rule the right way, which would be uphold the law."
But if it doesn't, some Democrats admit things will get ugly.
"If the plaintiffs win, it's policy Armageddon," Sen. Chris Murphy said in an interview.
"There's no way this place has the capacity to fix the health care law in the wake of that decision," he added. "I think there might be a couple state legislatures that could do something, but this place can't put one foot in front of the other with health care policy in a bipartisan way. I think it's catastrophic if King gets decided the wrong way."
Multiple Republican proposals have been put forward to address a presumptive court decision eliminating subsidies in all federal exchanges.
One bill, from Sen. Ben Sasse, would allow Obamacare enrollees to keep their insurance and continue receiving assistance for 18 months after the ruling. The Department of Health and Human Services would also be banned from renting or selling HealthCare.gov's technology to states.
Sen. Ron Johnson's bill would allow individuals to keep any health care plan and subsidy until August 2017. It also would repeal the individual and employer mandates, and amend essential health benefits and benefit packages to those defined by the state in which the health plan is offered.
Sasse's bill does not have any cosponsors. Johnson's has 31, including Majority Leader Mitch McConnell and Sens. John Barrasso, Lindsey Graham, and Orrin Hatch.
But it's not exactly a bipartisan group, as Murphy pointed out: "How many of those 31 would support the repeal of the Affordable Care Act? Probably 31."
"Obviously there are ways to fix it," Murphy said said. "Republicans haven't given us anything that I would consider to be even a platform for discussion at this point. I think for us to come up with solutions ... at this point doesn't make a lot of sense. And plus, the Supreme Court's going to do the right thing."
Just as Democrats believe the court will go their way, Republican senators are confident the justices should side with the challengers. And Johnson, at least, believes his plan is "reasonable" enough that Democrats might actually go for it.
"I would hope they'd be reasonable from a standpoint that their sloppily written law—and then if the Court rules that way, their unlawfully implemented law—created a big mess, which we'd be helping them to get out of, and then all I'd be asking for is a little freedom for the American public. I think that would actually be a pretty good proposal," Johnson said in an interview.
At National Journal's request, Murphy reviewed Johnson's bill. He disagrees on its reasonableness.
"There's not a single Democrat that would support what Johnson is proposing, I would hope. About 5 percent of his bill is dedicated to King v. Burwell. The other 95 percent is dedicated to repealing the Affordable Care Act," he said.
Sasse's bill, meanwhile, is "about as valuable as the paper it's written on," Murphy said.
Sen. Bernie Sanders, the Vermont independent who is seeking the Democratic presidential nomination, said he hasn't looked at any of the GOP bills. Asked about those measures, he responded, "Well, Republicans have put out a budget that would throw 17 million people off of health insurance."
Regardless of party, there seems to be a consensus within the Senate that a King win will create a giant mess. And up until now, when it comes to Obamacare, bipartisanship isn't something Congress has been very good at.
"There's always room to work together if you try," Hatch said in an interview. "The trouble is, we haven't been trying."
Correction: This post originally misidentified Sen. Richard Blumenthal as Sen. Bill Nelson. It has been updated.