Forget the 50-State Plan. Clinton's Building for a Battleground Strategy.
The Democrat's team is talking about a national network, but its biggest impact will be building the volunteer skills needed elsewhere.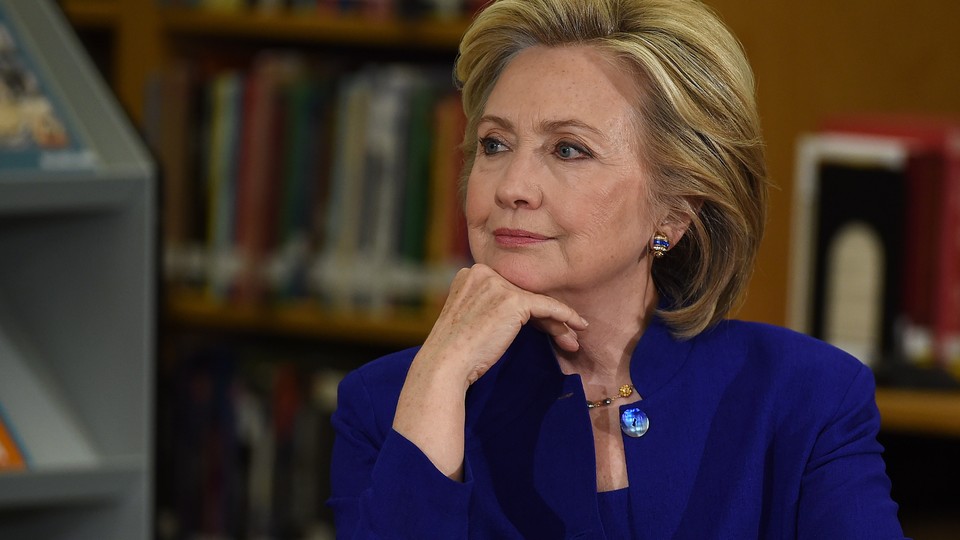 Hillary Clinton has a paid staffer in every state in America. But she won't for much longer.
Her campaign's much-discussed 50-state grassroots organizing program is more a means to an end than the end itself.
In the short term, it helps her team bolster the image of the front-runner taking seriously the possibility of a competitive primary (even if no one else is) while also addressing the post-2008 criticism that Clinton focused too narrowly on big primary states, allowing Barack Obama to sweep up delegates she hadn't even fought for.
But it yields its greater benefit six to 12 months from now, when volunteers trained in solidly Clinton territory, where their efforts are unnecessary, shift their focus to neighboring states where Democrats will be fighting the Republican nominee to capture every middle-of-the-road, undecided voter.
Indeed, though the campaign is stressing its work toward a robust nationwide grassroots network—far more extensive than her outreach efforts in 2008—that 50-state network will ultimately benefit Clinton in the same small playing field of swing states that propelled Obama to victory in 2008 and 2012.
And not for nothing. With an increasingly polarized electorate, the number of states that will prove decisive to Clinton on Election Night 2016 could total as few as seven and certainly no more than 12.
While the team might not talk about a battleground approach now, its tactics will soon reflect that strategy. The paid staffers who have been deployed to every state around the country are working for the campaign on a temporary basis; at the end of May, the campaign expects volunteers to take over local operations.
Ultimately, the volunteer structures they leave in place behind them will be to supplement efforts of volunteers in contested territory—both in key primary states and general-election battlegrounds.
"Staffers in those [blue] states provide a tremendous amount of volunteer output into neighboring battleground states that can have a huge impact," said Mitch Stewart, a founding partner at 270 Strategies who served as the battleground-states director for President Obama's reelection campaign. Stewart advised the pro-Clinton super PAC Ready for Hillary in the lead-up to Clinton's 2016 announcement.
"States like Nevada and Colorado—we had a lot of volunteers calling into those two states," Stewart said, citing New York (helping out with Pennsylvania) and Massachusetts (helping with New Hampshire) as other less-competitive states that proved helpful for volunteer manpower.
In 2012, Obama's reelection campaign had just 10 "battleground" states with a full-fledged staff: Wisconsin, Pennsylvania, Iowa, New Hampshire, Ohio, Virginia, North Carolina, Florida, Nevada, and Colorado. There were an additional three that were considered "watch" states: Minnesota, Michigan, and Washington state. That didn't mean that other states went unnoticed, especially with organizers for Organizing for America stationed across the country—but they didn't have the same kind of fully staffed operations that the swing states did.
Already, some political professionals see an even more targeted map for 2016. (Larry Sabato and his team asserted last week that there are just seven toss-up states this cycle: Nevada, Colorado, Iowa, Ohio, Virginia, Florida, and New Hampshire.)
Certainly, the 50-state network would be useful if Clinton gets a real challenge in the primary season—from former Maryland Gov. Martin O'Malley, for example. And when states start to begin allowing campaigns to collect signatures to get on the ballot, the volunteer operations in place will ensure that Clinton's campaign is prepared for ballot access across the map—an issue that haunted some less-organized Republican candidates in 2012.
It's also a way for Clinton's campaign to make good on its promise to help build up local and state parties, many of which are struggling in the post-Citizens United campaign world. Clinton's team is already putting in significant work in Iowa, for example, where 2014 losses have Democrats worried about the future of the state party; her volunteer structures, even in nonswing states, will be a boost to local party operations.
Plus, some Democrats argue, even states that aren't competitive now could be more so down the line, so having presidential-level operatives connect with and train volunteers across the country could help prepare Democrats for future contests. That's especially true of states with growing Latino populations, such as Georgia, Texas, and Arizona, which could someday shift away from Republicans.
"[Clinton] is running not just for 2016, but for 2020 and to set up 2024," said Democratic pollster Celinda Lake. "Those are states that could be in play by 2020 or 2024."
Indeed, if the 50-state organizing effort is meant to accomplish anything, it's certainly not in securing Clinton's win in Connecticut.