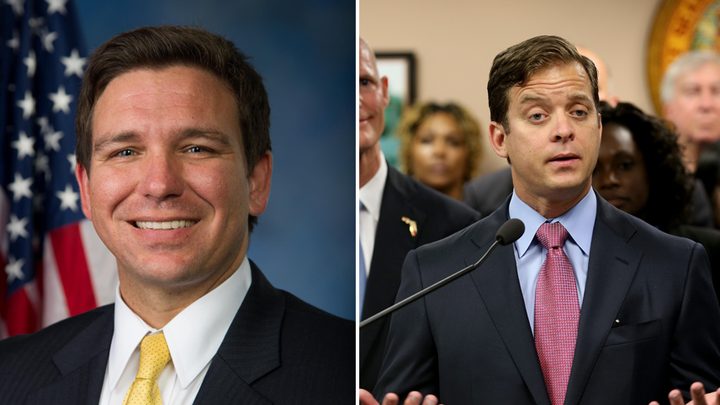 On the surface, Florida's Senate primary appears to fall along the standard fault line that has complicated Republican party politics for a half-decade, with tea-party groups aligning behind one candidate and the establishment falling in with another. But behind the scenes, neither likely primary candidate is willing to accept the break, with both reaching out to groups on the other side in the hopes of capturing support from across the party spectrum.
Washington's conservative groups, which spent millions trying to take down Republican senators last cycle, threw their support behind Rep. Ron DeSantis last week, hoping one of their own could replace Sen. Marco Rubio—who's stepping aside to run for president—in the upper chamber.
Meanwhile, an accomplished team of establishment party operatives quietly aligned behind the pre-campaign of Lt. Gov. Carlos Lopez-Cantera, a close friend and ally of Rubio. Following state Chief Financial Officer Jeff Atwater's surprise decision to sit out the race, much of the establishment support and infrastructure that had rallied behind him quickly moved over to team Lopez-Cantera.
But ahead of one of the biggest, most expensive Senate battlegrounds of the 2016 map, neither candidate is ready to settle into his respective party corner. Instead, both DeSantis and Lopez-Cantera each see room to court donors and support from across the GOP spectrum, making concerted efforts not to put themselves at odds with any faction of the party this early in the game.
"I'm a 'Ronald Reagan Republican' and conservative.... I think that's the best label," DeSantis told local reporters Friday when asked whether he was a member of the tea-party movement. "I think some of these other labels are kind of used as epithets now and people just want to throw names at you."
The second-term congressman was ushered into office in 2012 with the endorsement of some of the tea-party movement's biggest names, including Sen. Mike Lee and blogger Erick Erickson. And he maintains a 100 percent rating on Heritage Foundation's scorecard. But his campaign is going out of its way to shield him from the antagonistic reputation of some of the conservative candidates who have gone before him.
"Ron has already united all of the big conservative groups, but he's going to have strong support from institutional Republican Party donors as well," said campaign spokesman Barney Keller. "Ron served in the Navy, was a JAG, deployed to Iraq, won a Bronze Star, and has a law degree from Harvard. A lot of folks are starting to draw the comparison between [Sens.] Dan Sullivan and Tom Cotton, who have similar pedigrees and who both won top Senate races last cycle."
DeSantis's team is eager to paint him in the likeness of 2014's so-called "consensus candidates," Sullivan and Cotton, who won top-tier races last cycle with the backing of groups that more often play against each other than together, like the Club for Growth and the U.S. Chamber of Commerce.
Unlike some of the conservative groups' candidates from last cycle, which antagonized the establishment by taking on incumbents, DeSantis's team says he's maintained good relationships within the party and has a resume that appeals to Republicans across the GOP spectrum. Though he's criticized House Speaker John Boehner and opposed measures like the "CRomnibus," he wasn't a part of the group that plotted a coup against Boehner during House leadership votes.
Operatives who have defended establishment candidates in the past say that DeSantis's team is not wrong; he has had positive meetings with establishment-type donors that they say made an impressive case for his candidacy.
The Chamber of Commerce's senior political strategist, Scott Reed, confirmed that DeSantis had met with the group, though the Chamber will continue to meet with candidates as the field shapes up. As of last Friday, the Chamber had not yet had a meeting with Lopez-Cantera, who is expected to announce his candidacy soon.
As the tea-party-backed DeSantis looks to expand his appeal to the establishment, Lopez-Cantera's team is working to pitch him as a conservative candidate in the mold of Rubio, whom many of DeSantis's supporters helped put into office in 2010. Florida GOP strategist Rick Wilson, a friend of Lopez-Cantera's and part of his pre-campaign team, describes the lieutenant governor as "a strong limited-government conservative" who is not only "right on the issues, but has a deeper, longer track record to prove it."
A source who requested anonymity to speak candidly about the decision said Rubio's office had attempted to arrange a meeting between the Club for Growth and Lopez-Cantera, but that the group had already decided on DeSantis, and the meeting never occurred. Rubio's office did not respond to a request for comment.
Similar to the establishment strategists evaluating DeSantis, some of the conservative groups say their decision to pass on Lopez-Cantera isn't personal. After several cycles of backing D.C. outsider-type candidates, only to see them vote along with party leadership when they get to Washington, they say they prefer a candidate who had already proven his willingness to take hard stances while in office.
But as much as the candidates themselves try to bridge the gap, the rival wings of the party remain fiercely divided—in part by ideology, and in part by grievances held over from the bitter primaries of the recent past.
DeSantis's problems getting support from establishment groups, GOP sources say, are not because of his own actions, but the result of a reluctance among some establishment donors to sidle up to the groups that worked against them in previous years. DeSantis's campaign team is Jamestown Associates, a firm the National Republican Senatorial Committee and other establishment groups said they would no longer work with after it took on GOP incumbents, particularly Majority Leader Mitch McConnell, in previous cycles. For its part, the NRSC is staying neutral in the primary so far.
The difference between DeSantis and Cotton, said one establishment Republican, is that "Cotton ran his own campaign."
One of DeSantis's early backers, the Senate Conservatives Fund, has already launched some friendly fire at Lopez-Cantera for supporting "wasteful spending at the state level," a move that quickly reignited old flames for some GOP strategists.
But if DeSantis could win over these donors—who have not shut the door on him yet—and avoid a costly primary, Republicans might be able to save some money ahead of an expensive general election. The party has expressed open concern about what losing Rubio means for the map this cycle. Reed described the state as a "$40 million hole" in the GOP's budget.
Republicans' eventual primary winner will have no small task in taking on likely Democratic nominee Patrick Murphy, who joined the race at the end of March and has already proven himself a formidable fundraiser. While Murphy, a second-term congressman, isn't well known across the state, Republicans' most likely candidates at this point lack for statewide name ID as well, and will have to contend with presidential-year turnout and demographic shifts in the state, both of which favor Democrats.
Of course, Murphy could still face an expensive primary himself, as Rep. Alan Grayson, a millionaire and liberal firebrand, is considering a run of his own.
CORRECTION: An earlier version of this story misstated Scott Reed's title, he is the Chamber of Commerce's senior political strategist.
We want to hear what you think about this article. Submit a letter to the editor or write to letters@theatlantic.com.
Andrea Drusch
is the Senate correspondent for the
National Journal Hotline
.