Feds to Shell: Drill, Baby, Drill in the Arctic
The Obama administration gave the oil giant a preliminary green light for controversial drilling off Alaska's coast this summer.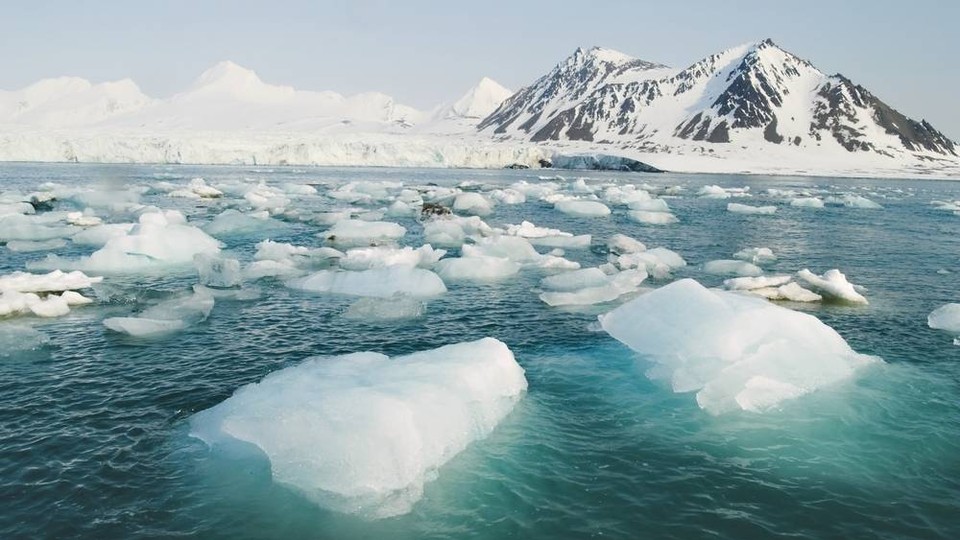 The Obama administration has approved Royal Dutch Shell's plan to drill off Alaska's northern coast, escalating a collision with environmentalists who say development in the remote Arctic waters poses big risks to whales, polar bears, and other species.
The Interior Department's offshore-drilling branch on Monday offered a preliminary green light for Shell's plans to drill exploration wells this summer in the Chukchi Sea, a region that regulators estimate could hold more than 15 billion barrels of recoverable oil, and large natural-gas resources too.
Shell is not in the clear yet. The company would still have to obtain specific drilling permits, receive authorizations under the Marine Mammal Protection Act, and clear other regulatory hurdles before it could commence with multiyear plans to eventually drill up to six wells in relatively shallow waters about 70 miles offshore.
But the exploration plan's approval lays bare the split between the White House and the green movement over Arctic drilling and protections.
Environmentalists, who fear oil spills in the ecologically sensitive region, criticized Interior's decision. "Shell has a history of dangerous malfunctioning in the Arctic, while global scientists agree that Arctic oil must stay in the ground if we're to avoid catastrophic climate change," said Tim Donaghy of Greenpeace.
It's a tension that Democratic White House front-runner Hillary Clinton could face too. While Shell has been the most aggressive among energy companies in seeking to develop costly leases obtained during the George W. Bush administration, other companies hold leases there as well.
In addition, more Arctic lease sales are tentatively scheduled in 2016 and 2017, and a recent Obama administration draft proposal envisions other auctions of drilling rights in Arctic waters in 2020 and 2022. Clinton has yet to unveil her environmental and energy platform, but her campaign chairman, the influential Democratic strategist and activist John Podesta, opposes Arctic drilling.
The exploration plan's approval Monday comes three years after Shell's mishap-laden development efforts in the adjoining Beaufort and Chukchi Seas. The company suffered several setbacks and never won Interior's permission to drill into oil-bearing subsea layers.
Shell's woes included damage to spill-containment equipment during testing off Washington state's coast, and a drilling rig that ran aground in December 2012 on its way back from the Arctic region.
But the spill-containment system performed well in recent testing witnessed by federal officials, the Houston Chronicle reported in April.
Interior's offshore drilling regulators are still crafting drilling-safety rules tailored specifically for the Arctic, but say they will hold Shell to high standards even though the rules are unlikely to be in place before Shell restarts development.
"We have taken a thoughtful approach to carefully considering potential exploration in the Chukchi Sea, recognizing the significant environmental, social, and ecological resources in the region and establishing high standards for the protection of this critical ecosystem, our Arctic communities, and the subsistence needs and cultural traditions of Alaska Natives," said Abigail Ross Hopper, director of the Bureau of Ocean Energy Management.
She said that "any offshore exploratory activities will continue to be subject to rigorous safety standards."
Shell welcomed the approval but warned that regulators should not drag their feet on the permits that are still needed.
"The approval of our Revised Chukchi Sea Exploration Plan is an important milestone and signals the confidence regulators have in our plan. However, before operations can begin this summer, it's imperative that the remainder of our permits be practical, and delivered in a timely manner," spokesman Curtis Smith said.
While it's seeking to drill in the coming months, Shell predicts that actual oil production from its leases in U.S. waters in the Arctic is a decade away.