Fastest-Growing U.S. Cities Import Their College Graduates
Relying on outside talent can help feed dynamic economies, but it also exacerbates achievement gaps and social tensions.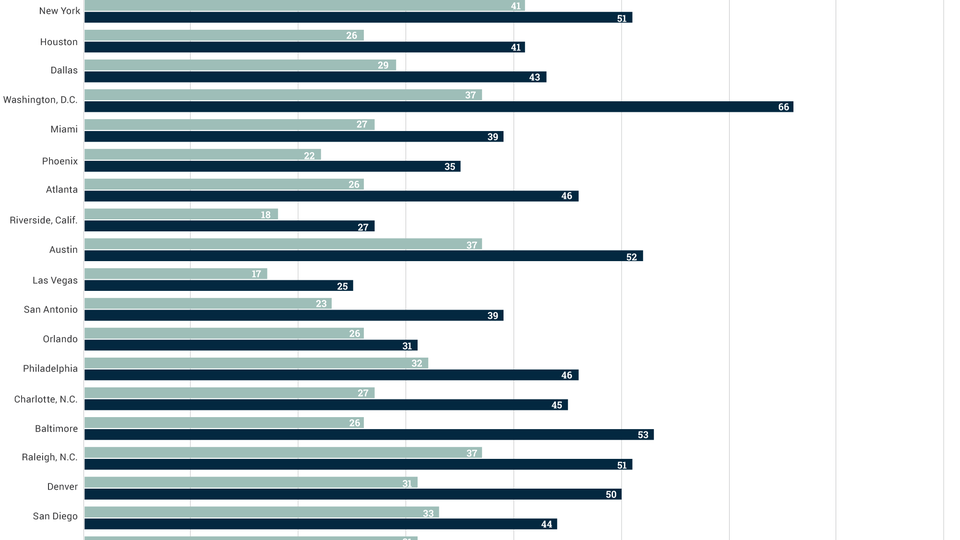 With spectacular scenery, a vibrant economy, and a bustling downtown scene, few cities can match Denver's success in attracting talented, well-educated young people from across America.
Yet with all these advantages, the city is still struggling to equip local low-income African-American and Hispanic kids to compete for the jobs its economy develops. While a magnet for those who acquire skills elsewhere, the city has struggled more to elevate its own young people, nearly half of whom are now minorities. "We call this The Colorado Paradox," John Hickenlooper, the former mayor of Denver and now the state's Democratic governor, told me recently. "We have about the highest percentage of people with college degrees in the country, yet we have real challenges with large portions of our population in getting them to complete high school and then attend and get through college."
That's not a problem unique to Denver, or Colorado. Working-age blacks and Hispanics lag behind white educational achievement levels even—and often especially—in places that are setting the pace in adding jobs, raising incomes, or both. To fuel their dynamic economies, many of those fast-growth cities are relying more on importing college graduates from elsewhere in the country than on developing their own talent. That strategy presents potential long-term economic risks, but even more immediate political and social challenges in an era when the enduring opportunity gap in major cities is heightening racial tensions ignited by disputes over police behavior.
Next America is analyzing workforce trends in the nation's 150 largest metropolitan area using education, income and jobs data from the National Equity Atlas. The Atlas is a joint project of PolicyLink, an Oakland-based policy research organization, and the University of Southern California's Program for Environmental and Regional Equity. Using Census and other government data, the Atlas provides a detailed portrait of demographic, educational and income trends in the nation's largest metropolitan areas.
In the working-age population (defined as adults between ages 25 and 64), fewer African-Americans and Hispanics than whites hold college degrees in cities across the spectrum from the most to least prosperous, the analysis found. But the gaps are often widest in the buzzing, information-age cities with the greatest appeal to college graduates from around the country.
Of the 75 cities with the biggest gap in college completion between working-age whites and blacks, three-quarters also rank in the top half for college achievement among whites. Three-fifths of those 75 cities also rank in the top half for median income among the largest metropolitan areas.
Compared to other cities, these places are also home to relatively more African-American college graduates: just over half of the cities with the widest black-white college completion gaps actually rank in the top half of overall college achievement for blacks. But the big gaps between the working-age white and black college completion levels in those places suggests their growth is doing relatively more to pull in talent from around the country than to pull up talent from their own most troubled neighborhoods. Above all, these trends suggest that even booming growth by itself cannot dislodge entrenched patterns of poverty and disadvantage across metropolitan areas.
In places with the largest concentrations of working-age white college graduates, the share of African-American adults holding that much education is usually half or less of the white level, with attainment among Hispanics trailing even further behind. Washington; Durham, North Carolina; San Francisco; Bridgeport, Connecticut; and San Jose, California, are the metropolitan areas with the largest share of working-age college-educated whites, all exceeding 55 percent. But across those five areas, the share of college-educated African-American adults exceeds 30 percent only in D.C. and San Jose (where the black population is miniscule.) The numbers are even worse for all Hispanics (although between 30 and 40 percent of native-born Hispanics have achieved college degrees in San Jose, Durham, and Washington.)
These gaps "increase social segregation where recruiting for the higher-skill jobs is done in a world that is almost invisible to people who are outside of it, even if they are living there," says Victor Rubin, PolicyLink's vice president of research.
James Johnson, director of the Urban Investment Strategies Center at the University of North Carolina (Chapel Hill) says that even in a place like Durham, with a relatively high proportion of black college graduates, many of the young people who are reared there are utterly disconnected from the region's economic vitality. Durham enjoys one of the nation's higher share of African-American college graduates (28 percent) both because of its concentration of local universities—including UNC, Duke, and North Carolina Central University, a historically black college—but also because the area's historic reputation as the "black Wall Street" made it attractive to African-American professionals from other regions.
"There has been this black professional class in the city writ large, both in entrepreneurial culture and ensconced in city and local government, a professional class of doctors and lawyers that has a long history here," Johnson says. "But there's enormous segregation in the K-12 system, where the schools that most of the kids of color attend are under-resourced schools, are hyper-segregated, and that's probably gotten worse over time in this city."
The result, he says, is that even local kids who complete high school are often unprepared to finish college—which leaves them unable to pursue the high-tech employment that has blossomed across the region for decades. "Local kids aren't even competing for those jobs," Johnson says, "because when you have the opportunity to recruit talent globally for skills and talent, you don't have to be so concerned about the quality of education locally, in a sense. Kids of color just aren't even a part of the mix today."
Another set of Census data reinforces that conclusion by showing that many of the nation's fast-growth cities are relying more on recruiting talent from elsewhere in the country than on developing their own. The PERE program ran for Next America a separate analysis of Census data for the 20 American cities that have added the most jobs since 2000. That analysis found that in all of those cities, the share of local adults born inside the state with a four-year college degree or more lagged behind the share of college-educated adults from outside the state. For many of those cities, the gaps are enormous.
In Denver, fully half of out-of-state adults in the area hold a college degree, compared to less than one-third of those born in Colorado. In Baltimore, where racial violence flared this month, the gap is even wider: The share of its working age adults born out-of-state with a college degree (53 percent) is fully double the share of its Maryland residents with that much education (26 percent). In Houston, which ranks near the top in job creation, 41 percent of out-of-state adults hold college degrees, compared to just 26 percent of those born in-state. In Charlotte and Atlanta, the gap between out- and in-state degree holders approaches 20 percentage points; in Washington, it nears 30 percentage points (though the D.C. area actually does a better job than most in moving local residents through college completion).
Eventually, relying on imported talent will become more difficult for all cities because the overall share of college graduates could start to decline by around 2020 if the African-Americans and Hispanics who comprise an increasing slice of the youth population don't improve their completion rates. Still, Anthony Carnevale, director of the Georgetown University Center on Education and the Workforce, says attractive, dynamic cities will likely be able to lure enough smart young people from elsewhere to fuel their growth for some time. "It's a very tried and true pattern," he says. "You've got the jobs, just bring talent in from the outside, let somebody else pay for [educating] it."
The real issue, he says, may be less the economic than political sustainability of a growth model that attracts a rising tide of well-educated transplants while leaving many local residents marooned with few skills. "What happened in Baltimore raises another question," Carnevale said. "It's economically sustainable. But in the end is it socially sustainable? Can you keep the peace?"
---
Janie Boschma contributed to this article