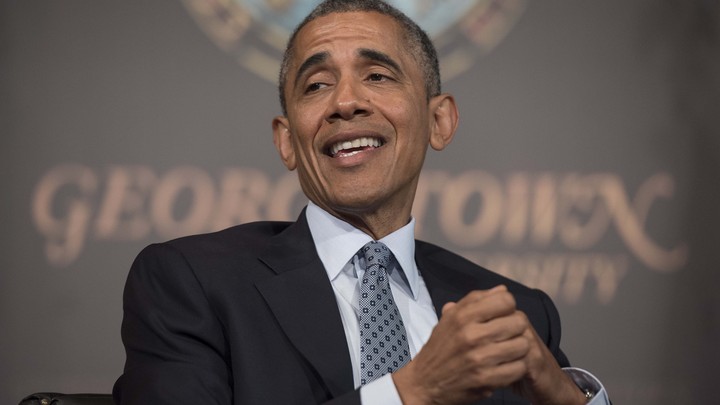 As Congress prepares to vote on legislation paving the way for a major Pacific trade pact, expect President Obama to repeat over and over the same claim: "It is the most progressive trade agreement in our history."
It's the mantra he used in an April speech to his political group, Organizing for Action, and again a week ago in a pro-trade address at Nike's Oregon headquarters. A version of the claim tops the White House's website devoted to free trade.
But the line, which may be true (the text isn't yet public), makes Obama's key partners—Republicans—squirm.
"I guess I'm not sure I have a comment on that," says Sen. John Thune of South Dakota. "I think that for a lot of reasons it's really important that we get it done. They obviously have different priorities when they negotiate these things and they emphasize different things maybe in the agreements than we would."
"I think what counts more than what the president says is what's actually in the deal and we don't know what's in the deal yet," adds Sen. John Cornyn of Texas, who like Thune is a Republican member of the Finance Committee that writes trade bills.
Republicans would prefer to burn the American flag in front of the statue at Reagan Washington National Airport than support something Obama calls "progressive." But passing a legacy-defining free-trade agreement that Republicans agree upon in principle is one of the few ways to prove that a GOP-led Congress can govern instead of exist from deadline to deadline. They realize that Obama's posturing is squared directly at Democrats, who initially blocked Senate trade legislation from moving forward this week before relenting.
"I think words like that are thrown around all the time," said Senate Finance Committee Chairman Orrin Hatch. "And they're done for political purposes and psychological purposes. I'll just say that this is a trade bill that really makes sense."
Now Obama and the small minority of pro-trade Democrat, such as Oregon Sen. Ron Wyden, are aggressively pushing their colleagues to pass "fast-track" legislation to help the administration seal future agreements such as the Trans-Pacific Partnership, a 12-nation deal that would affect 40 percent of the world's GDP. The fast-track bill, also known as trade promotion authority, limits congressional debate to an up or down vote without amendments.
Several Democratic Senators said they couldn't respond to how progressive the TPP deal is compared to previous agreements as it's still under negotiation.
Sen. Chris Murphy of Connecticut, who opposes the fast-track bill, said he had was undecided on the agreement, but had "no doubt" it would "look better" than previous ones, citing strengthened labor and environmental provisions.
"The question is how much better," said Murphy. "And I don't know yet if it's good enough for those of us who have opposed deals in the past."
Some outside experts agree with the Administration that TPP will be the most progressive ever. Gary Hufbauer of the Peterson Institute for International Economics says the "critical question" is how much progress it makes past the deals begun with Singapore and South Korea in 2004 and 2012. Hufbauer thinks that there will be "noticeable" advances in a number of areas, including a faster track to potential penalties on labor and environment obligations as well as "lower tariffs and larger quotas on agricultural products of interest to the US."
Liberal opponents to TPP claim that whether it is more progressive than previous agreements isn't the right question. Sen. Bernie Sanders, a democratic socialist, says it is "based on the same old, same old."
"I think TPP follows in the footsteps of other disastrous trade agreements that will continue the assault on American workers," Sanders said. "There is a reason why every union in this country is opposed to TPP, why most of the major environmental groups are opposed to TPP and many of the leading religious groups are opposed to TPP.
"It saddens me that this president is now lining up with Wall Street, with every major multinational corporation against the base that elected him to office, which are working people."
Despite the full-on assault by progressive groups, expect pro-trade Democrats to keep pushing the word "progressive" when talking about the issue. After advancing the fast-track bill on the Senate floor Thursday, Wyden used the word at least four times in one speech to separate the fast-track process from the days of old.
"When you put these vast improvements together with the next level enforcement system, it's my view that you have a long overdue, progressive, modern approach that sets aside the NAFTA playbook," Wyden said. "This is a plan that will help get trade done right."
We want to hear what you think about this article. Submit a letter to the editor or write to letters@theatlantic.com.
Alex Rogers covers Congress as a staff correspondent for National Journal. He previously worked as a political reporter at TIME. He is a native of Bethesda, Maryland and a graduate of Vanderbilt University.