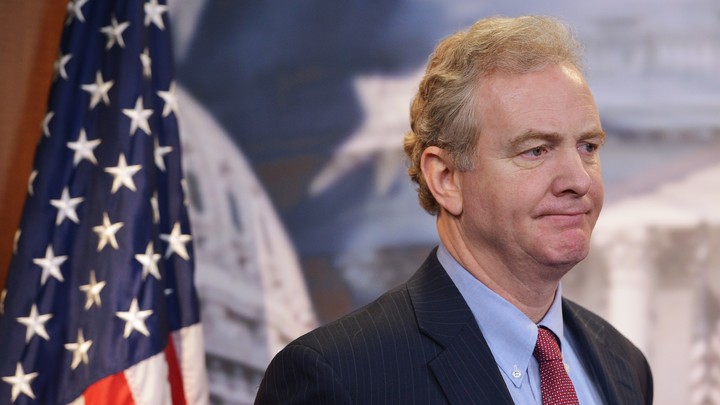 While Democrats on Capitol Hill and in the White House are split on free trade, in many fledgling Senate races, Democrats are largely coming out against the Obama administration's proposed trade deal, which could quickly become a litmus test for candidates seeking Democratic nominations.
In the Maryland Democratic primary to replace retiring Sen. Barbara Mikulski, the two candidates are battling to show who is more opposed to the White House's 12-nation Trans-Pacific Partnership and free trade deals in general.
Last month, Rep. Chris Van Hollen, who is running for the seat, sent a letter telling House Ways and Means Committee ranking member Sander Levin why he opposed Trade Promotion Authority, which would subject trade deals like the TPP to a simple up-or-down vote without the ability to amend.
In his letter, Van Hollen wrote that the proposed Investor-State Dispute Settlement aspect of the TPP would undermine U.S. ability to regulate in the public interest, a criticism that has taken some hold on the Left, and has been raised by progressive favorite Sen. Elizabeth Warren.
This has led Van Hollen, who previously chaired the Democratic Congressional Campaign Committee, to buck the president and oppose the TPP, barring changes. "Based on his understanding of the current draft, it would not meet the test of protecting American jobs and boosting wages," a Van Hollen aide told National Journal. "Unless these issues are adequately addressed, Congressman Van Hollen will oppose the agreement."
But Van Hollen's primary opponent, Rep. Donna Edwards—who is often considered the more progressive candidate—argues Van Hollen has previously supported other trade deals similar to the TPP.
"I'm glad he's seen the light, but the fact is if you look at the agreements that he voted for, whether it's Korea and Colombia, some of the same problematic provisions and exclusions are in the Trans-Pacific Partnership," Edwards told National Journal. "I am glad my opponent is where I've always been."
In Ohio, two Democratic candidates for Senate are on the same page, criticizing Republican Sen. Rob Portman—a member of the Senate Finance Committee—for voting in favor of TPA.
Former Ohio Gov. Ted Strickland—one of those two Senate candidates, who also served in the House of Representatives around the same time as Portman—likened the TPP to the North American Free Trade Agreement, which he said led to the outsourcing of jobs overseas. Strickland opposed NAFTA while in the House; Portman supported it.
"Advocates like to frame this as a trade issue," Strickland told National Journal. "The more accurate way to describe it is a jobs-outsourcing issue. That's what has happened with past trade deals, and this will likely have the same result." Strickland said he is optimistic that many Democrats are lining up against the trade deal.
"It will be among the most defining issues in the Ohio Senate Race," Strickland said.
Strickland's opponent in the state's Democratic primary, P.G. Sittenfeld, has also criticized Portman's vote for TPA, saying in a statement, "If I were in the Senate, my vote would not just be 'no', but 'hell no.'"
It is not surprising that Democrats in Ohio, a Rust Belt state likely worried about more jobs being shipped overseas, would be opposed. But in the Democratic primary for Sen. Marco Rubio's Florida Senate seat, Rep. Patrick Murphy, who is flush with Wall Street support and is often considered a moderate, came out last week against TPA.
"I have consistently said that I would oppose any trade deal that fails Florida jobs, labor standards, or the environment, and with limited amendments and debate, I cannot support granting this authority," Murphy said in a statement.
Murphy's statement comes as the Democratic Senatorial Campaign Committee endorsed him, showing the very limited risk in bucking the White House, which is adamantly lobbying for the deal and TPA.
Murphy's potential primary opponent, Rep. Alan Grayson, said he is hopeful that public attention will have an impact on the deal's fate.
"I hope the public does weigh in and it becomes a litmus test," Grayson told National Journal.
The White House is still sticking to the line that the deal would be "the most progressive trade agreement in history." Obama's allies are trying to show there is not a lot of political risk for Democrats to support TPA or TPP. Last week, the Progressive Coalition for American Jobs, a group started by former Obama campaign officials, released a poll attempting to frame the TPP in a way that would make it amenable for Democratic interests, saying it would strengthen labor, environmental, and human rights standards.
The poll purported to show that people who vote for Democrats would be likely to vote for a member of Congress who supported TPP.
"There is zero room for somebody to primary a Democrat either in the House or the Senate on this issue," said Mitch Stewart, a former Obama campaign official who helped start the PCAJ.
For all of the Democratic primary rhetoric about free trade, there are signs the American public might not see voting for TPP as a mark against a candidate. A recent NBC News/Wall Street Journal poll showed that 37 percent of those polled said free trade had helped the U.S, compared to 31 percent who said it has hurt.
This is a change from back in November 2014, when 38 percent said free trade had hurt the U.S., which could be a green shoot for Democrats supportive of TPP.
Still, trade has become contentious even in less-contested Senate races. Sen. Ron Wyden, D-Ore., has faced threats of a challenge by the progressive Working Families Party in his state for his hand in TPP and TPA. He was also targeted, along with Sen. Michael Bennet, who is up for reelection in a tighter 2016 race in Colorado, in online ads by the AFL-CIO for supporting TPA in the Senate Finance Committee.
In California, state Attorney General Kamala Harris, who is a front-runner in California's open Senate race, gave a Hillary Clinton-esque response in an interview with the San Francisco Chronicle when asked about TPP and TPA, saying, "We want to strike a balance that, more than anything, allows America's economy to prosper, and that's going to be about our workers and our businesses."
Nevertheless, progressive pressure on Democrats over trade shows that it is becoming something candidates have to take a stand on. And for Democratic House members running for Senate, their vote on trade could determine whether Democrats will vote for them.
We want to hear what you think about this article. Submit a letter to the editor or write to letters@theatlantic.com.
Eric Garcia is a staff correspondent for National Journal. He previously was a transparency reporter for MarketWatch, where he reported on financial regulation issues. His work has also appeared in the Southern Political Report, Salon, the American Prospect and the New Republic. He is a graduate of the University of North Carolina at Chapel Hill, and covered politics for its campus paper, the Daily Tar Heel.