Congress is about to run out of gas.
The Highway Trust Fund authority runs out on May 31 unless Congress extends it, which would mean states would go without federal transportation dollars just ahead of construction season. A short-term extension is almost a certainty, but the House and Senate can't even decide whether the extension should run a few months or through the end of the year, let alone how to pay for it.
Senate Finance Committee Chairman Orrin Hatch is still working with colleagues to find a solution, a spokesman said. Brendan Buck, a spokesman for the House Ways and Means Committee, put it more succinctly: "All very fluid right now."
But one thing is clear: Congress is unlikely to follow the lead of the dozen or so states this year that are taking a look at the gas tax.
Despite proponents like Sen. James Inhofe, the Oklahoma Republican who leads the Senate Committee writing transportation-authorization language, raising the federal 18.4-cent-per-gallon gas tax is a political nonstarter. The tax hasn't been increased or adjusted for inflation since 1993, which has left the Highway Trust Fund nearly dry (the Department of Transportation says the fund will be bankrupt in August). Rep. Bill Shuster, chairman of the House Transportation and Infrastructure Committee, said last month of a gas-tax increase that "I don't think at this point that's possible."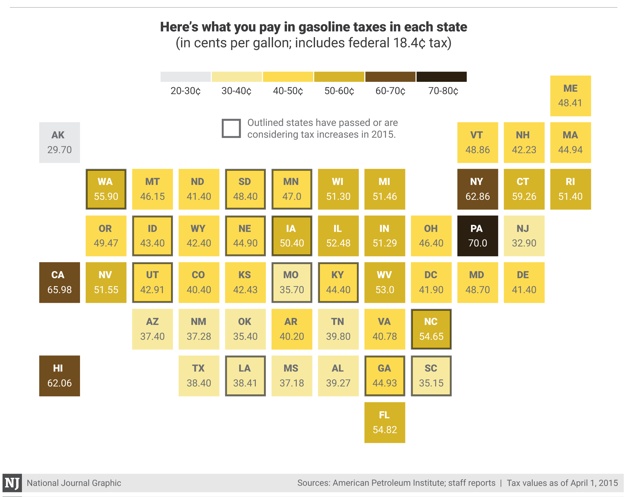 States, however, have increasingly latched onto the idea of hiking the gas tax—or "user fee" in more politically friendly parlance—to cover their transportation coffers. Each state already puts its own gas tax on top of the federal one (although some use excise taxes or sales taxes rather than a straight per-gallon fee), and given perilously low funding levels, seven states in the 2013-2014 election cycle passed gas-tax increases on ballots or through legislatures, with more looking at it this year.
And it's a trend highlighted by red states. Iowa, led by Republican Gov. Terry Branstad, in February raised its gas and diesel tax by 10 cents a gallon. Republican-led Utah raised its tax by 5 cents, which is set to take effect in July, and Idaho's legislature passed a 7-cent increase, with Republican lawmakers even seeking more.
And legislatures in Louisiana, Nebraska, South Carolina, Missouri, and others are all weighing options to raise their fuel taxes. Georgia even restructured its tax system and tacked on a $5-per-night fee on hotel and motel stays to fund transportation. A complex transportation-funding ballot measure in Michigan failed last week, but the tax increases wouldn't have been solely for transportation, turning some voters off. 
"This should be a wake-up call for legislators at the federal level that states aren't waiting and they're getting out in front of this," said Matt Jeanneret, a spokesman for the American Road and Transportation Builders Association. ARTBA planned to release an analysis Tuesday showing that 96 percent of Republican state legislators and 88 percent of Democrats were reelected after voting for a gas-tax hike, indicating that there may be little political blowback for the move.
There's been some tepid interest on the Hill for a gas-tax increase—GOP Rep. Jim Renacci of Ohio has introduced a bipartisan bill indexing the federal rate to inflation. But the bill seems likely to see the same fate as other gas-tax bills, which have not gained traction.
Democratic Rep. Earl Blumenauer of Oregon, who supports the bill, said that the progress in the states shows that the public can get behind highway funding tied to taxes.
"There is huge public support when people decide, 'OK, we're going to make a decision; it may not be the most popular with everybody,'" Blumenauer said, adding that state legislators faced little blowback for gas-tax increases. "It's a case of will and action."
We want to hear what you think about this article. Submit a letter to the editor or write to letters@theatlantic.com.
Jason Plautz
is a Colorado-based reporter covering energy and environment policy.