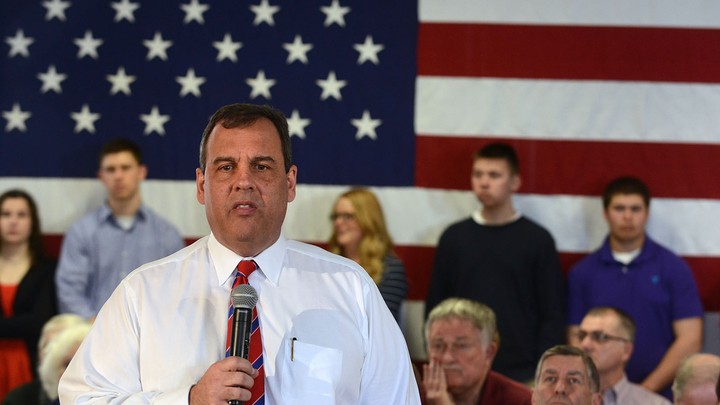 Chris Christie's unpopularity isn't just hurting his presidential hopes. It has endangered fellow Republicans' chances in the 2017 race to replace him as governor of New Jersey.
While Christie's national numbers get more attention these days as he lays the groundwork for a presidential campaign, the governor's home-state approval ratings have slid for some time now. Just a few years ago Christie's charisma and political connections were the best thing the New Jersey Republican Party had going for it, but now it's Democrats who are eagerly preparing to take advantage of Christie's political situation to win back the governor's mansion in 2017.
"One of the fundamentals here is that nobody expects a Republican to win in the next gubernatorial election," said Ben Dworkin, the director of the Rebovich Institute for New Jersey Politics at Rider University. "It is widely accepted and assumed that the next governor will be a Democrat."
Christie is barred by state law from serving a third term, though it's unclear if he'd be able to win reelection even if he were able to run. A Monmouth University poll released this week showed Christie's statewide approval rating at just 35 percent.
Even if Christie were still exceedingly popular, it'd be tough for any Republican to replicate the circumstances, and especially the personal charisma, that enabled Christie's rise. In a sense, the dynamics present in the run-up to the upcoming open-seat race represent a return to the status quo after a unique Christie-led era.
"Many Democrats feel confident that Chris Christie was a unique politician and not somebody who's going to be easily duplicated by the Republicans," Dworkin said.
The Republicans most frequently mentioned as potential candidates are close Christie allies, a tie that likely won't do them any favors in a race that will be fought in his shadow. State Assembly Minority Leader Jon Bramnick has remained loyal to Christie, and he recently hired Christie's former campaign manager, Bill Stepien, who was fired in the fallout from "Bridgegate," to help with upcoming Assembly races. Christie's lieutenant governor, Kim Guadagno, is also said to be considering the race.
Bramnick maintains that his focus is on 2015 legislative races and that he doesn't see Christie as a drag on his party in coming elections. He said he is confident that merely attacking Christie won't be enough for Democrats to win in 2017. "Those in the Democratic Party, and those who are very partisan, will attack Chris Christie, but it doesn't solve the problems that we face," Bramnick said. "Things like Bridgegate are sideshows."
Other Republicans aren't so confident. One conservative state senator and Christie critic, Michael Doherty, recently told The New York Times that Christie's reputation is "going to be relevant to the reputation of the statewide Republican Party, and whether a Republican's going to have a shot of being elected governor in 2017."
The surest sign in the early race to replace Christie as governor, though, is the large number of Democrats already maneuvering to run in 2017. Top contenders are Jersey City Mayor Steven Fulop, state Senate President Stephen Sweeney, and former U.S. Ambassador to Germany Philip Murphy. Each member of the trio has for months signaled interest in running for governor, and aides for each are confident that whoever wins what is expected to be a hard-fought primary will be well positioned to win the general election.
"The race is Democrats' to lose," said Julie Roginsky, a consultant for Murphy.
Yet Christie could also be a liability for some Democrats in their primary, particularly Sweeney. The state Senate leader worked closely with Christie on a number of legislative deals, including a 2011 public-pension overhaul that may now be in jeopardy. One Democrat not supporting Sweeney called him "Christie's enabler in the legislature," underscoring the pitfalls for Democrats who have associated with the governor in the past.
Murphy, on the other hand, faces the challenge of refuting association with another unpopular New Jersey chief executive, Democratic former Gov. Jon Corzine. Murphy, like Corzine, is a former Goldman Sachs executive with considerable personal wealth, but he has no prior experience in elected office.
A potential primary between Sweeney and Fulop reflects the traditional political split between the state's North and South (though Murphy is also from North Jersey). Sweeney is a close ally and childhood friend of South Jersey political boss George Norcross III, and Fulop, as the mayor of the state's second largest city, is hoping to command the loyalty of Democrats in some of the state's most populous counties in the New York City suburbs.
To burnish his policy credentials, Murphy formed a nonprofit in November called New Start New Jersey. The group operates as a think tank and pledges to explore "the most effective public policy initiatives to grow the economy and improve our quality of life." In reality, the group is largely functioning as a shadow operation for an eventual campaign, since Murphy lacks the same organizational ties to local Democratic officials as Fulop or Sweeney. Murphy's financial resources, however, could be of paramount importance since New Jersey is split between two of the most expensive media markets in the country.
Murphy is paying a slew of high-profile Democratic consultants in conjunction with New Start New Jersey's activities, most of whom are expected to stay on board should he formally launch a campaign. The team includes Roginsky as well as Brendan Gill, who managed Sen. Cory Booker's 2013 campaign, media consultants Steve DeMicco and Brad Lawrence, and Samantha Maltzman, one of the state's top Democratic fundraisers.
We want to hear what you think about this article. Submit a letter to the editor or write to letters@theatlantic.com.