Charlotte Ivancic: The Boehner Staffer Who Got the 'Doc Fix' Done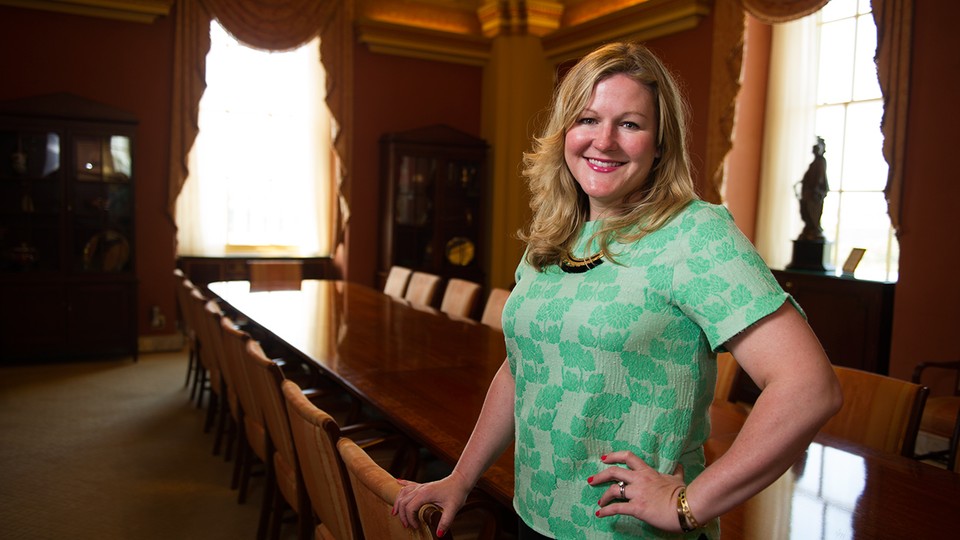 For nearly two decades, much-needed reforms to Medicare payment programs evaded Washington. Year after year, lawmakers pushed through a temporary measure, the so-called "doc fix." A longer-term solution—and a bipartisan one, no less—only made it out of Congress last month.
And Charlotte Ivancic, House Speaker John Boehner's health policy director, was "really the common thread that made it all happen," says the speaker's deputy communications director.
"He looked at Charlotte and said, 'I want a permanent doc fix,'" Mike Ricci recalls. "And two months later, it happened."
(RELATED: Why Some Male Members of Congress Won't Be Alone with Female Staffers)
Of course, that's not exactly how Ivancic, 37, tells the story; she credits her boss's optimism and the hard work of the bipartisan committee that worked on the deal. But as the speaker's health care adviser, Ivancic was the go-between between Boehner and Rep. Nancy Pelosi, working daily with her counterpart in the minority leader's office to negotiate a deal very few people thought could be pulled off. As daunting of a task as that might seem, it encompassed everything Ivancic loves about her job.
"Working on Medicare stuff is kind of my bread and butter," she says. "When I think about what I have enjoyed most about what I do, it's anything bipartisan. I really love to be able to work on a deal with the other side. I think that's kind of where the sweet spot is in terms of producing the best legislation."
The doc-fix deal, formally known as the Medicare Access and CHIP Reauthorization Act, was introduced in the House in March. At first, almost no one had any faith in a permanent remedy.
(RELATED: What's It Like to Be a Woman on Capitol Hill?)
"It's not every day that Congress passes a Medicare bill. I think passing a Medicare bill in a bipartisan way poses an enormous challenge," Ivancic says. "I think that's why a lot of people said it's hard to imagine this coming together. I probably could have been one of those people."
Yet the legislation overwhelmingly passed in the House at the end of March, with only 37 "no" votes. In April, it passed the Senate in a 92-8 vote. Two days later, it became law.
That both of the House leaders could come together on health care to produce a major Medicare bill made the process unusual, Ivancic says.
"If there's anything I learned about all of this," she says, "it's keep an open mind because you never know when a door might open."
(RELATED: The 20 Most Powerful Women Staffers on Capitol Hill)
Ivancic worked as a laboratory administrator in the tissue-engineering department at Children's Hospital Boston after college, and studied health law at Boston University. Her first Hill job was in the office of then-Sen. Jim DeMint of South Carolina.
"They were looking for a health care person and sort of willing to take a risk on someone who'd never been on the Hill," she says. "My only real political experience was I had been the president of College Republicans at my very liberal arts school."
She worked for DeMint for a year and then moved to Sen. Bill Frist's office in his last year as majority leader. From there, someone recommended her to Rep. Paul Ryan, who had just become ranking member of the House Budget Committee, and she joined his team for six years.
Two and a half years ago, Ivancic joined Boehnerland, where she's the only health care adviser and also works on veterans' issues.
"I knew going in she was probably one of the best health care minds on Capitol Hill," says Mike Sommers, Boehner's chief of staff. "What I didn't fully appreciate was her political skill. She also has the capacity to evaluate the political scenarios around the deal. I think that's what makes her invaluable to the speaker."
Adviser to the speaker is not Ivancic's only title. She's also the mother of three boys, the youngest of whom is eight months old. Ivancic says that being a mom makes her better at her job. And although negotiating the doc fix with a 6-month-old baby at home was challenging, to say the least, her schedule isn't like that day to day.
"There are elements about being a woman, especially about being a mom, that really I think allow me to be better at some of this than I would be otherwise," she says. "I'm a multitasker. That's just part of my life—trying to get everything done at once. So that's a thing that I think is sort of helpful in this role. Being flexible and just kind of trying to figure out what everybody's interests are is a thing that women sometimes can be especially good at."