Caught Between Pledge and Poison Pills, McConnell May End Iran Debate
The majority leader could imperil the Iran bill if he gives Tom Cotton and Marco Rubio the votes they seek.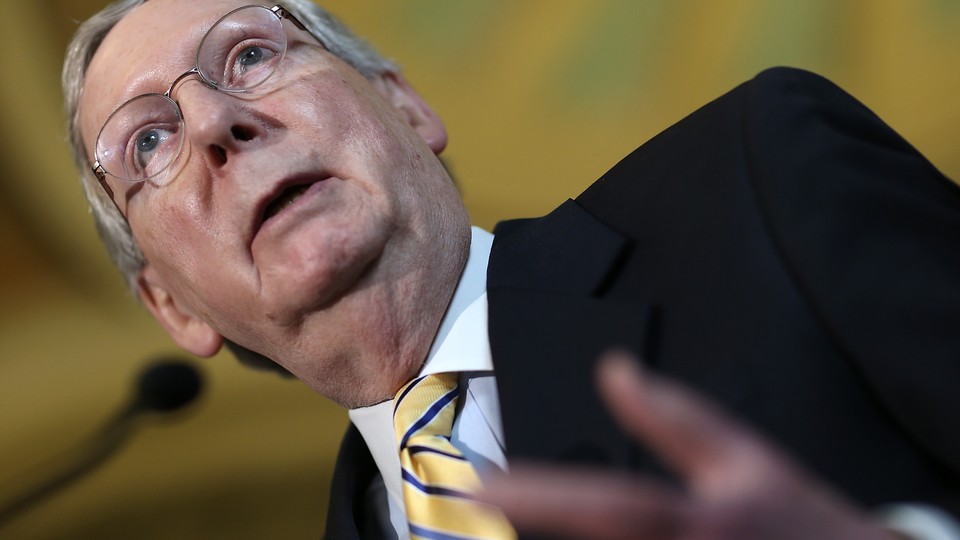 Senate Majority Leader Mitch McConnell may be forced to end debate on the Iran bill early this week, shutting down the open amendment process that was a central promise of his bid for control of the chamber.
Sen. Tom Cotton's surprise move on Thursday to force votes on his own amendment and one from Sen. Marco Rubio highlights the perils of McConnell's commitment to an open amendment process. When Sen. Harry Reid was leader, he often "filled the tree" in Hill-speak, essentially preventing members from filing amendments without his express written permission. McConnell's stated preference for a free-wheeling debate allows members to follow in Cotton's footsteps and force votes on their amendments.
McConnell now has an unpleasant choice: allow the Senate to move to votes on the Cotton and Rubio amendments, or shut down debate and cancel votes on all of the remaining 67 amendments to the Iran bill.
Democrats and Republicans anticipate that McConnell will choose the latter and will file cloture to pass the bill as is early this week. A McConnell spokesman said that was one option the leader was considering, but as of Friday, no final decision had been made.
(RELATED: Mitch McConnell's 2016 Juggling Act)
"Cotton may very well have altered next steps going into Monday," one Senate Democratic aide said in an email Friday. "The Cotton gambit may have ... had the effect of cutting off the amendment process that was obviously underway—67 or so from the Republicans, 0 from the Democrats—all on a Republican bill no less in a Republican led Senate!"
Cotton's attempt to push his and Rubio's amendments—requiring that the administration conduct inspections and assure Congress that Iran is not pursuing a nuclear-weapons program, and requiring that Iran recognize Israel, respectively—appears to have blown up attempts by leadership both to maintain an open amendment process and get the final bill through the Senate.
Senate Foreign Relations Chairman Bob Corker and ranking member Ben Cardin had been working for weeks to thread that needle. Several of the 69 Republican amendments filed on the Iran bill, including those filed by Cotton and Rubio, have been termed "poison pill" measures by Democrats and, if passed, would endanger the underlying Iran measure, which needs six Democratic supporters in order to pass. Two of those amendments failed last week.
Sources said that Corker and Cardin, who are leading the floor debate under the watchful eye of their leaders, were nearing a deal to offer votes on at least some of those amendments, including some difficult votes for Democrats. But the two leaders had not yet announced which amendments would receive votes, and both Cotton's and Rubio's were seen as unlikely to earn any floor time.
(RELATED: Can Republicans Have it All on Iran?)
That led Cotton, on Thursday, 48 hours after the Senate began voting on Iran amendments, to try to bypass the floor leaders and his own leadership without warning leaders. Cotton served as an emissary for Rubio, who was presiding over the Senate at the time.
"I, the senator from Florida, and many, many other senators have submitted multiple amendments to ask for votes on these points. We have been consistently blocked from bringing up these amendments," Cotton said Thursday.
A visibly angry Cardin stood on the floor with Corker as Cotton made his move, warning the Arkansas freshman that it could disband not only the amendment process, but the bill that they had worked so hard to cobble together. Corker had just announced on Tuesday that the bill had the support of 67 senators, a veto-proof majority, and now two of those supporters were potentially blowing it to bits.
"I have been working with numbers of senators on some really controversial votes that we were willing to make, as we already have. As a matter of fact, the only two votes we have had thus far were considered poison-pill votes," Corker said. "My friend from Maryland [Cardin] was willing to have more poison-pill votes—if you want to call them that—tough votes, but I sense the context of this may have just changed."
(RELATED: Glimmers of Hope on the Hill)
Calling them not "poison pills" but "vitamin pills," Cotton shot back, echoing a statement Rubio made on the floor Wednesday. "If you don't want to vote, you should not have come to the Senate. If you're in the Senate and you don't want to vote, you should leave."
Without those votes, Cotton and Rubio could pull their support from the underlying bill. And should McConnell end debate to ensure the bill's final passage, many others could go with them. Sen. Ted Cruz, for example, has an amendment pending on the bill that would require Congress to actively approve or disapprove of the Iran deal (under the current bill, the deal is deemed approved if Congress fails to act).
Cruz may have received a vote on that amendment under the Cardin-Corker deal, but that is now in jeopardy along with the 66 other pending amendments.
CORRECTION: An earlier version of this article incorrectly stated that ending the Iran debate would mark the first time in his tenure as Senate Majority Leader that Mitch McConnell had shut down the open amendment process.