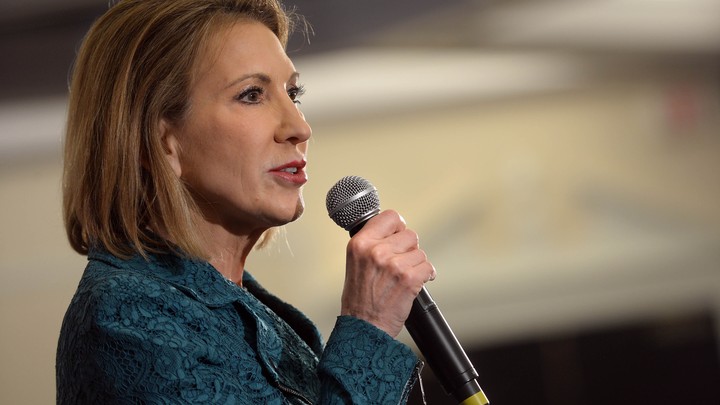 Forget the demon sheep. Beware the domain squatter.
Carly Fiorina, the former tech company CEO who launched her long-shot presidential bid on Monday, is the latest GOP candidate to have an unflattering or off-message domain registered bearing his or her name.
This domain squatting, also known as cybersquatting, is the troll du jour of the 2016 election cycle so far, with Ted Cruz and Rand Paul both falling victim earlier this spring. In Fiorina's case, one operator managed to buy carlyfiorina.org before her campaign could, and is using the site to paint a negative portrait about her business experience.
Fiorina is marketing herself as a private-sector foil to Hillary Clinton: a successful businesswoman who started her career as a secretary and rose to the position of Hewlett-Packard's CEO. But carlyfiorina.org puts a different spin on her career: Using sad-face emoticons, the simply designed page tallies the number of people laid off from HP under Fiorina's leadership from 1999 to 2005.
It's probably unlikely that voters would rather type in random domain names to find candidates' official sites than let Google do all the work. But even if that's true, candidates can't be happy about critical websites registered with their own names.
Cruz—whose official campaign site is tedcruz.org—wasn't quick enough to register a dot-com URL with his name, and thus tedcruz.com leads to a pro-President Obama, pro-immigration reform page. (That site's operator must've seen that Cruz's star was ascendant: The domain was registered in 2004, when Cruz was solicitor general of Texas.) One Cruz superfan said he wouldn't hand over the rights to tedcruz2016.com until he could meet the candidate. And until Paul (presumably) bought out the operator of randpaul.com, the page bore an "unofficial" and "crudely designed" fan page for the senator from Kentucky.
Even Taylor Swift knows to watch out for trolls coopting domains. The remaining, undeclared candidates would be wise to catch on soon.
We want to hear what you think about this article. Submit a letter to the editor or write to letters@theatlantic.com.
Nora Kelly
is a senior editor on
The Atlantic
's politics team.