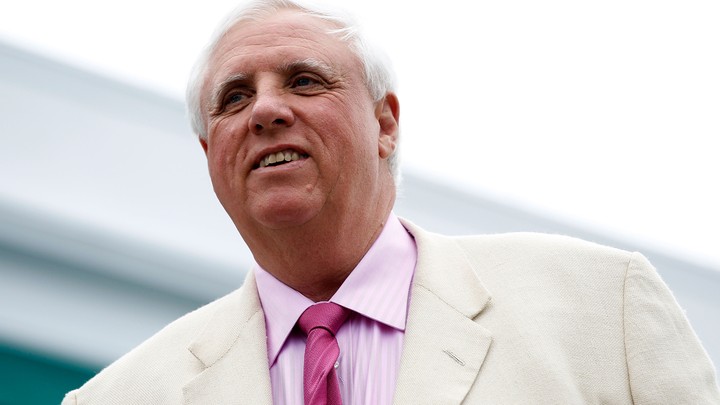 It has become a tradition of Applachian politics: Come campaign season, Democrats go to great length to tout their pro-coal track records. Last year, Kentucky Democratic Senate candidate Alison Lundergan Grimes released photos of herself crawling through a coal mine in a hardhat. West Virginia's Natalie Tennant pretended to shut off the White House's power in a TV ad, asking, "Where do they think their electricity comes from?" And none has surpassed then-West Virginia Senate candidate Joe Manchin's 2010 campaign ad, in which he put a bullet through legislation labeled the "cap-and-trade bill."
Meanwhile, Appalachian Republicans have had great success with tying Democratic candidates to President Obama's energy agenda, which includes new water, air and climate regulations aimed at coal mining, and coal-fired power plants.
But in 2016, one West Virginia Democrat may have the opposite problem, with a service record in the coal industry so long that even Republicans are picking it apart.
Billionaire Jim Justice, a former Republican and friend of Manchin, recently announced his plans to run as a Democratic candidate for governor in West Virginia, a bid that reinvigorated the party's hopes of taking the governor's mansion after Manchin said he would not run.
Justice, whose net worth is estimated at $1.69 billion who and intends to self-fund part of his bid, is also a coal baron, owning companies that operate mines throughout Appalachia. And Justice hasn't been shy about touting his pro-coal record: At his launch event on May 11, a retired mine worker who used to work for Justice proclaimed, "We need a coal man who understands coal in the governor's office."
"It will be very, very difficult for anybody to say that Jim Justice isn't pro-coal," said Phil Smith, the director of government relations for the United Mine Workers of America.
But Justice's coal dealings may also cause him trouble, due to his mines' messy history of failing to take care of fines, unpaid debts and violations—a record that could give him trouble should he face a competitive Democratic primary, and a record that Republicans are already looking to exploit absent more traditional attack lines. In 2014, Justice admitted to "hundreds of reclamation violations" in his Kentucky-owned mines and paid $12.1 million in bonds and fines to address the problems. Many of the violations involved a failure to do environmental clean-up work, and a failure to pay contractors and suppliers in a timely manner for their services.
The West Virginia Republican Party already is on the attack, but from an unusual angle. They've placed the focus on environmental and worker protection issues. The party's website says Justice has a "record of flat-out not paying environmental fines" and "ignoring mine safety fines."
In response to those early critiques, Justice's campaign manager Derek Scarbro told National Journal, "We fully expect partisan gamesmanship to take advantage of anything that they can and grasp at straws," but defended Justice by saying, "With all the various businesses he owns and operates, when you have that amount, he's probably dealt with 1,000 contractors over the years. You're going to have disputes with some of them."
While somewhat awkward for Republicans, those attacks also could be picked up by Justice's potential opponents in a Democratic primary, including those who have strong ties to unions and environmental groups.
One likely candidate, Democratic state Senate Minority Leader Jeff Kessler, expressed dismay at the rightward turn a Justice candidacy would represent for his party. "While I recognize that we have taken a bath over the last couple of election cycles, trying to be 'Republican-lite'"¦ I hope we haven't resorted to the fact that the only way we think we can win is to go out and get one," Kessler told the West Virginia MetroNews. Justice has heavily donated to both Democrats and Republicans over the years, and before he announced, many were unsure of his party affiliation.
The United Mine Workers of America typically backs Democrats, but Smith said it was too soon to comment on a potential Democratic primary. The group has donated to Kessler in the past, and worked alongside him on recent efforts to oppose a GOP sponsored "right-to-work" anti-union bill and repeals of mine safety laws.
Another potential Democratic gubernatorial candidate, U.S. Attorney Booth Goodwin, would also be able to draw a sharp contrast with Justice were he to run. Goodwin is prosecuting a high-profile case against the owner of the Upper Big Branch coal mine that exploded in 2010, killing 29 miners. He's also leading the case against Freedom Industries, the company responsible for the 2014 chemical spill that contaminated the drinking water of over 300,000 West Virginians.
However, while Justice likely is no friend of environmental groups, Republican charges that Justice will struggle to win the support of unions may be overblown. Most of the lawsuits filed against Justice's companies were from suppliers and contractors who he did business with, not mine workers. During his campaign launch, Justice emphasized that over 1,000 of the 1,900 jobs he supports at the historic five-star Greenbrier resort are union jobs.
"From our perspective the mines [Justice] owned in West Virginia were union operations. He was not a difficult person for us to deal with in terms of his ownership of those mines and dealing with contract negotiations. We never had a strike there that I'm aware of, we never had any major issues. From our member's perspective he was a reasonable employer," Smith said.
All told, without Manchin in the race, Justice's unique, Manchin-esque center-right profile has established him as the candidate top Democrats think can help them keep the West Virginia governorship in 2016. Justice and Manchin are close friends and there are deep ties between the two men's political operations. Manchin's former chief of staff, Larry Puccio, worked as a lobbyist for the Greenbrier and is now an adviser for his campaign. Puccio also currently runs Manchin's super PAC.
Derek Scarbro, Justice's campaign manager, is also a former Manchin political hand, and Justice is working with the Global Strategy Group, a Democratic political firm which worked on races for Manchin and the state's current Democratic governor, Earl Ray Tomblin. Matt Canter, one of the firm's senior vice presidents, was in West Virginia for Justice's campaign launch.
Scarbro said what sets Justice apart is his record as a job creator and his deep understanding of the state's energy sector. "He's not a politician, he's not doing this to further a political career, he's doing this for all the right reasons to give back to his state, and I think that that will set him apart from everyone in the field," Scarbro said.
As local columnist Hoppy Kercheval put it, both parties will have to "adjust their swing to the Jim Justice curve ball."
We want to hear what you think about this article. Submit a letter to the editor or write to letters@theatlantic.com.