Bridgegate Is Back to Haunt Chris Christie's Potential 2016 Run
David Wildstein's guilty plea could be a headache for the New Jersey governor's nascent presidential campaign.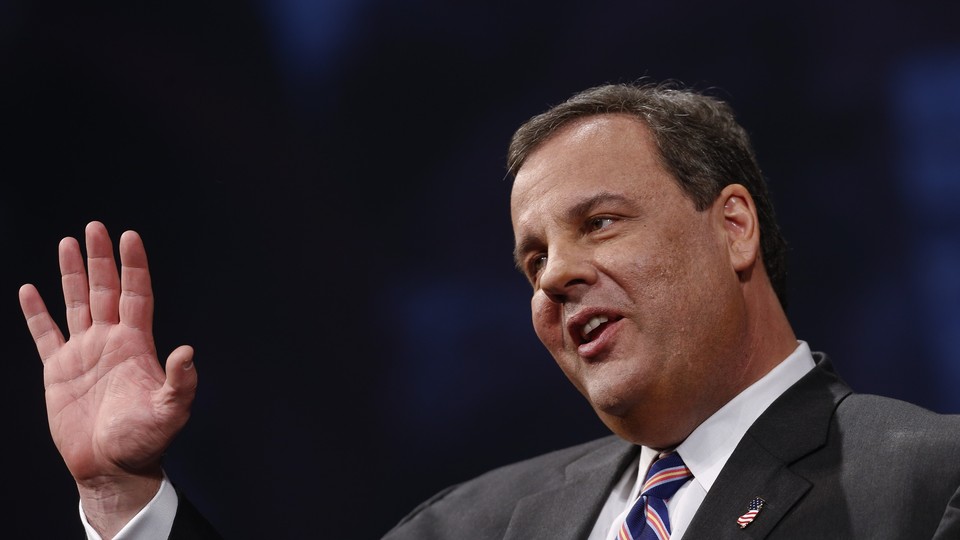 After what authorities called a "painstaking and methodical investigation," three associates of Chris Christie—two Port Authority of New York & New Jersey appointees and a former staffer—were implicated Friday in the 2013 Bridgegate scandal.
David Wildstein, a former official at the Port Authority, pleaded guilty Friday morning to charges related to the affair. Christie's deputy chief of staff Bridget Kelly and Port Authority executive Bill Baroni were federally indicted Friday on conspiracy charges for their involvement in the shutdown.
Wildstein, Baroni, and Kelly are alleged to have orchestrated a multi-day traffic jam in Fort Lee, New Jersey, in September 2013 by closing lanes of the George Washington Bridge under the guise of a traffic study. Wildstein confirmed in a hearing Friday in Newark that the shutdown was politically motivated.
In a press conference Friday afternoon, U.S. Attorney Paul Fishman said Wildstein, Kelly, and Baroni concocted a "deliberate and illegal scheme" to punish the Democratic mayor of Fort Lee for not endorsing Christie's 2013 reelection campaign. Local Democrats and other critics of the Christie administration had contended since the scandal's beginnings that the bridge was effectively shut down for that purpose. Fishman said the plan amounts to a "political vendetta" against the mayor, Mark Sokolich.
Whether Christie knew about the lane closures—or even ordered them—has been a matter of much speculation. But according to The Associated Press's report, Wildstein did not suggest that Christie—who's long maintained his innocence—was involved. Fishman said Friday that, based on the information now available, he has no plans to charge anyone else in the scheme, though there were "others" involved. In the past, Wildstein has said he told Christie about the shutdown as it was happening, and Wildstein's lawyer has claimed that "evidence exists" to prove Christie knew about the plan.
Shortly after the press conference wrapped on Friday afternoon, Christie tweeted a statement.
Carrying out the plot required the cooperation of many different people, who Fishman said were simply acting on orders. Extra toll collectors and cops were needed, and engineers were asked to take data for a study they didn't necessarily know was fake and would never see the light of day.
Fishman said the plan "created havoc" for the people of Fort Lee. City officials weren't told in advance about the contrived traffic study, and so emergency crews were delayed and children prevented from getting to school on time. The timing and concealment of the lanes shutdown were allegedly entirely on purpose: Baroni, Wildstein, and Kelly decided in August 2013 to exact revenge against Sokolich after Kelly confirmed he was not planning to endorse Christie. But they sat on their plan until September, Fishman said. August in Fort Lee doesn't produce too much traffic, so they waited until Sept. 9—the first day of school—"to further ratchet up the injury to Fort Lee's residents."
Fishman said Sokolich and other officials tried to seek help from Port Authority officials.
"They not only wanted explanation," he said. "They wanted help. But the indictment alleges, and Wildstein has admitted, that none of the co-conspirators responded. "... They never broke with the plan no matter how many times" Sokolich and others contacted them.
Wildstein's guilty plea and the indictment could throw a wrench into the New Jersey governor's as-yet-undeclared presidential bid. There's been no public evidence of Christie's involvement, yet Bridgegate has continued to dog Christie's 2016 efforts. His national approval rating took a dive after the scandal was revealed in January 2014, and pollsters still are testing voters' temperatures about it (53 percent of New Jersey voters say they believe he knew about the plot). New Hampshire voters razzed Christie about it last month during his visit there, and the governor himself has admitted it damaged his reputation.
Christie appointed Wildstein as director of interstate capital projects at the Port Authority in 2010. Baroni was appointed deputy executive director of the agency that same year. Wildstein and Christie went to high school together, but the governor has consistently disputed claims that the two are close.
Wildstein is cooperating with federal prosecutors who've been investigating the shutdown for more than a year. His sentencing likely won't happen until after he's testified at any criminal trials that arise from this case. Baroni and Kelly will be arraigned Monday morning.
The timing of Wildstein's guilty plea and the indictment add another layer of trickiness for Christie: The governor is headed back to New Hampshire next week for another town hall tour, and he's expected to announce his decision on a presidential bid sometime this month or next.