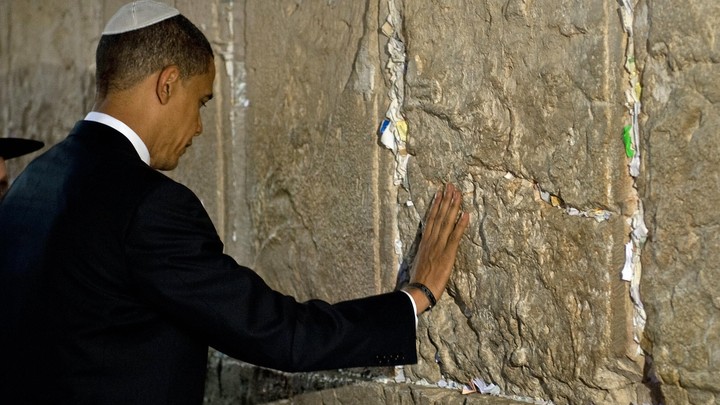 President Obama carries the push for a negotiated deal with Iran to a skeptical American Jewish community Friday, taking his campaign for support to the largest conservative synagogue in Washington. In doing so, he will achieve something none of his predecessors ever did—visit his third synagogue as president.
The highly symbolic visit comes after two months of open confrontation with Israeli Prime Minister Benjamin Netanyahu and a Republican Congress determined to undermine his efforts to negotiate a halt to Iran's quest for nuclear weapons. The public spat has softened Obama's backing from American Jews, though it is a community that heavily supported both his campaigns and remains generally in his corner.
His message was signaled by a lengthy interview he gave this week to The Atlantic's Jeffrey Goldberg, a member of the Adas Israel Synagogue in Cleveland Park that will host the president. In the interview, the president made it clear, wrote Goldberg, "that he would not allow the Jewish right and the Republican Party to automatically define criticism of the Netanyahu government's policies as anti-Israel or anti-Semitic."
White House Press Secretary Josh Earnest said the ostensible purpose of the visit is to celebrate Jewish American Heritage Month. But he called attention to the Goldberg interview and added, "You'll see that many of the themes that he discussed earlier this week in that interview are consistent with the kinds of themes that you'll hear from him tomorrow."
The overarching theme is one of offering reassurance to the Jewish community that, as Obama told Goldberg, "I've got Israel's back."
The president wants to convince his foreign policy critics that he will not negotiate a bad deal with Iran, that he's committed for the long haul to the battle against the Islamic State, and that even when he challenges a specific policy of the Netanyahu government, he is determined to keep the United States as the guarantor of Israeli security.
The visit comes at a time when, according to Goldberg, the Jewish community is "nervous about Iran, nervous about Obama's response to Iran, nervous about Netanyahu's response to reality, nervous about the toxic marriage between Obama and Netanyahu, and nervous that, once again, there is no margin in the world for Jewish error."
The president insisted to Goldberg that his support from American Jews has not been damaged by all that nervousness. Jewish voters went for Obama 78-22 in 2008 and 69-30 in 2012. Surveys since that election by Gallup show that Obama's support from Jews has dropped from a second-term high of 65 percent in 2013 to 54 percent now—still eight points higher than his overall support. But that is half of the 16-point gap he had in 2013.
That raises the stakes for this visit to Adas Israel and also calls attention to Obama's repeated stops at synagogues, which have eclipsed those of prior presidents.
George Washington did not visit a synagogue but he sent an historic letter to a Rhode Island synagogue in 1790 that was critical in signaling that Jews were part of America. Then Ulysses Grant visited this same Adas Israel congregation in 1868, when the synagogue was located in a different location. There was a similar visit by William Howard Taft, then a campaign rally for Ronald Reagan in a Long Island synagogue in 1984. Two decades later, President George W. Bush visited a synagogue in Russia in 2002. Then Obama visited a synagogue in Stockholm Sept. 4, 2013 before going two months later to a synagogue in Dallas. Now, with his third visit to a synagogue, he remains the only president to visit more than once.
That is not lost on American Jews, said Kenneth D. Wald, professor of American Jewish Culture and Society at the University of Florida. "Particularly given Obama's frequency of attendance, it is kind of a shout-out to a constituency that has been important to his election," Wald said, adding that the symbolism remains important for many. "Particularly for an older generation of Jews, when the president of the United States visits a synagogue, it is a very important way of asserting the legitimacy and the membership of Jews in American society. It is a form of recognition and, for many Jews, that is encouraging and comforting."
Wald added that the visit also allows the president to reach out "to a constituency where there have been some public expressions of concern" over the Iran negotiations. And, he said, it is important to use this visit as a way to condemn anti-Semitism as loudly as he has condemned attacks on American Muslims. "It is a way of reassuring a group that he hears their concerns and is prepared to address them," he said.
We want to hear what you think about this article. Submit a letter to the editor or write to letters@theatlantic.com.