Asking Martin O'Malley to Explain Baltimore
On Tuesday night, the man credited, or blamed, for shaping the city will explain his record, and connect the city's prospects with the nation's.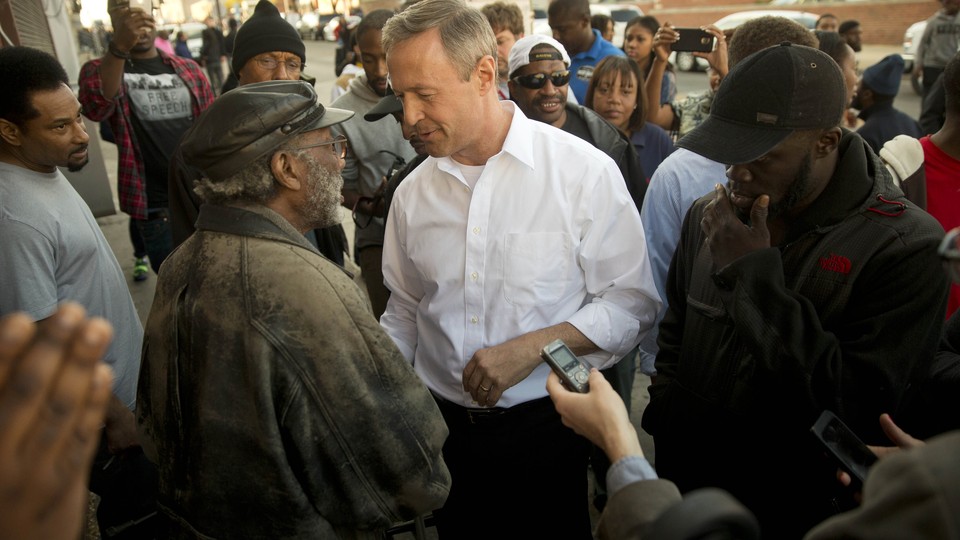 Just ten days ago, President Obama was one of several speakers at the White House Correspondents Dinner to deliver a casual slight to Martin O'Malley's not-yet-official 2016 presidential aspirations, based on the premise that no one had ever heard of him. Obama's joke was that Hillary Clinton had started off her campaign by going unrecognized at a Chipotle—and Martin O'Malley had gone unrecognized at a Martin O'Malley campaign event. Hardee har!
[The unmentioned "meta" aspect of the joke is that most presidential candidates necessarily go through the humiliating "You're running for what???" stage of campaigning, notably including the ultimately nominated-and-elected Jimmy Carter, Bill Clinton, and Barack Obama.]
It's a joke no one would make about O'Malley now. Protests over Freddie Gray's death were spreading in Baltimore even as the black-tie dinner took place 40 miles away in northwest Washington. Martin O'Malley—for eight years a Baltimore city council member, for seven years its mayor, for eight years until this January the governor of Maryland—came back to his city from an overseas trip, walked the streets, received both congratulations and criticism, and generally found himself at the center of the intersecting debates about inequality, opportunity, justice, and accountability that will certainly play a large role in the American politics of the next 18 months and the American realities of the era ahead.
Last year, "Ferguson" became a shorthand for basic questions about racial justice and accountability for police violence. That's been followed by "Cleveland," "Staten Island," "North Charleston," and other places including now, on a different scale, "Baltimore."
One possibility, for a candidate running on his Baltimore record, would be to step back because of this controversy. The other, which O'Malley has chosen, is to step forward and argue that precisely because of his immersion in issues of crime, race, justice, and city struggles, he is the right person for these times. That is what he argued in a forceful interview two days ago with Chuck Todd on Meet the Press:
On Tuesday night at 8:30pm Eastern time / 5:30 Pacific I will have a chance to ask questions of O'Malley, about his Baltimore record and many other aspects of his approach to governing, in an hour-long live public session at the headquarters of the Esri technology company, in Redlands, California. Esri is a world leader in "geographic information systems," or GIS; O'Malley made heavy use of these systems in his data-based approaches to government, like CityStat, StateStat, and BayStat (this last one for assessing conditions in the Chesapeake Bay).
The discussion on Tuesday night will be a free public event in the "Redlands Forum" series, but it will also be livestreamed (through a link at the bottom of this page), and it will be archived when it is done. I will report back after the event on what I learned. I hope you're able to watch and listen.