Zooming Into Baltimore, a Segregated City
Freddie Gray's death unleashed demographic tensions seething in Baltimore for decades. Here's a look at how those trends affect where and how people live, their health, and their interactions with law enforcement.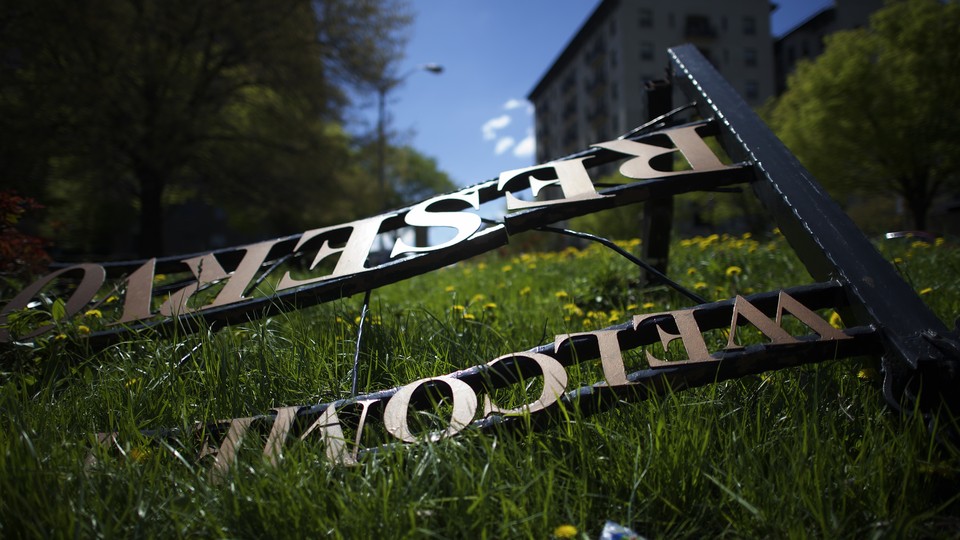 This is a map of Baltimore, population 620,000. In recent days, it has been the setting for both peaceful protests and riots, set off by the death of Freddie Gray, a 25-year-old black man who sustained a fatal injury apparently while in police custody. What exactly killed Gray is unknown, but his death has come to illustrate the stark divides that exist in the city.
Below is that same map of Baltimore, but illustrated by where its residents live. Each dot on this map represents 25 Baltimoreans. Blue dots represent African-American residents, red dots represent white residents, green dots are Asian residents, and orange dots are Hispanic residents.
+ Data from the 2010 census.  (Eric Fisher/Flickr)Immediately apparent: Black Baltimore residents live in highly isolated communities. Zooming in doesn't make the gradient less stark. There are the black sections of the city, and then there are the white sections of the city and the almost entirely white suburbs.
In Baltimore, the average black resident lives in a census tract that's 62.4 percent black, according to research from Brown and Florida State University. This isolation has barely budged since the 1980s, even though the city as a whole is becoming more diverse.
The lingering isolation is a shadow of Baltimore's history with block-by-block segregation policies. The policy, created in 1910, stipulated that "no negro may take up his residence in a block within the city limits of Baltimore wherein more than half the residents are white." The Supreme Court struck down that policy in 1917, but discriminatory housing practices continued on through the 1960s. The social geography of the city hasn't changed much since. "When I go to Baltimore, on the East Coast, I'm dealing with 1950s-level black-and-white racism," Baltimore Police Commissioner Anthony W. Batts said at a meeting of President Obama's task force on policing in February. "It's taken a step back. Everything's either black or everything's white, and we're dealing with that as a community."
What that isolation means is that individual outcomes are wildly different for African-American Baltimore residents than for white residents. As assessed in the 2005-2008 American Communities Survey, the median income for non-Hispanic white households was $55,803. For African-Americans it was $32,480. (In the state of Maryland, the median household income is $73,538, as assessed from 2009 to 2013.)
Here's the map of Baltimore, now showing the level of unemployment per census tract. The pink areas are those that have unemployment rates higher than 15 percent. Much of that unemployment is located in West Baltimore.
In Sandtown-Winchester and Harlem Park—the West Baltimore communities where Gray lived and was arrested—more than half of people aged 16 through 64 are unemployed (38.3 percent are not in the labor force).
That profound poverty in a neighborhood imprints itself on an individual physically. "At every age, Baltimore City African-Americans are at a disadvantage in relation to health"related issues and outcomes," the Johns Hopkins Urban Health Institute stated in a 2010 report. African-American babies in Baltimore are born weighing less than white babies. They have higher infant-mortality rates. Black Baltimoreans are eight times more likely to die of HIV/AIDS than white Baltimoreans (as assessed in 2006). There's even evidence to suggest that poverty gets etched into a person's DNA: Those who grow up in poorer households are even more susceptible to catching colds later in life, regardless of improvement to their economic situation.
The life expectancy of those living Sandtown-Winchester and Harlem Park is 68.8 years—about 10 years fewer than in the country as a whole. The median household income of the community is $24,006 (between 2008 and 2012), far below the average for Baltimore African-American residents as a whole ($32,480) and even farther below the median income for the city as a whole ($41,385). Thirty-four percent of the properties in Sandtown-Winchester are abandoned.
Poverty that profound also sets a person up for life in the shadow of the criminal-justice system. "Despite making up only 64 percent of Baltimore residents, African-Americans comprise 89 percent of the people held in the jail; currently, more than 2,900 African-American men are incarcerated in the jail," a 2010 Justice Policy Institute report states. Sandtown-Winchester has the highest incarceration rate of any census tract in Maryland. In September, The Baltimore Sun reported on the Baltimore police department's history of court settlements in cases in which officers used excessive force—a total of $5.7 million of settlements from 2011 on. "The victims are most often African-Americans," the Sun reported.