Zeina Azzam: Working to 'Humanize' Palestinians
The executive director of the Jerusalem Fund says that while Americans have definitely expanded their narrow view of Arab culture, there's still a lot of work to do.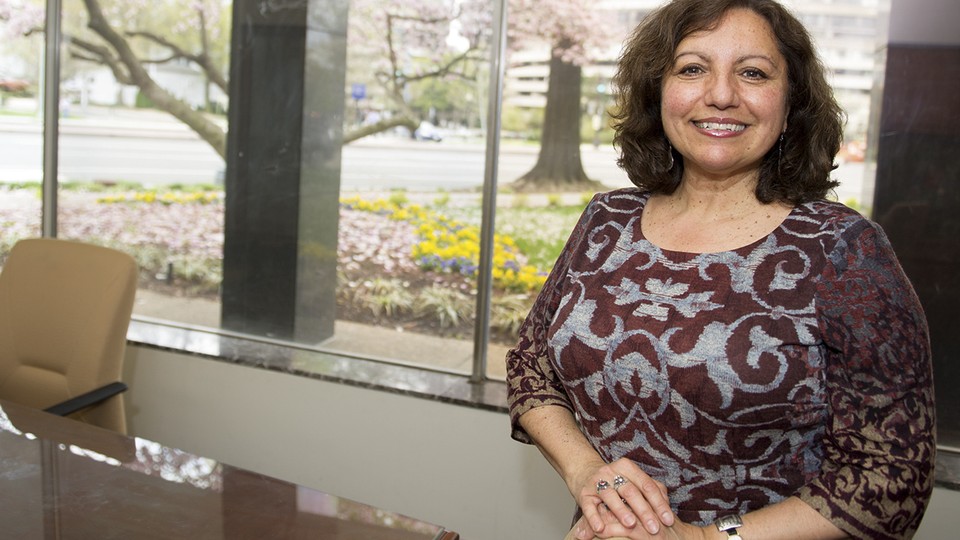 It's important to look at Palestinians holistically, and not just as people who live in a war zone," Zeina Azzam tells me. "You need to humanize this group of people in American society because, often, they're very much stereotyped."
Zeina Azzam is the executive director of the Jerusalem Fund. (Chet Susslin)As a Palestinian largely raised in the United States, Azzam should know. "In America, we hear about Palestinians as pawns in this big political mess," she says. At the Jerusalem Fund, where Azzam became executive director last month, "we just want to show them as human beings, to show they have hopes and dreams and jobs and kids."
Before joining the Washington-based nonprofit, Azzam, 59, spent three decades working to educate people about the Mideast, and her new job offers her the opportunity to expand on those efforts. Since it was founded in 1977, the Jerusalem Fund has run three distinct programs: the Palestine Center, which seeks to educate through lecture series, policy briefings, and conferences; the Humanitarian Link, which gives money to hospitals, orphanages, and schools; and the Gallery, which seeks to showcase the rich cultural heritage of the Palestinian people through exhibits running every five to six weeks.
For Azzam, the work is acutely personal. Her parents were Palestinian refugees who fled to Syria in 1948 to escape the Arab-Israeli war. "Just like so many other Palestinian families, they took their key with them and just a few things, thinking they would be back after the war was over," Azzam says. "When they didn't come back, they lost everything." Azzam herself was born in Syria, but when she was still a baby, her family moved to Beirut and then, when she was 10, to the United States. She spent her teen years in Delmar, a suburb outside of Albany, New York.
Life in the States was easier, but still not easy. "I grew up with this tension: Who am I really?" she says. When Azzam was in college at Vassar, where she majored in psychology (and minored in music), she learned it was possible to bridge the cultural gap. "I definitely stuck out in many ways," she recalls, "but once people got to know me, they realized I'm just like them." That revelation would help inform her work for decades to come.
Azzam first came to Washington in 1980, where she took a job as assistant director of educational outreach at the Center for Contemporary Arab Studies at Georgetown University. Eight years later, she left to have a second child and get a master's degree in sociology at George Mason University. She returned to Georgetown in 1994 to do educational outreach about the Arab world with a program she had created and to earn a second master's, in Arabic literature. (Azzam is also a published poet.) In 2014, she worked briefly as a senior program manager of the Arabic Language and Culture program at Qatar Foundation International before landing her current position.
While Americans have definitely expanded their narrow view of Arab culture, there's still a lot of work to do, she says. September 11, for instance, "really set us back in terms of stereotypes about violence and terrorism." Eventually, Azzam says, progress was made, "and then this whole phenomenon of ISIS appeared, and all of a sudden the extremist Muslim stereotype is back and we have to fight it all over again." Even so, she says, things have come a long way since she arrived in the United States. "When I first came here, I'd say I'm from Palestine and I'd get, 'Oh, Pakistan!'"Š" she recalls. "At least now we're on the map."