Why Menendez Could Walk
The Justice Department has laid a solid foundation, legal experts say, but corruption is always hard to prove.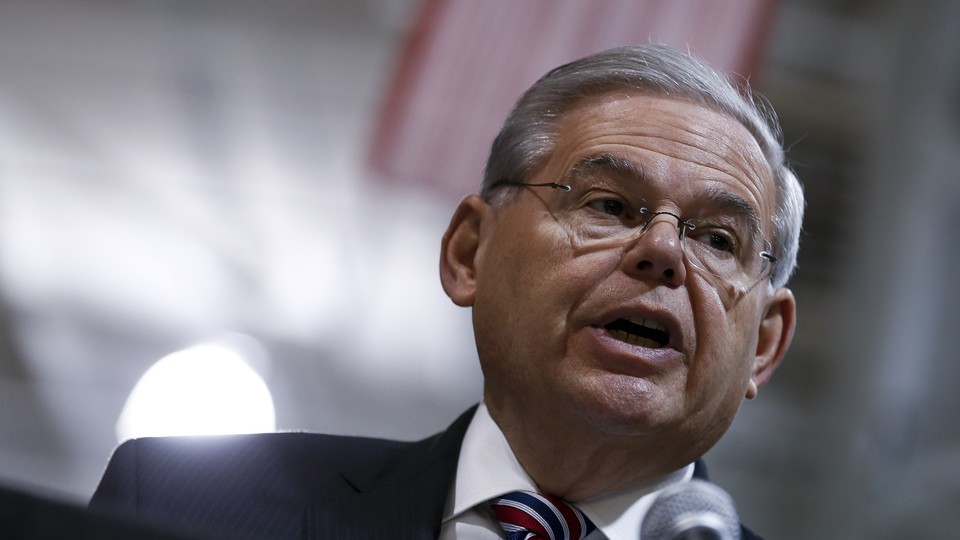 The Justice Department still has a lot to prove in its case against Sen. Robert Menendez.
The 68-page indictment against the New Jersey Democrat is a laundry list of scandalous-sounding details. It chronicles lavish vacations to Paris and the Caribbean, often on private planes, that Salomon Melgen provided for Menendez; as well as the powerful help he provided to Melgen in securing visas for various girlfriends and fighting a charge of Medicare fraud.
But that's how an indictment is supposed to read. Indictments are written by prosecutors for maximum effect. By design, they only represent one side of a case.
The details of the Menendez indictment seem to suggest that the Justice Department has a reasonably strong case, several legal experts said. But to walk out the courtroom with a conviction, it still has to clear an extremely high bar: convincing a jury that the back-and-forth was true corruption, and not just two friends helping each other out.
"As a defense attorney, I see real arguments that I would make, and you already hear the senator making, that this was about friendship," said Amy Richardson, a partner at the law firm Harris, Wiltshire & Grannis and an expert in white-collar criminal defense.
Menendez won't need to convince a jury that the things mentioned in the indictment didn't happen—only that they were not the product of a direct quid pro quo.
"I am angry because prosecutors at the Justice Department don't know the difference between friendship and corruption, and have chosen to twist my duties as a senator and my friendship into something that is improper," Menendez said Wednesday.
The strongest part of the government's case probably lies in the least dramatic of its 14 counts against Menendez—the charge that he failed to report Melgen's gifts on his government disclosure forms.
It's hardly a blockbuster charge, especially compared to the indictment on eight counts of bribery, but it's pretty easy to prove. Menendez hasn't disputed that Melgen paid for lavish vacations, and it's easy to see that he didn't report them.
The harder part for the Justice Department will be to prove that those gifts, along with nearly $750,000 in campaign contributions, were bribes that bought Melgen the use of Menendez' political clout. And that can be hard to prove, legal experts said.
"It's not that often that the politician and the briber sit down and say, 'Here, in exchange for this trip to Scotland, I'll pass this bill for you," said Randall Eliason, a George Washington University law professor.
But, based on the facts laid out in the indictment, Eliason said it appears the government has a strong case to make to the jury.
The charge of failing to report Melgen's gifts, while relatively minor on its own, could help the Justice Department build its arguments on bribery and conspiracy, Eliason said: Why hide something that was just a normal gift from your close friend?
"If that's the defense, then the fact that he fails to disclose the gifts becomes pretty damaging, because if that's the way he thought about them, you'd expect him to disclose them," Eliason said. "It helps you build the proof of intent."
Then there's the timeline: The indictment attempts to tie specific gifts from Melgen to specific actions Menendez took on his behalf. Menendez had directed his staff to help Melgen fight charges that he committed more than $8 million in Medicare fraud, and the senator met with the acting Medicare administrator about the issue, just six days after Melgen made a $300,000 campaign contribution earmarked for Menendez' reelection.
The timeline "makes that count read stronger," Richardson said, and could help the Justice Department prove that the contributions and Menendez' advocacy were linked.
The Justice Department only links Melgen's campaign contributions to specific actions Menendez took on his behalf—helping him fight the Medicare fraud charges, and lobbying the State Department over a contract dispute in the Dominican Republic. The private jets, fancy villas and expensive hotels were provided "with intent to influence Menendez "¦ as opportunities arose," the indictment says.
Menendez' attorneys might not dispute many of the specific facts in the Justice Department's indictment—after all, Melgen's campaign contributions and Menendez' meeting with Health and Human Services Department Secretary Kathleen Sebelius are both matters of public record. But they will almost surely offer more evidence of a longstanding friendship between Melgen and Menendez.
"As a defense attorney, the thing I thought was the weakest in the indictment is that you need for a bribery charge to show not just that they both received or provided a benefit, there also has to be a link," Richardson said. "Was the senator doing the things alleged in the indictment because of the gifts from the doctor, or because they were friends?"
Although the luxury travel and other non-campaign gifts aren't tied in the indictment to specific returns, legal experts said the sheer size of those gifts could help persuade a jury that something untoward was going on.
"It's the extravagant nature of the gifts that starts to give you the whiff of corruption," Eliason said.
And while everyone does favors for their friends, free trips to a private villa that "opens to a courtyard, has its own pool, and is serviced by "¦ private staff, which cooks, cleans, provides transportation and generally caters to the needs of "¦ guests" are a far cry from, say, picking up a bar tab.
"The level of these gifts "¦ as a defense attorney, I would be thinking, 'how do I make this relatable to people who don't have those friendships?'" Richardson said.
The size of Menendez' favors could also come into play. It doesn't matter, legally, that Menendez failed to get Melgen off the hook for his $8.9 million Medicare fraud charge, while the indictment says he was more successful arranging visas for Melgen's various girlfriends. It'll just be a question of what clicks with jurors, Richardson said.
"Depending on your jury, they may or may not care about visa issues, but they may care about $8 million," she said.