White House Trade Pitch Goes Into Overdrive
The Obama administration is using every possible forum to lobby reluctant Democrats on TPP and TPA.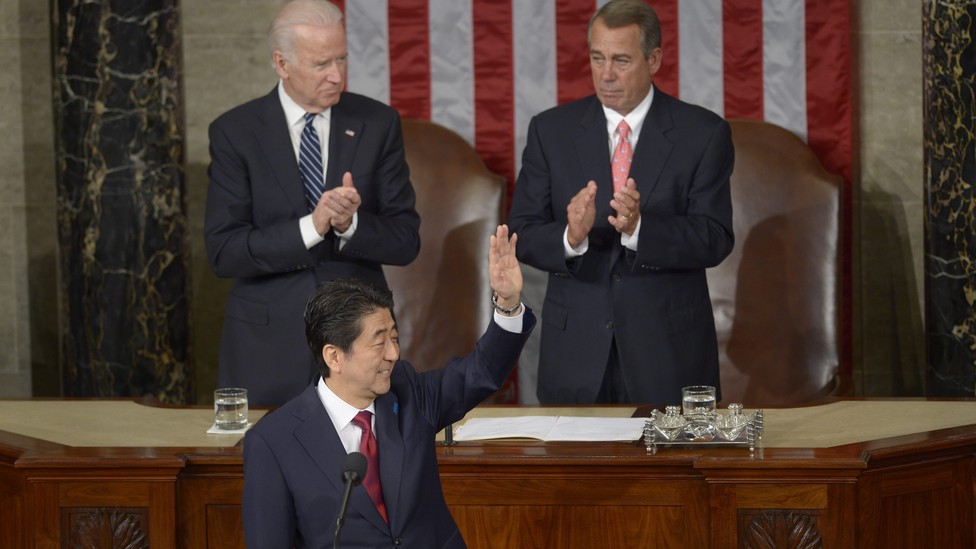 The Obama administration is ramping up a massive sales pitch on trade policy, bringing key Democrats to the White House—and using one of its most effective lobbyists in the hallways of the Capitol.
Vice President Joe Biden let reporters know Wednesday that Japanese Prime Minister Shinzo Abe nailed it on the Trans-Pacific Partnership when Abe spoke to Congress. Abe, whose speech made the case to lawmakers on the security and economic dimensions of the controversial trade pact, got it right, the vice president told a small group of reporters as he walked through the Capitol afterward.
"This has as much strategic consequence as economic consequence," Biden said. "If we don't write the rules of the road in this ... century, the ability of China to be the dominant—not only economic, but the dominant political force in the region—will be consequential."
"When you have 40 percent of the world's GDP—assuming we can get a good deal here—40 percent of the world's GDP encompassed in a new set of standards relating to the environment, issues relating to labor standards, and raise the level, that is what we have to do, and we have to do it around the world, because if we don't set the standards, it will be a race to the bottom," he continued.
Biden seizing the chance to talk trade is just one part of a much wider White House PR and lobbying blitz for the TPP and, equally important, the "fast-track" bill that would strip Congress of its ability to amend sweeping trade deals.
Ultimately, members say, the prospects of the fast-track bill—also known as Trade Promotion Authority—will be determined by House Democrats. The caucus has traditionally opposed such legislation, but Republicans have said they will need Democratic votes to move the bill. In recent weeks, the Obama administration has sent Cabinet secretaries and White House advisers to lobby and brief the caucus.
Much of that outreach has focused on the New Democrat Coalition, a 46-strong group of pro-business lawmakers. The group was slated to meet with Sen. Ron Wyden, one of the Senate's TPA architects, on Wednesday. Its members will then head to the White House Thursday to hear Obama's pitch for the bill.
Rep. Ron Kind, the New Democrats' chairman, said the administration's outreach has been strong and many members are keeping an open mind. "There's been a lot of activity by them, a lot of briefing, and a lot of access to [U.S. Trade Representative] Mike Froman and the text of what's being negotiated," Kind said. "That's all good. That's exactly what they should be doing. "¦ I'm still working hard to see if we can get about 120, 130 at the end of the day."
Despite Kind's hope for triple-digit backing, most Democrats expect support to come in smaller numbers. "Most Democrats are going to vote no; that's pretty clear," said Rep. Gerald Connolly, one of the New Democrats' vice chairs. Connolly said that as many as 50 Democrats could support TPA, but that 35 yes votes is a "more realistic" hope.
The administration remains in sales mode.
"They keep talking to us. They are making every effort," said Rep. Xavier Becerra, chairman of the House Democratic Caucus, who voted against the fast-track bill that the Ways and Means Committee approved last week.
Rep. Earl Blumenauer, who along with Kind was one of the two Democrats to support the fast-track bill in Ways and Means, said there's more room to negotiate. "I think they have been receptive at least to ideas that I've had to try and strengthen the package ... and I don't think we're done," Blumenauer said of the Obama administration. "I think they are open to strengthening it further."
While members credit caucus leadership for being open-minded on TPA (neither Minority Leader Nancy Pelosi nor Whip Steny Hoyer have taken a position on the bill), outside groups have been more outspoken. Labor giant AFL-CIO has cut off campaign funding to focus on fighting the bill, and some progressive groups are seeking to line up primary challengers for TPA backers like Wyden.
That pressure has made it difficult for members who might otherwise be open to supporting TPA, Connolly said, especially since many of the bill's strongest outside backers—such as the U.S. Chamber of Commerce—are too partisan to come to the aid of trade-supporting Democrats.
"A lot of the effort of the White House has been making the substantive argument," Connolly said. "My concern is we're going to win that argument but maybe fall short on the political argument. If you're a potential yes vote and you're still hanging back, there's a reason for that, and it's generally not going to be about content. It may be about process, it may be about outside groups and how to manage that, it may be about what if any support the White House is prepared to offer you to try to help protect you and give you what you may need."
That assurance, he said, will be crucial for Democrats who are still on the fence. "Where does one go for some help, support, protection?" he asked. "And that's why the White House at this point is going to be so critical. Is the White House willing or capable of providing political cover for people who would like to have the freedom to vote yes?"