What's Happening Outside the Supreme Court Today
Justices heard beginning arguments for a same-sex-marriage case on Tuesday.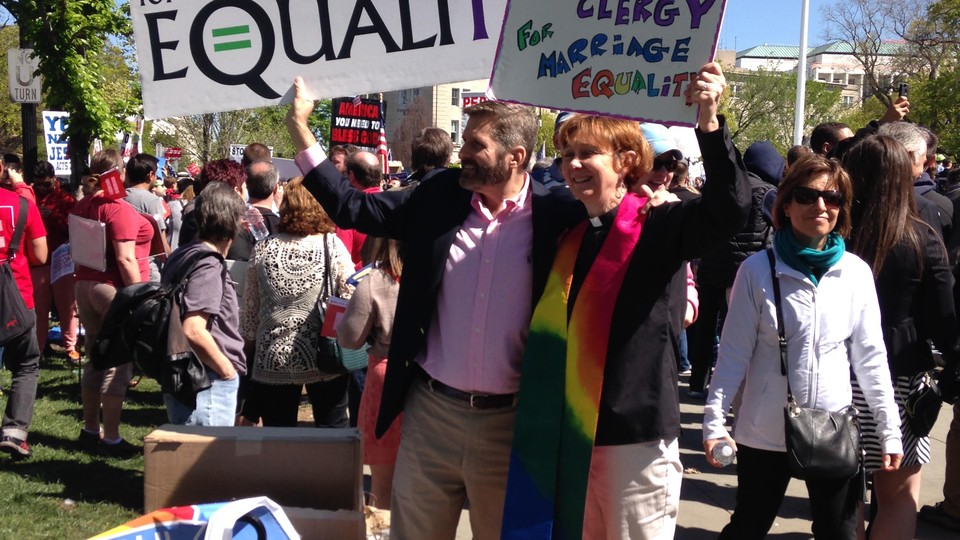 Dueling speakers, microphones, protesters, and signs illustrated the deep divide on gay marriage outside of the Supreme Court Tuesday.
As the justices heard oral arguments in the landmark same-sex-marriage case Obergefell v. Hodges, both camps made their own personal cases on the Court's steps. On the south side of the steps, the anti-same-sex-marriage contingent, including Rep. Steve King and Family Research Council president Tony Perkins, evangelized for marriage between one man and one woman.
Just a few feet away, the pro-same-sex-marriage speakers, such as GOP Sen. Mark Kirk of Illinois and a number of married gay couples, spoke of equality and a historic decision. Some of the pro-same-sex-marriage protesters gathered outside of the Court got creative with their signage:
+ Rafael Petry, a software engineer from New York, took the bus down to Washington at 1:30 a.m. to witness what he called an "historic moment." (Rebecca Nelson)
The set of cases the Court is reviewing would basically decide whether the right for gay couples to marry should be established at the federal level—effectively nullifying the existing state bans on same-sex marriage.
In November, a U.S. appellate court denied six separate lawsuits against same-sex-marriage bans in Michigan, Ohio, Kentucky, and Tennessee. The 32 plaintiffs who brought the suits are now bringing their case to the Supreme Court. The Court could hand down its decision as early as this summer.
Same-sex-marriage supporters are arguing that state bans violate the 14th Amendment's Equal Protection Clause, which holds that all U.S. citizens deserve "equal protection of the laws" in every state. Same-sex-marriage opponents, meanwhile, argue that it is an issue best left up to individual state legislatures to decide.
The crux of the case, then, is how the Court defines "equal protection." It's a question that has come before the Supreme Court many times before, including in Plessy v. Ferguson, Brown v. Board of Education, Loving v. Virginia, and more recently, Bush v. Gore.
+Tom Cicero and Darren Nimnicht of New York City. (Rebecca Nelson)
Darren Nimnicht and his husband, Tom Cicero, traveled from New York to be a part of the "historic" occasion. The couple has been together for 39 years and married for seven.
"It's just a huge day," Nimnicht said, choking up. "I'm just glad to be a part of it."
+ Protesters in front of the Supreme Court.  (Alex Laughlin)
Justice Anthony Kennedy—often the swing voter on the Court—will be the justice to watch in the case. In U.S. v. Windsor, Kennedy wrote the opinion that the Defense of Marriage Act was unconstitutional, calling it a "federal intrusion on state power."
While DOMA had prevented same-sex couples from having the benefits allotted to straight couples—even in states that had legalized same-sex marriage—this case would do just the opposite. It would establish a federal standard of same-sex marriage, superseding laws in states like Kentucky, Ohio, Michigan, and Tennessee that do not recognize same-sex unions.
+ Members of the DC Sisters, the Abbey of Magnificent Intentions. (Rebecca Nelson)
+ A reporter stands in front of demonstrators at the Supreme Court.  (Alex Laughlin)
The case faces staunch opposition from Republicans, especially the party's presidential contenders. Sen. Marco Rubio recently said there is no constitutional right to same-sex marriage, and that the matter should be settled at the state level.
"You have to really have a ridiculous and absurd reading of the U.S. Constitution to reach the conclusion that people have a right to marry someone of the same sex," Rubio told CBN News on Sunday. "The advocates of same-sex marriage refuse to go to the legislatures because they can't win that debate. They don't want to have any debate in society. They want courts to impose it on people."
+ A demonstrator texts on his phone at the Supreme Court.  (Alex Laughlin)
+A demonstrator speaks in front of the Supreme Court. (Alex Laughlin)
In the crowd, demonstrators from both sides got into up-close policy arguments. Two women in their 50s, one with a husband and one with a wife, tussled over what kind of parents were suitable to raise children.
Lea Ann Solberg, a school counselor from Indiana who's been married to her wife for eight years, approached Teri Pace, a freelance landscaper from Orange, Va., who held a sign saying "A Child Needs A Mother," and asked her why her children couldn't be raised by two mothers.
"Kids need a mother and a father," Pace said. "When you knock this fundamental block of American culture, it will quickly decline."
Elsewhere in the crowd, Andrew Damron, a 29-year-old attorney from Brooklyn, held high a sign aimed directly at one conservative justice: "Dear Scalia: YOLO."
"For once, just go with what's right" was Damron's message to Justice Antonin Scalia, explaining that his sign was also meant to illustrate the generational divide on same-sex marriage. "He's an older white guy who's about to lose his power to younger people who speak a different language."