What Politicians Don't Get When Talking About Income Inequality
A new study suggests there is a gap between how politicians discuss inequality and how voters look at it.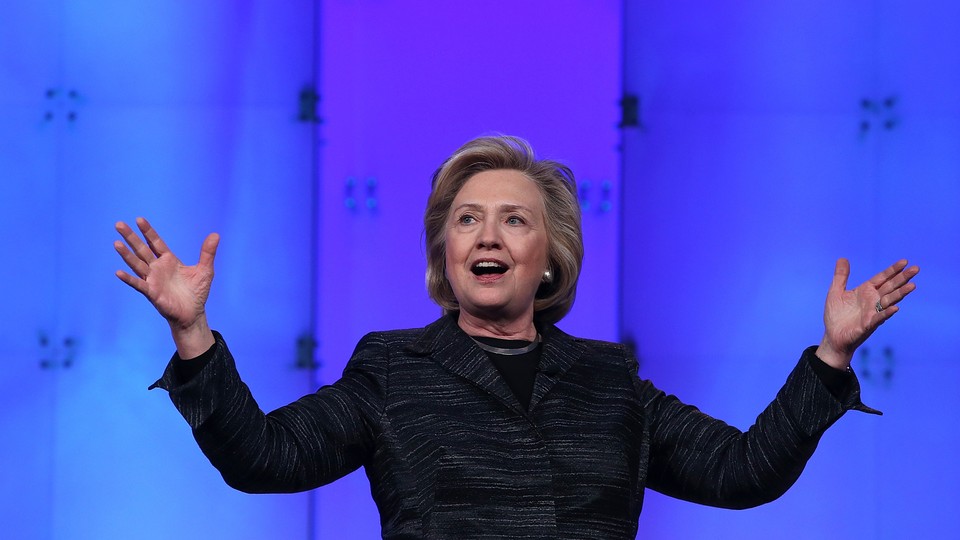 As the 2016 presidential election kicks off, almost every candidate and political player is trying to put a spin on income inequality. Hillary Clinton has slammed CEO pay and, though she has turned down running for president, Sen. Elizabeth Warren has made a name for herself with comments about how "the game is rigged." Jeb Bush has talked about how many Americans see only a portion of people riding "the economy's up escalator," while Sen. Ted Cruz has excoriated the Obama administration for having inequality grow under its watch.
But a forthcoming study shows how politicians can often focus on either equalizing opportunities or equalizing economic outcomes—rather than on promoting an economy where wealth grows for most Americans, instead of just those at the top.
As part of the nonprofit Educational Testing Service's "Opportunity in America" project, Leslie McCall, a sociology professor at Northwestern University, is writing a chapter for an upcoming edited volume for the project that says liberals' and conservatives' prescriptions for mollifying inequality can lead them to overlook what most Americans want: for politicians to combine the notions of inequality and lack of opportunity and focus on the job market and educational institutions to ameliorate the problems in both.
McCall told National Journal that there is a disconnect in how voters and politicians see solutions, with one of the biggest examples being the tendency for policymakers to not account for how regular voters view the private sector in reducing inequality. In her research, she found that 37 percent of Republicans and 41 percent of independents think major companies play the greatest role in reducing inequality, which comes at a time when companies like Walmart, Target, and McDonald's have all announced efforts to increase minimum wages.
Many Americans "know the economy is growing," she says. "They think it's unfair their earnings aren't growing."
Emmanuel Saez, an economics professor at Berkeley, wrote earlier this year that between 2009 and 2012, the top 1 percent's income grew by 34.7 percent while the bottom 99 percent's income grew only by 0.8 percent. Average income per family after adjusting for inflation declined 17.4 percent from 2007 to 2009.
Bruce Bartlett, a former domestic policy adviser to Ronald Reagan and Treasury Department official to George H.W. Bush who has since become critical of Republicans, says some politicians could rally support by berating CEOs to increase their pay, support a raise in minimum wage, or talk about the carried-interest loophole, which allows certain people—like hedge-fund managers and private-equity advisers—to pay lower tax rates.
"It might be that's an issue that is more amenable to public pressure than it is to political or legal response, at least at this point in time," he says, in reference to CEO pay.
McCall pointed out in her study that, too often, conservatives and Republicans tend to focus on a mind-set that works to "equalize opportunities but not outcomes." This is a common thread in Sen. Marco Rubio's rhetoric about the lack of upward mobility in the United States and in Bush's emphasis on education.
Conservatives say fostering upward mobility helps low-income individuals.
"Liberals look at the gap between rich and poor and say that is a problem in and of itself. Conservatives look at the bottom and say that's a problem," says Michael Strain, deputy director of economic policy studies at the conservative American Enterprise Institute. Strain is opposed to mandated wage increases but supports using the Earned-Income Tax Credit to supplement low-income families' wealth.
But while McCall says expanding opportunities doesn't directly address inequality, she doesn't let liberals off the hook. Liberals, she says, are focused on post-labor outcomes, which is to say, they are focused on taxing the rich as a way of aiding low-income families.
This mind-set is embodied by Sen. Bernie Sanders, a prospective presidential candidate who has proposed a progressive estate tax for the nation's top 0.25 percent. But McCall says, this doesn't fix the problem of the market being inequitable; it just transfers wealth after it is already made.
"They are not getting the public orientation, which is, let's have a labor market that rewards hard work with wage and productivity increases," McCall says about politicians on both sides.
To bridge the gap on inequality, McCall proposes the concept of equalizing outcomes to equalize opportunity. McCall notes this support for having a labor market that rewards work is why a minimum-wage increase is popular with many Americans, as was the case in last year's midterm elections, when some states elected Republican senators and also voted for wage increases.
"I think for a lot of everyday Americans, they respond to an inequality frame if they are given that argument. But what they think about every day is really just having enough money in their pockets," says Elisabeth Jacobs, senior director for policy and academic programs at Washington Center for Equitable Growth. "Making sure jobs actually pay is one way that we can do that."