What Happens to Young Baltimoreans Like Freddie Gray?
A 30-year study tracked 790 first-graders in the city as they grew up. The conclusion: Poverty in childhood casts a shadow over much of a person's life.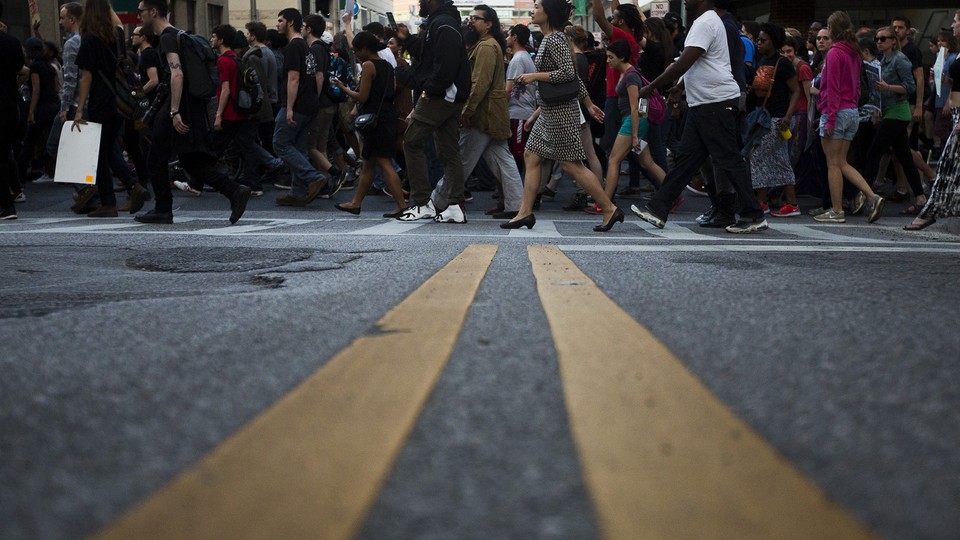 Freddie Gray grew up in one of the poorest communities of Baltimore—a place where half are out of work, where 47 percent of children grow up in poverty. Gray was one of those children.
In the late 1990s Gray and his sisters were exposed to dangerous levels of lead in the house their family rented, documents from a 2008 lawsuit filed against their landlord reveal. The property was a $300-a-month "beat up" home with lead-paint walls "peeling and peeling," Gloria Darden, Gray's mother, described in the deposition. Gray and his siblings all tested positive for dangerous levels of lead in their blood and claimed the exposure hurt their health and development. Their case was settled out of court. The Baltimore Sun notes the details of the settlement were not made public, but Gray's family soon after bought a house.
Childhood conditions like these tend to stick with a person. They shrink a person's potential for self-betterment, their chances at the American dream. Future earnings, educational attainment, and lifelong health are all set on a track, to some degree, by a childhood environment.
Gray's life was cut short. We can't know what path he'd take. Maybe he'd break out of the poverty he was born into.
But for many now protesting, Gray's life and death have come to represent the plight of many young people in Baltimore. What happens to young people like them? More often than not, their lives follow a well-worn pattern, a cycle, really, of continued poverty.
At Johns Hopkins University, sociologist Karl L. Alexander has been studying young people like Gray for 30 years. In 1982, his research group selected a group of 790 (randomly sampled) first-graders in Baltimore schools. The sample reflected the demographics of the city. Two thirds of the kids came from low-income families. Alexander checked in on the students—as well as their parents and teachers—as they grew up. During his last round of interviews, the once fresh-faced youngsters were 28 or 29 years old.
When the study began in 1982, the city's economy had been cut out from underneath the working class. "Half the city's jobs in primary metals, shipbuilding repair, and transportation assembly disappeared," Alexander writes in his recent coauthored book, The Long Shadow.
"Baltimore in fact had become, as it is today, 'two cities—a city of developers, suburban professionals, and 'back-to-the-city' gentry ... and a city of impoverished black and displaced manufacturing workers who continue to suffer from shrinking economic opportunities, declining public services, and neighborhood distress.'"
Baltimore hasn't changed all that significantly for its poorest residents since the 1980s. If Alexander were to start the study with first-graders today, and check in decades later, he's unsure if the outcomes would be all that different. "I very much doubt that opportunities have improved for Baltimore's poor children and poor families over the generation that separates today's experience from that depicted in our book," Alexander writes in an email.
His starkest conclusions come from his final interviews of the kids, when they were nearing 30 years old, with their feet firmly in adulthood. Here are some of his findings.
Education is a key to success, but those who need it most hardly ever get it. Only 4 percent of children who grew up in low-income households finished college. Forty-five percent of children in the study from high-incomes backgrounds did.
Incarceration is a part of life. Of the 22 children who attended a school near Franklin Square—a poor black neighborhood known for its drug dealers—at least 16 (the researchers were only able to follow up with 18 of them) had been convicted of a crime by age 28. That's as if an entire first-grade class had gone on to be convicted of a crime. "Seven of the 18 [final] interviews were conducted in lockups," the book explains.
Low-income black and white men had similar rates of incarceration. But: "Despite similar arrest and incarceration histories, lower-SES [socioeconomic] white men enjoy a 20-percentage-point labor-force participation advantage over African-Americans," the book notes.
Racial disparities follow kids into adulthood. Seventy-nine percent of the white men who had grown up in low-income backgrounds had full- or part-time employment at age 28. Just 59 percent of black men who had grown up with the same level of poverty did.
White men without college degrees had a much easier time finding blue-collar jobs than black men without college degrees. At 28 years old, nearly half the white men raised in low-income families were working in construction or manufacturing. Just 15 percent of the African-Americans were.
Eighty-nine percent of white high school dropouts had work at age 22. Just 40 percent of black college dropouts did.