'We Disagree With Any Implication That Freddie Gray Severed His Own Spinal Cord'
A leaked police report suggests that the Baltimore man tried to injure himself, a suggestion that his family and supporters angrily reject.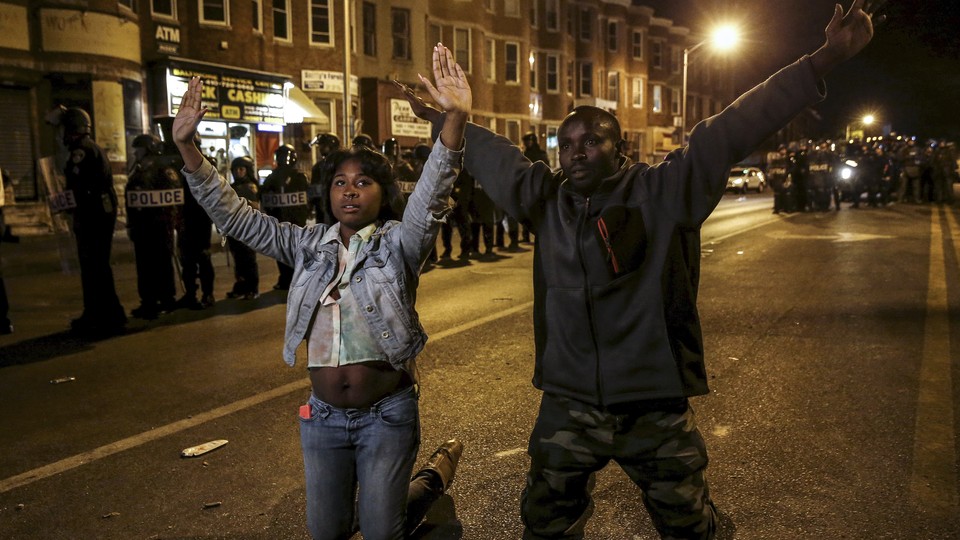 Updated on April 30, 2015
As protests formed in a handful of major American cities on Wednesday night, a leaked police document offered a new and controversial theory as to what might have happened to Freddie Gray, the black Baltimore man who died in police custody last week.
What the Document Says
The document, obtained by The Washington Post, features the alleged testimony of an anonymous prisoner, who rode in the police transit van with Gray for the final five minutes of his half-hour ride. According to the document, the prisoner said Gray "was intentionally trying to injure himself" by "banging against the walls."
As David Graham noted last week, the circumstances of Gray's death are unknown and mysterious; he died in police custody a week after he sustaining a spinal cord injury, either during his arrest or during his ride in the police van, after which he was found unconscious. While the police document offers a possible glimpse into what might have happened, it also raises more questions than it answers.
What the Document Doesn't Say
The identity of the prisoner, which was intentionally left out of the police document as a condition for its release.
The identity of the officer who took the statement from the prisoner.
Whether there is any additional evidence that would corroborate this account.
Why Gray would have intentionally tried to injure himself after being arrested for a minor crime.
The name of the officer who leaked the report, and why he chose to do so.
Jayne Miller, a reporter for WBAL-TV, disputed the prisoner's claims on Twitter. She argues that Baltimore Police Commissioner Anthony Batts told her the second prisoner in the police van said Gray had been "mostly quiet" during the ride and there had been "no evidence" of Gray banging his head against the van.
"We disagree with any implication that Freddie Gray severed his own spinal cord," added Jason Downs, a lawyer for the Gray family. Downs also contended that previous police reports suggesting that Gray had been arrested "without force or incident" were questionable.
Earlier on Wednesday, the Baltimore Police Department announced that the results of the investigation into Gray's death would not be made public.
On Thursday, police officials announced that the department had concluded its investigation and would relay its conclusions to prosecutors. As The New York Times reported, one new development centers around the discovery of a fourth, previously unknown stop made by the police van carrying Gray following his arrest.
"We discovered this new stop based on our thorough and comprehensive and ongoing review of all C.C.T.V. cameras and privately owned cameras," said Deputy Police Commissioner Kevin Davis. "In fact, this new stop was discovered from a privately owned camera."
Since the police department's findings will not be made public, it's unclear whether any details or context will ultimately accompany this disclosure. The state's attorney office is now set to incorporate the police report into its own investigation, the details of which may not be released for some time.
Demonstrators Gather in Baltimore and Beyond
Following Monday evening's chaos and Tuesday evening's relative calm, crowds in several American cities took to the streets to protest Freddie Gray's death. In Baltimore, gang leaders and religious and civic leaders reportedly joined together to protest. While over a dozen people were arrested in mostly peaceful protests on Wednesday night, roughly half of the 200 people arrested in Baltimore earlier in the week were released without charges.
Elsewhere, several dozen protestors were arrested at a solidarity protest in New York City. There were also reports of demonstrations in Washington, D.C., Boston, Houston, and Minneapolis.