Walker's Standing Drops in Wisconsin as He Has Risen Nationally
The Wisconsin governor has climbed up GOP presidential polls this year, but a new Marquette poll shows his standing deteriorating at home.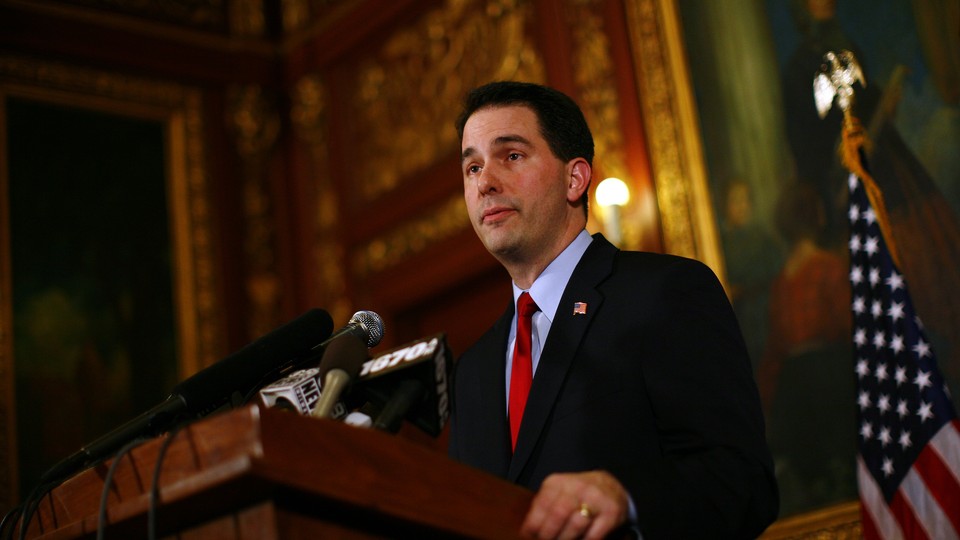 Wisconsin Gov. Scott Walker has been on the rise this year in Republican presidential primary polls. But his standing at home dropped over the first few months of 2015, according to the latest poll from Marquette University Law School.
The poll shows 56 percent of registered voters in the state disapproved of Walker's job performance as governor, while 41 percent approved. The last time Marquette tested Walker's numbers, just before his reelection in October, 49 percent of registered Wisconsin voters approved of him and 47 percent disapproved, a significant difference.
Walker won reelection with 52 percent of the vote in November 2014. The poll showed him losing, however, in a hypothetical 2016 presidential matchup with Hillary Clinton. In the new survey, it was Clinton who got 52 percent support, while Walker got only 40 percent. Walker is in command of the state's Republican primary vote, though, with a 30-point lead on the competition.
The survey also had bad news for Republican Sen. Ron Johnson. In a matchup with the expected Democratic candidate, former Sen. Russell Feingold, Feingold beat Johnson 54 percent to 38 percent. Despite being out of office for more than four years, Feingold remains better known. Nearly 40 percent of respondents said they didn't register an opinion of Johnson, who is one of the most vulnerable senators up for reelection in 2016.
Walker's latest initiatives at home have proven controversial, though his record has boosted him in Republican presidential polls. Half of respondents disapproved of Wisconsin's new "right-to-work" legislation, 7 out of 10 opposed the proposed $300-million cut to the University of Wisconsin's budget, and 8 out of 10 opposed the plan to borrow $150 million for a new sports arena in Milwaukee.
Marquette surveyed 803 registered voters from April 7-10. The survey has a margin of error of plus or minus 3.5 percentage points.