U.S. Tech Companies and Investors Look to Gain from Iran Deal
Peeling back sanctions on Iran would breathe life into Tehran's tech scene—and unlock a young, tech-savvy consumer base for Western tech companies.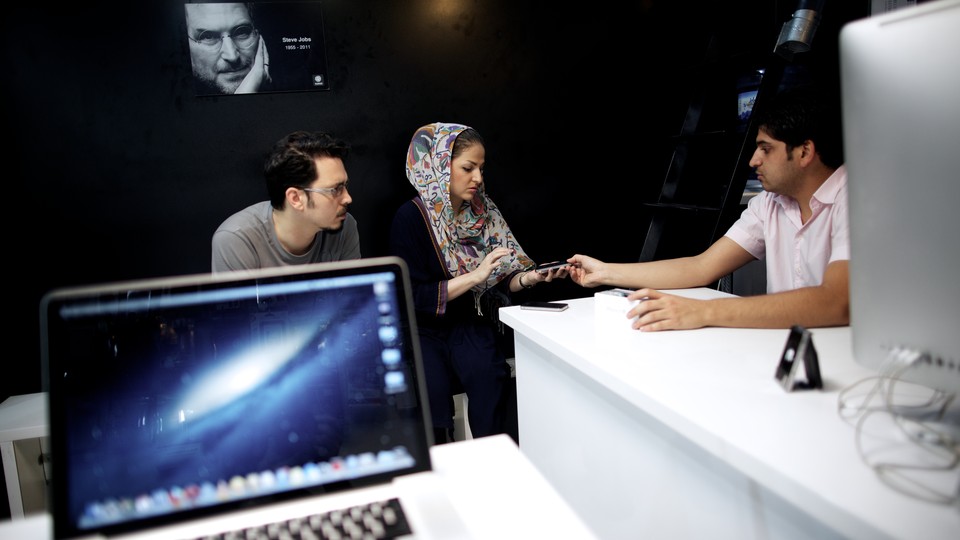 The possibility of an Iran free of the economic sanctions that have weighed on it for years could be a boon to Western businesses, which already are considering ways to take advantage of potentially easier access to Iran's economy and consumers.
At the same time, sanctions relief would benefit the nascent Iranian tech sector, which craves international investors who have been long kept away from the country.
"There are literally thousands of early-stage start-ups that are basically a year old," said Hamidreza Ahmadi, managing director of the Iran Entrepreneurship Association, a Tehran-based organization that works to foster the Iranian tech community. These start-ups are faced with enormous challenges when it comes to recruiting talent and attracting investors.
Iranians in the U.S. likely would be the first investors in Iranian tech if sanctions were lifted, Ahmadi said. The Iranian diaspora in the U.S. is made up of about 2 million people, and its members include many high-profile tech leaders and investors. But because of the sanctions, they're keeping their distance for now.
Shahab Kaviani is one of the Iranian-Americans watching the Iranian tech scene intently. He founded Onevest, a website that connects investors with start-ups, and teaches entrepreneurship at the University of Maryland. He says while the environment in Iran is ripe for tech start-ups—it's underdeveloped and has a lot of room to grow—he can't be a part of it yet.
"As an investor, watching that catch-up period could be not only lucrative, but very rewarding to be a part of," Kaviani said. "But for now, I don't have a lot I can do there. I sort of watch from afar. I'm sort of waiting for the other shoe to fall to be able to get involved."
In Iran, Ahmadi says the tech world is starting to get ready for the potential of foreign investors. His organization is putting together a sort of Yellow Pages for Iranian tech, where investors can be matched with an Iranian start-up.
But since the Lausanne deal took many by surprise, nobody has had much time to prepare. "To be completely honest, nobody really predicted this," Ahmadi said. "It's been 30 years of nothing happening."
Established U.S. tech firms see an opportunity for growth in the highly educated, tech-savvy country of 77 million people.
"I think it'll be a slow process getting back into Iran, just because there is a lot of suspicion across the countries," said Darrell West, director of the Center for Technology Innovation at the Brookings Institution. "But I think if sanctions are lifted, that could be a very valuable opportunity for the tech sector."
For now, American tech companies that want to put their products in front of Iranians are held back by restrictions from both governments. On one side, the strict U.S. sanctions that prevent most companies from doing business in Iran have kept tech companies away from the country, despite special exemptions for certain kinds of consumer technology, said Danielle Kehl, senior policy analyst at New America's Open Technology Institute.
The U.S. Treasury exemptions came after a series of 2009 demonstrations in Iran that was coordinated in part using social networking platforms such as Twitter and Facebook. By making some consumer technology and online services more available in Iran, the U.S. government tried to keep ordinary Iranians from getting cut off from the rest of the world, said Kehl.
But the companies have a very hard time taking advantage of the exemptions. "Companies were allowed to engage in financial transactions for authorized products, [but] that doesn't remove the challenge of actually doing business in Iran," Kehl said. Because of the complicated and restrictive nature of the sanctions, U.S. tech largely stayed away despite the special exemptions.
For its part, Iran engages in extensive censoring of the Internet. A 2013 study showed that almost half of the Internet's most-accessed websites are blocked in Iran. The government has publicly admitted to throttling Internet speeds to "preserve calm in the country."
But top officials, including President Hassan Rouhani, Foreign Minister Mohammad Javad Zarif, and Supreme Leader Ali Khamenei, are active on Twitter and Facebook, even though both are blocked in the country. Young Iranians use the social networking services, too, routinely circumventing the government's Internet controls by using virtual private network services.
If American sanctions are lifted and the Iranian government loosens its grip on the Internet, American tech firms stand to profit. "There is a huge market there," said Kehl. "They're getting a lot of iPhones and other technologies through illegal channels and through the black market, and so there's a ton of opportunity."
Even then, the U.S. would find itself behind in the race to dive into the Iranian economy. Europe—and especially Russia—has remained a consistent presence in Iran, because the European Union's sanctions are not as strict as the unilateral U.S. sanctions.
If a deal goes through before July, Iran's reintegration process likely would be very slow. The U.S. sanctions regime is many-layered and complex, and would require peeling back a combination of executive actions and legislation. U.S. companies may hang back in the months following a deal to allow the dust to settle and find answers to thorny legal questions.
Cuba offers a hint of what sanctions relief could look like. It's been more than three months since President Obama announced a sudden thaw in historically hostile relations with Cuba, promising greater technological involvement and investment in the island nation. But Cubans haven't seen many changes yet, partly due to leftover trade-embargo restrictions and confusion over the new set of rules.
Meanwhile, Iran is laying the groundwork for integration by investing heavily in its own Internet infrastructure, The Washington Post reports. In the past, Iran has worked to strengthen its data link to Europe, invested in 3G and 4G cellular service, and bought up large bundles of IP addresses that would make it easier for Iranians to connect to the Internet.
"Everyone's very—how can I say this—conservatively optimistic," Ahmadi, the Iranian entrepreneur, said. "It's not a done deal and a lot of things could go wrong, but I think everyone's really excited."