Trade Deal Gives Obama, GOP Leaders a Vote-Counting Test
A rare alliance between Republican leadership and the White House will try to cobble together 218 votes.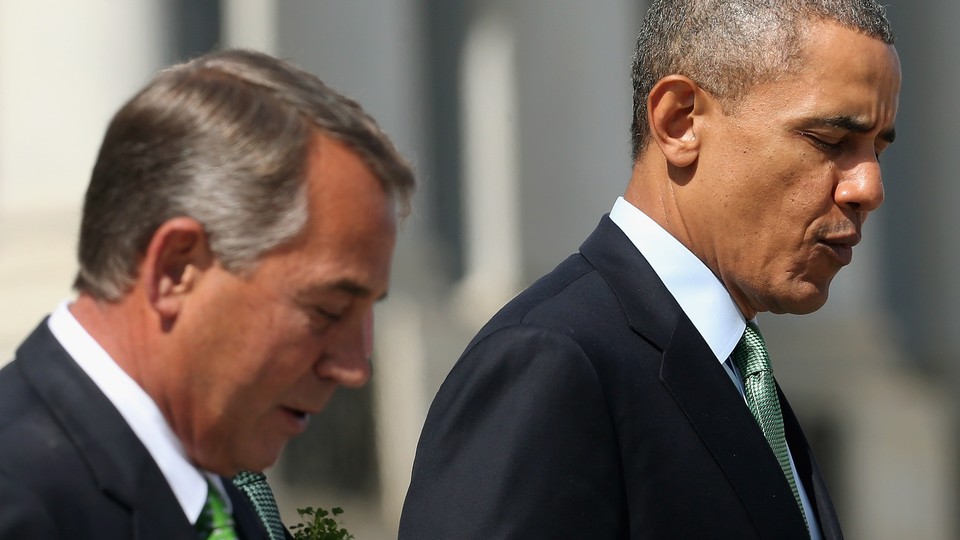 The White House and House Republicans will soon have another math problem.
With the Senate closing in on a fast-track trade agreement, House GOP leaders face a key test in the coming weeks of whether they can work with President Obama to sidestep Democratic opposition and approve one of the administration's top foreign policy objectives.
But as the ink dries on a bipartisan Senate compromise released last week, the path to passage remains murky in the House. Republicans have long said they cannot put up the votes to pass a fast-track agreement with only members of their conference voting in favor. They have instead called on the White House to step up lobbying efforts on House Democrats to ease passage.
"We've been clear for a year or two now we're going to need Democrats to get this done. That's still true," said Brendan Buck, spokesman for House Ways and Means Chairman Paul Ryan.
(RELATED: Some Senate Democrats Look Ready to Buck Harry Reid on Trade)
But partisan potshots already are casting doubt on the two parties' ability to work together. Democrats say GOP leadership hasn't told them how many of their party's votes they'll need, and they're casting the deal's still-uncertain prospects as another example of Speaker John Boehner's inability to corral his own caucus.
"I have no idea how many votes they have on their side," said a Democratic leadership aide. "I think it's a little ridiculous that they think they need that many Democratic votes for something that is so fundamental to their reason for even being here, which is free trade."
The fast-track deal Obama is seeking is known as Trade Promotion Authority, which would give Congress an up-or-down vote on trade deals negotiated by the administration, but remove legislators' ability to tweak such agreements. The White House and House Republican leadership see TPA as integral to moving forward on the Trans-Pacific Partnership, a 12-nation agreement being hammered out by negotiators. Many Democrats in Congress, however, are skeptical of giving up their role in influencing trade—and even of the TPP deal at large.
Conservatives, meanwhile, are wary of giving Obama more unilateral power, especially as they battle executive actions on immigration and health care in the courts. But House aides are encouraged that widespread conservative opposition from outside groups has not materialized, and influential voices on the right, such as Sen. Ted Cruz, have lined up in support of the free-trade agenda.
(RELATED: Senate Trade Deal a Rare Opportunity for Obama)
"We've been supportive in the past, but conservatives have some understandable concerns not only with the current president but with the concessions Republicans are making on the front end," said Heritage Action spokesman Dan Holler, singling out the Trade Adjustment Assistance Program, which provides financial assistance to workers and companies adversely affected by trade agreements.
On Tuesday, 20 conservative and pro-business groups — including Americans for Tax Reform, the American Conservative Union and Crossroads GPS — sent a joint letter to GOP leaders calling TPA "a necessary step to get Congress moving on a long-stalled trade agenda."
The fact that opposition to TPA does not fall neatly along partisan lines could complicate the whipping process for leadership, making the act of gathering votes more unpredictable. The more Democrats vote for the deal, the easier it will be for Republicans to pass.
But if Republicans need to get Democrats on board, Democrats say they haven't provided much clarity as they push for bipartisan support. One Democratic aide who works for a member actively involved in trade discussions said the GOP vote count is still a question mark. "Who am I to know?" he said. "I mean, heck, they can't even whip their own members. The big unknown is how many Democrats they need."
(RELATED: Could Trade Deal Be Hillary Clinton's Next Food Fight?)
How many Democratic votes are even up for grabs is yet another question mark. Minority Leader Nancy Pelosi and Minority Whip Steny Hoyer have yet to weigh in on TPA. Many in the caucus vocally oppose it, while a small contingent—one that has many members in the New Democrat Coalition—is actively supportive.
An aide to a pro-trade Democratic member praised the caucus's leadership for holding briefings on the issue and keeping an open mind. "I think that if you are in the pro[-trade] camp, you have to be satisfied with their approach so far," he said. Even if Democratic leaders don't support the deal in the end, they're not expected to pressure members to oppose it. "They're not going to whip one way or the other on this," said the aide to the pro-trade Democrat.
Added the aide involved in trade discussions: "I don't know if Pelosi will actively fight it, but I don't think she'll be supportive." He pegged Democratic support for TPA at about 20 members; the pro-trade aide estimated backers would range from as little as 10-15 votes to as many as 40-45.
Amid the differences between Democrats in the White House and on Capitol Hill, some Democratic outside groups also have gotten involved. The AFL-CIO has cut off its campaign spending to the party's candidates to focus on fighting TPA. Other progressive groups are working to line up a challenger to Sen. Ron Wyden, a Democrat involved in negotiating the TPA deal.
Some Democrats say that outside pressure has been key in stifling the White House's push for support. "The involvement by the opposition has been a huge factor," said the aide to the member involved in trade discussions. "They are very organized and very vocal and they've been very effective."
Despite the more open war brewing on the outside, the White House has asked Democrats in Congress to take a more muted approach if they oppose the deal. "The message has been, 'Don't allow this to tear apart the party,'" said the aide to the pro-trade Democrat.