'Rough Rides' and the Challenges of Improving Police Culture
Freddie Gray isn't the first person to be gravely injured while riding in a police van.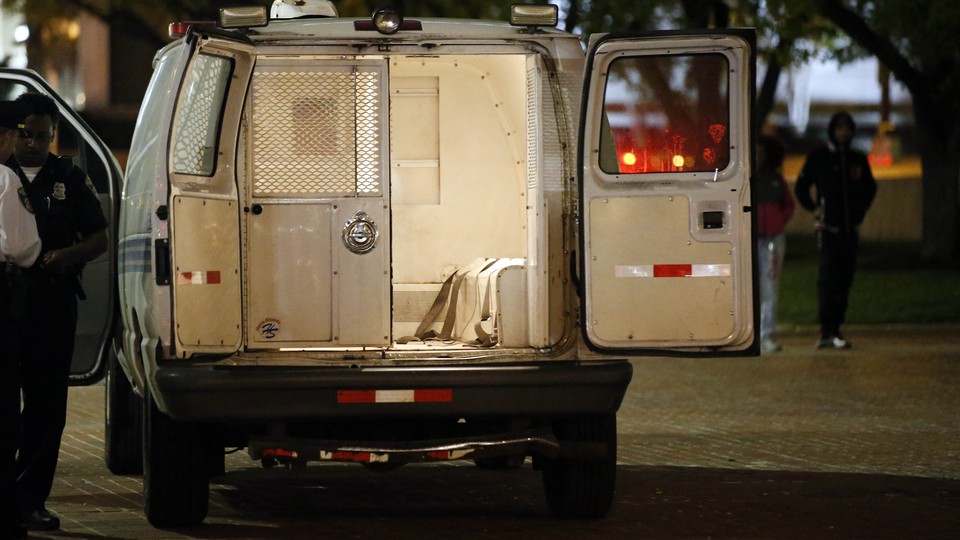 Updated on April 27, 2015, at 5 p.m.
A rough ride. Bringing them up front. A screen test. A cowboy ride. A nickel ride.
Police say that intentionally banging a suspect around in the back of a van isn't common practice. But the range of slang terms to describe the practice suggests it's more common that anyone would hope—and a roster of cases show that Freddie Gray is hardly the first person whose serious injuries allegedly occurred while in police transit. Citizens have accused police of using aggressive driving to rough suspects up for decades in jurisdictions across the country. Though experts don't think it's a widespread practice, rough rides have injured many people, frayed relationships, and cost taxpayers, including Baltimore's, millions of dollars in damages.
Gray's funeral was Monday, eight days after he died and two weeks after he was arrested by Baltimore police under murky circumstances. President Obama sent three aides, including the chair of his My Brother's Keeper task force, to the burial. Protests have roiled the streets of Baltimore ever since Gray died, forcing the city to reckon with a troubled police department and its fraught relationship with black citizens. Over the weekend, mostly peaceful protests caused some minor violence and damage to police cars. On Monday, those protests intensified. A spokesman for the Baltimore Police Department said seven officers had been injured and one was non-responsive.
Despite the turmoil, there's been little new information about how Gray sustained his mortal injuries. Initial reports focused on how it was that Gray got into a van while alive—though he was being dragged—yet emerged less than an hour later unable to breathe or walk. The question has always been what happened in the van—including during several van stops before Gray arrived at a police station and paramedics were called—but now more scrutiny has come on Gray's state when he was arrested. Initially, reports suggested that Gray's arrest was a fairly routine one, even though it wasn't clear why he was detained—Gray took off running after making eye contact with an officer, and was found with a knife. Police also said the 25-year-old was not injured when he got into the van. A video shot by a bystander was inconclusive and didn't show any evidence of Gray being beaten, though he was shouting and his legs appeared limp as he was dragged to the van.
An extensive report from The Baltimore Sun suggests there are some inconsistencies even in the limited timeline police have released. Police said Gray was arrested a minute after first contact with officers, and was handcuffed "without force or incident." Conversations with witnesses "make clear that Gray's arrest and transport were perceived as being wholly out of the ordinary—even in an area where the drug trade makes an arrest a common occurrence," the Sun's Mark Rector reports. Once police caught Gray, a friend saw one officer with his knee on Gray's neck and another bending his legs back. In video of the arrest, a bystander shouts that Gray's legs are broken and he needs help. He was then placed in the van and driven away. Police now say he should have received medical attention at the scene. Because the investigation didn't start for several days, they also missed opportunities to gather crucial evidence, like a surveillance tape from a store that was taped over.
That's why the van, and the alleged "rough ride," remains central. While medical professionals said the level of damage to Gray's spinal cord—which was 80 percent severed, with a crushed voice box—was the sort of injury that usually only happened in a serious car accident, Dr. Ali Bydon, a Johns Hopkins neurosurgeon, told the Sun that it could have happened progressively, so that the fact that Gray could stand when he got into the van proves nothing. "It can be a progressive, cumulative loss of function if the spinal cord is unstable and unprotected," he said. "You don't need tremendous force to follow up on further injury to the spine—a force you and me can take because we have stable necks, but that an unstable neck cannot withstand."
Once Gray was in the van, he was handcuffed. Apparently because he was "irate" during the ride, officers stopped and shackled his legs, too. The one thing they didn't do was buckle his seat belt. Not only does that sound like common sense, it's also department policy—and BPD admits it was violated. A lawyer for one of the six officers involved in the Gray case, all of whom have been put on desk duty with pay, implied that the policy was frequently ignored. "Policy is policy, practice is something else," Michael Davey told the Associated Press. "It is not always possible or safe for officers to enter the rear of those transport vans that are very small, and this one was very small."
Critics argue that the reason a prisoner would be left unbuckled is not to protect officers but to dole out extrajudicial treatment. Baltimore juries have on occasion agreed. In 2004, a man named Jeffrey Alston won $39 million from Baltimore after he was paralyzed from the neck down during a police-van ride. The following year, Dondi Johnson Sr. won $7.4 million after a ride left him a paraplegic. In 2013, Johns Hopkins librarian Christine Abbott filed a suit against the department for a "rough ride" after a 2012 arrest that resulted from a noise complaint. Her lawyer alleges she was not buckled and an officer drove "maniacally" as she was taken in, throwing her around the unpadded van. (Abbott is white; Alston and Johnson, like Gray, are black.) Arrestees and advocates say drivers will jam to abrupt stops and take corners hard to toss riders around. In addition to rough rides, my colleague Conor Friedersdorf notes, the Baltimore Police Department has a long and ignominious rap sheet of brutality not befitting a place that calls itself Charm City.
As one might expect, it's hard to know how common this practice is, and there are no good tallies. There are multiple ways a suspect could be injured, including while being apprehended, and the accounts of police and suspects about what happened may vary. (The Bureau of Justice Statistics found about 688 arrest-related deaths per year from 2003 to 2009, with 60 percent ruled homicides.) The multiplicity of slang terms is one metric. "Bringing them up front" refers to jamming on the breaks so a prisoner flies forward. "Screen tests" are the same, so that a prisoner rams into the screen between the front seat and the passenger area of a van or cruiser.
Some uses are regional or localized. In Philadelphia, the practice is commonly known as a "nickel ride," a reference to cheap amusement-park rides. The Philadelphia Inquirer published a gripping investigation into nickel rides in 2001. The story begins with one not unlike Freddie Gray's: "Gino Thompson stepped into the police van an able-bodied man. He emerged paralyzed from the waist down." (That echoes Baltimore Deputy Police Commissioner Jerry Rodriguez: "I know that when Mr. Gray was placed inside that van he was able to talk, he was upset ... When he was taken out of that van, he could not talk and he could not breathe.") The newspaper found 20 cases of injuries, including three spinal injuries and two instances of paralysis. Settlements had cost taxpayers at least $2.3 million at the time, but no Philadelphia cop had been disciplined for the practice. After the Inquirer investigation, the department agreed to end the practice, but a 2013 lawsuit alleged it had been quietly reintroduced.
One lesson from Philadelphia is how hard it is to reform a police department—a massive organization that relies on officers to exercise a range of force against citizens without overstepping their bounds. Policing has typically been done with minimal oversight, and since crime rates shot up mid-century, politicians have given police great deference. That may be changing. Violent crime rates are falling nationwide, and examples of police violence resulting in death are attracting national attention and outrage. Unwritten practices in a police department like rough rides, no matter how limited they may be, are hard to root out and hard to keep out once they're gone. Citizens are convinced, rightly or wrongly, that a code of omertà among officers means that even if few commit violations, others will be unwilling to report it or speak out.
Another lesson from this case is that having black leaders, and even black officers, in a city isn't enough to fix racial disparities in policing and use of force. Baltimore Mayor Stephanie Rawlings-Blake, who is black, has been sympathetic to protests, has spoken about the need to improve police interaction with Baltimoreans and especially African Americans, and hasn't been the focus on protesters' anger. Her police chief, Anthony Batts, is also black, and while some people have called for his job, he seems to have her support. He has also sympathized with demonstrators.
Baltimore starts out with some advantages over a town like Ferguson in responding to this kind of anger against officers—the department has a more representative (though still not fully representative) force, and it has elected leaders who are open about the problems between police and citizens. But Ferguson's department had just 54 officers when the Justice Department investigated it. Baltimore has nearly 3,000 officers. Even if rough rides are only a tiny element of the police culture, it will take a cultural shift to root them out, the sort of change that marches and national attention can't effect on their own.