The Absence of Legitimate Authority in Baltimore
If police brutality sparked protests, why would anyone expect the police to be able to stop them? And if not the police, who can?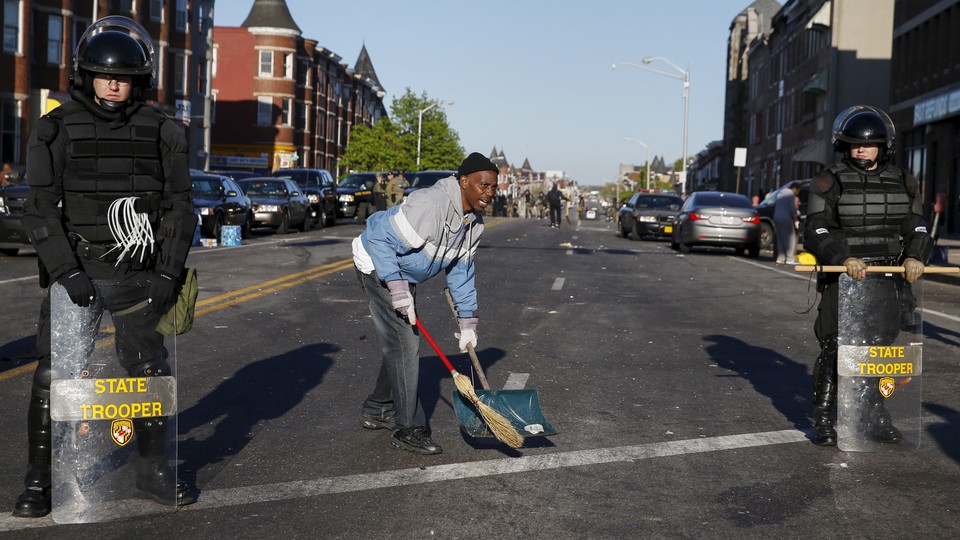 This is the paradox at the heart of rioting in Baltimore. Protestors have been in the streets of Charm City for a week to demonstrate against violence by police officers. But when matters started to spin out of control Monday afternoon, the group dispatched to solve the problem was the police.
The context for these events is a slowly building anger, beginning with the arrest of Freddie Gray on April 12, his grievous injury in a police van that day, and his death on April 19. The 25-year-old black man's funeral was Monday. His life and death have prompted a series of questions about how the police interact with residents of Baltimore, particularly black ones, and about segregation and poverty in the city.
It's the police who are investigating the Gray's death—even though he was in a police van, visible to only officers of the law, when he sustained the spinal injuries that killed him. The police may also have mishandled protests on Monday, allowing them to escalate and turn into looting and rioting. Nor did other traditional sources of power and influence acquit themselves especially well: The mayor seemed unprepared and beleaguered, the media often missed or obscured what was happening, and traditional community leaders seemed to have little sway. In a situation like this, when there's no authority with credibility and influence, who can the population turn to?
Take the question of what role gang members played in Monday's events, about which there were feuding accounts of motivations and actions.
Just after midnight on Monday, The Daily Beast published a report saying that members of the Crips and Bloods, two rival gangs, had agreed to a truce to march peacefully against police brutality. At nearly noon, the Baltimore Police Department issued a statement saying there was a "credible threat" that members of gangs had allied to "take-out" officers. Yet in practice, Guardian reporter Ben Jacobs, a Baltimore native, noted that gang members seemed to be the people most effective at maintaining some "semblance of order" on the streets. Multiple reporters on the scene said gang members had helped keep them safe and protected them from threats. It's a peculiar inversion of the warning from the Baltimore Police Department.
Who to believe in this situation? It's counterintuitive to trust the gangs, but there's also little reason West Baltimoreans would take the police at their word. After all, it was Gray's death in police custody that sparked the demonstrations, and that death is only the latest episode in the BPD's long history of brutality, attested by millions of dollars in settlements against the city (paid for by taxpayers, naturally).
Worried about the threat of violence, the police were out in force at Mondawmin Mall, near the church where Gray's funeral was held. The mall was shut down at 2 p.m., but ranks of demonstrators around it swelled with students from nearby high schools, who walked out of school in protest. As demonstrators and police in riot gear faced off, protestors started throwing bricks, rocks, and other projectiles at officers. In at least some cases, as attested in photographs, police picked bricks up and threw them right back at the demonstrators. It quickly became clear that police either couldn't or—given the genesis of the protests—wouldn't stop crowds. Residents describe the police as a frequent, menacing presence in West Baltimore, all the more so given the situation, but when officers began falling back, it created a vacuum.
Meanwhile, city officials—the default authorities, despite this uneasiness—made several decisions that may inadvertently have helped create rioting. Much of the discussion over Ferguson has focused on what happens when a poor, disenfranchised black population is divided from a white power structure. As any scholar of systemic racism might have predicted, Baltimore is showing that simply having African Americans in top jobs—including mayor and the police commissioner—is not enough. In the early days of protests, Mayor Stephanie Rawlings-Blake seemed to be winning praise for sympathetically listening to protestors and staying above the fray. By Monday night, she seemed to have become just another politician, subject to criticism from people on all sides of the drama. First, there was her widely debated statement on Sunday that police had created space for destruction—she says she was misunderstood, and was only making the point that bad actors could take advantage of circumstances. Then on Monday night, she referred to protestors as "thugs," an often racialized term that, when used by white authorities in Ferguson and elsewhere, keyed strong reactions. Her linguistic slips, the fact that the city seemed largely unready even though protests were a week old, and the fact that there's still almost no information about what happened to Gray, have eroded her sway. As Rawlings-Blake balances the need to criticize police brutality against her support for Baltimore's police force, she has to contend with the precedent of New York Mayor Bill de Blasio. He faced a serious backlash and a work stoppage from police after the death of Eric Garner and the murder of two officers. An uneasy truce seems to have prevailed there, but given the tension in Baltimore, Rawlings-Blake wouldn't want to risk the same sort of break with her own department.
For most Americans, television provided the main look at what was going on, while the eagerness of people in the streets (of all opinions) to speak to reporters showed an understanding of the power of the media. Reporters flooded into Baltimore from around the country, and in particular from D.C. But most of the reporters in the city don't have much background in Baltimore or a particularly rich understanding of race relations there or elsewhere. As a result, they transmitted a necessarily patchy and incomplete picture of what was happening. Baltimore Sun reporter Erin Cox succinctly criticized the parachute press corps in a tweet: "CNN guy reporting from one corner declares Baltimore is 'a city out of control.' I guess since he knows everybody, he must be right."
The problem with taking news reports at face value became apparent as the night wore on, when a senior home across the city in East Baltimore caught on fire. Initially, it was believed to be connected to the unrest—reporters even spoke with residents who were aghast that the violence had moved to their neighborhood. Yet the fire department later told The Washington Post the fire was not related to protests and seemed to be an unfortunately timed construction mishap.
Watching events unfold on TV, it appeared that the mayhem began in the afternoon as officers fell back and regrouped. Police cars and vans were set on fire. Police reported that 15 officers were injured. A CVS was broken into and looted—looters emerged carrying 12-packs of paper towels—and later set on fire. A check-cashing store was also looted, a symbolic strike against a rapacious industry that takes advantage of an underbanked neighborhood with high poverty rates. Looters broke into a handful of businesses, while others survived because armed guards deterred would-be attackers.
Those images could be misleading. Sometimes it looked as though authorities were entirely absent, only for the camera to pan out and show a phalanx of riot police nearby.
But the national press also undermined its authority in subtler ways. First, there was the unquestioned assumption that more force is better. Hence CNN's Wolf Blitzer grilled the Baltimore Police Department's spokesman on live television, questioning whether there were more officers on the way and demanding to know whether BPD needed backup from the National Guard or Washington, D.C., police, as though he himself might order them in. The appeal to force is particular tone-deaf in the context of clashes set off by what everyone seems to agree was an excessive use of force by police against Freddie Gray. It also points to an additional problem with the media's authority in a riot situation: A camera is very effective at capturing acute scenes of destruction, from fires to thrown bricks to looting. But it's not good at capturing the invisible forces that are more important in explaining what's happening—chronic, hidden things like a long history of police brutality or poverty entrenched by government policy choices.
Inevitability, there are now calls for President Obama to intervene and calm nerves in Baltimore. But what would it mean for the federal government to get involved? Does it mean Obama coming to town and delivering a speech, as he has after so many national tragedies? Such a step might offer a quick salve, but it wouldn't do much to address the underlying causes of anger.
In fact, the federal government hardly has much credibility here either. Segregation and poverty in West Baltimore are rooted squarely in federal policy. Redlining of Baltimore neighborhoods, conducted under the auspices of the Federal Housing Authority, helped to ensure that black residents were segregated into black neighborhoods and built less equity. In 1995, a federal judge found that the U.S. Department of Housing and Urban Development had violated the Fair Housing Act, placing public housing only in poor black neighborhoods and thus concentrating and perpetuating a cycle of poverty. The government also failed to prevent Wells Fargo from a new form of redlining leading up to the housing bubble, in which black residents of the city were targeted for discriminatory lending.
Now, with general calm Tuesday, citizens are out in the streets starting to clean up. The Maryland National Guard, which deployed at Governor Larry Hogan's command, can perhaps provide some stability for that process, but—like each of the other troubled authorities—it can't do much to solve the underlying problem. There will also be a curfew, if it holds, from 10 p.m. to 5 a.m. for the next week.
The people poised to fill the power vacuum now are likely to come from two groups: those who had responsibility thrust upon them, and those who volunteer. Freddie Gray's family makes up the first group. As the family of the victim, their voices are particularly powerful right now, and on Monday night they called for peace and an end to rioting.
"This is not justice. This is just people finding a way to steal stuff," Gray's cousin Carron Morgan said. "We're going to be out tomorrow cleaning up, for sure."
Local community leaders have already played a key role in peaceful protests, and they were out in the streets during the violence, prevailing upon demonstrators to remain calm and peaceful—and often doing so with more poise and effect than other actors on the scene. Pastor Jamal Bryant, the local minister who delivered Gray's eulogy and has been instrumental in protests over his death, headed out into the streets in an attempt to tamp down violence. In an instantly viral moment, a mother who saw her son throwing rocks delivered a thunderous physical scolding.
The volunteers, the people who show up when the cameras are off and get to the work of cleaning West Baltimore up, will naturally earn some respect in the neighborhood. With so many failed authorities around them, and so many deep structural challenges remaining, they'll have plenty of work.