The Most Diverse County in the Southeast Is Run Almost Entirely by White Politicians
It's part of a problematic trend: Americans communities grow more diverse, but their leadership stays the same.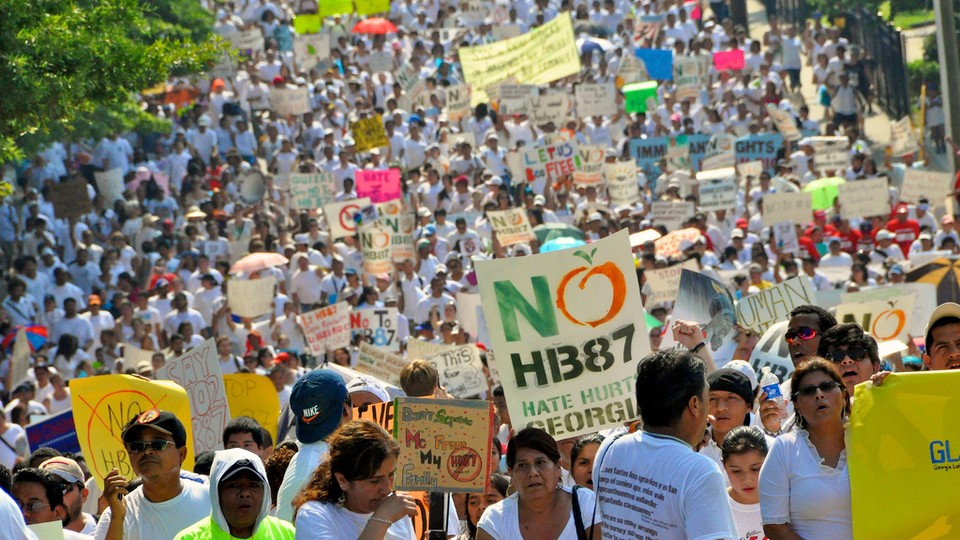 ATLANTA—Three days after being sworn in as the first Latino state legislator in Georgia's history, Pedro Marin had an ethics complaint filed against him. It said that he was a "Mexican federal government agent infiltrated in the Georgia General Assembly." There were a couple of problems with that charge: 1) Marin is Puerto Rican; 2) He's never been to Mexico.
"It was a wake-up call for me," says Marin, who is still a state representative, about the 2003 ordeal. "There's this anti-immigrant group out there with this new wave of Latinos, and we've got to be more aware."
The exploding growth of Latino residents in the Atlanta region dates back to the 1996 Olympics. Atlanta needed workers to fill construction and service jobs in the run-up to the international event, and Latinos answered the call. Those workers stuck around when a building boom followed the Olympics. With its affordable housing and location along the interstate, Gwinnett County, northeast of Atlanta, became a magnet for the region's new Latino community. Between 2000 and 2010, the county's Latino population more than doubled, paralleling a statewide trend.
In Gwinnett County today, 20 percent of all residents are Latinos, and a majority of county residents are minorities (Asians make up 11 percent and African-Americans 26 percent). That blend makes Gwinnett the most diverse county in the Southeast. Yet it is a county almost exclusively represented by white elected and appointed officials.
(RELATED: Why Don't White Voters Elect Minority Reps to Congress?)
Marin, who represents the towns of Norcross and Duluth, is one of just two Latino officials in the entire county of nearly 900,000 residents and 16 cities. The handful of other minority officials include three black legislators, one Asian state representative, a black city council member, and a black U.S. House member. That representation doesn't come close to matching the electorate, says Jerry Gonzalez, executive director of the Georgia Association of Latino Elected Officials.
"It's truly out of touch with reality," Gonzalez says. "They know it's unsustainable. We're hoping that they're going to change."
But for the moment, he says, the area is represented by politicians such as state Sen. Renee Unterman, who represents Buford in northern Gwinnett County. Unterman was a strong supporter of an Arizona-style immigration bill that the state passed in 2011, and her advocacy was flavored with concerns about the growing diversity of the county and the effect that "illegals" were having on local hospitals, based on her experience as a former nurse.
"Unfortunately, we are absorbing all of those illegal kids," said Unterman in one speech, later adding, "I want to take care of our people. I don't want to take care of Mexico's people that are here illegally."
Unterman's office would not respond to interview requests or questions about her comments. But Gonzalez approached Unterman after her speech. "I was so enraged and disappointed that somebody in her position would speak in that way about my community," he says. "I went up to her and told her that I thought she was a disgrace."
(RELATED: Is Immigration A Poison Pill for Jeb Bush?)
Unterman's strong sentiment against undocumented immigrants is not out of step in the Georgia Legislature. In recent years, legislators have attempted to make the state English-language-only, including the written exams required to obtain drivers licenses. The measure failed, in part because of pushback from the state's Asian community. Language barriers remain a major concern; Gwinnett County government offices don't offer English language assistance for speakers of other languages.
But even as some quarters of Gwinnett County are less-than-welcoming to newcomers, Latinos occupy a growing share of the local economy. In addition to all those jobs in the construction and service industries, there are also Latino small-business owners who have taken over storefronts and malls previously abandoned by a white population that is leaving Gwinnett for counties to the north.
One of those shopping areas is Santa Fe Mall in Duluth, in the western part of the county. After Gwinnett Place Mall—a typical two-story suburban mall—opened in the mid-1980s, Santa Fe Mall began to empty out. Businessman and Colombia native Benjamin Rincon saw an opportunity, and in 2005 he remade the complex into a Latino mall for the expanding ethnic population. Now home to the Spanish-language radio station La Que Buena 101.9, dozens of shops, and a 12-auditorium movie theater with $3 shows, the Santa Fe Mall is a destination for the Latino community.
"It was a piece of junk," Rincon says, standing outside a shop displaying colorful quinceañera dresses. "We're trying to convert the mall into something that not just for merchandise, but for events and for enjoyment. We want to bring to the community something completely different. It's something the families don't have."
The sound of Latin music and aromas from the Congas Express food stand immediately greet visitors to the colorful and bustling mall. Mismatched tile patterns change sporadically from the old design to new ones in rugged red, yellow, and black shades. Old West facades hover over travel agencies, stores filled with piñatas, and family health centers. It looks like many of the shops found along Buford Highway, an international neighborhood north of Atlanta.
(RELATED: Arrested Development Takes on Ferguson, Clinton, and Hip-Hop)
As we walk to the food court, Brenda López Romero, a family immigration lawyer based in Norcross, says many of her clients frequent the mall. Some of them are looking for help with immigration court proceedings, others are petitioning to bring family members to the United States, among other issues. Gwinnett County is part of the U.S. Immigration and Customs Enforcement 287(g) program, an agreement between local and federal officials to crack down on undocumented immigrants. Of the Gwinnett County detainees in ICE's Stewart Detention Center, an immigration prison 140 miles south of Atlanta, 70 percent were stopped for minor traffic violations, Romero says.
"That's been a source of many problems here—a lot of racial profiling based on that," she says. "There's a distrust that you're not fully welcomed and your family runs the risk of being detained."
Latinos need voting power to change the rules in place in Gwinnett County, says Antonio Molina, who is sitting next to Romero. Pedro Marin's chief of staff in the Georgia Legislature, Molina says the numbers are promising. In 2003, there were just 800 registered Latino voters in Gwinnett County. Today, there are nearly 30,000.
"Even though the majority here are people in minority groups, that has not translated into actual voting power, and that is the problem," says Molina, who also serves as the chairman of the Democratic Party of Georgia Latino Caucus. "I tell folks all the time that we can have all the numbers that we want, but if we don't translate that into votes, then we're going to keep having these situations."
The children of those original Latino immigrants who moved to the area in 1990s are getting to voting age and will be a sought-after electorate. Combine the rising Latino population with African-Americans reversing the Great Migration and moving back to the South in droves, and Georgia has become a state to watch in national politics.
Having endured death threats and vandalism, Marin knows as well as anyone that the region's environment is still not ideal for Latinos. And while Latino leaders are making strides, he admits they need to work on teaching minorities how to run for public office. Otherwise, they'll be stuck with "the good old boys club," he says.
But while boosting voter turnout and advocating for immigrant rights may be at the top of Marin's list of priorities, there is one lingering goal for the man once accused of essentially being a Mexican spy. "I'm looking forward to going to Mexico one of these days."