The Gulf Between African Americans, Whites in Distrust of the Police
Seventy percent of African-Americans say police do a poor job treating different racial groups equally. Twenty-five percent of whites say the same.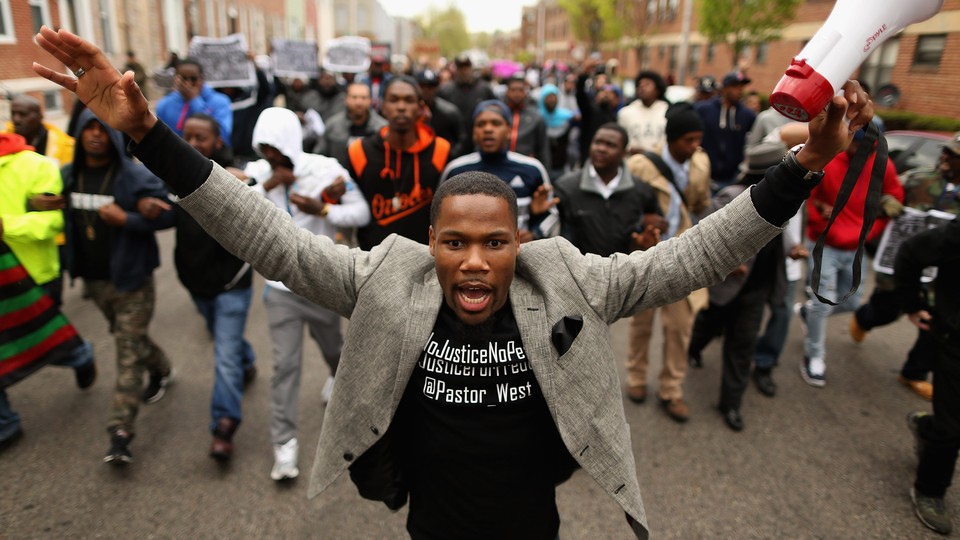 The story sounds familiar: A black man sustains life-ending injuries in a confrontation with police. And the encounter happens in a city where African Americans are underrepresented in the police force and where racial disparities infect all aspects of life, from health care outcomes to incarceration rates.
It's the story of Michael Brown in Ferguson, Mo.; of Eric Garner in New York City; and now, of Freddie Gray in Baltimore.
It's still unclear what, exactly, led to Gray's death on April 19, one week after he was arrested by police. Gray—a 25-year-old black man—had seen police approach him on the street and, according to the police report, "fled unprovoked upon noticing police presence." Officers gave chase and Gray was arrested "without force or incident," according to the report. But a bystander video of the arrest shows Gray screaming out in pain and apparently not standing upright on his own.
Baltimore police have admitted that Gray did not receive proper medical care while in their custody on April 12, and a medical examiner's report is underway. Officers also said Gray was not secured in a seatbelt when he was put in a police vehicle. By the time Gray reached the police station, he was unconscious, and emergency medical workers rushed him to the hospital. He died a week later. According to the Gray family's lawyer, his spine was "80 percent severed at his neck."
Since Gray's death, protesters have taken to the streets of Baltimore to demand more information about how he died. The protests, which started off as peaceful, turned violent in small pockets over the weekend—police vehicles were smashed and 12 arrests were made.
On Monday, Baltimore police received threats from gangs that police officers may be targeted for attacks. "Freddie Gray would not want this," Gray's sister said of the violence Saturday. By Monday afternoon, there were reports of demonstrators throwing bricks at the police, vandalizing police vehicles, and provoking a violent standoff. Seven officers were wounded in the riots, Baltimore Police Captain Eric Kowalczyk said.
"We will find the people who are responsible and we will put them in jail," Kowalczyk said. "This is not okay." He called the rioters a group "of lawless individuals with no regard for the safety of people who live in that community."
The circumstances separating Brown's, Garner's, and Gray's stories are different, but the underlying sentiment is the same: Black communities feel slighted by the criminal justice system, and those sentiments are ignited in high-profile incidents where it's not immediately clear if the police did the right thing.
What has been made clear through these incidents is that black and white citizens have diverging perceptions of the role of law enforcement in America*. Polling firms Pew and Gallup have charted these sentiments, as you can see in the interactive graphic below. Click to see how differently black and white Americans view issues of law enforcement and race.
It's like they are living in two different worlds.
Feelings on Law Enforcement | Create infographics
*It isn't that black and white people are hopelessly divided on issues on race and law enforcement. According to a 2013 Gallup survey, two-thirds of African Americans characterize relations with whites as somewhat good or very good. And a sense of optimism that America will eventually work out its race-based issues has been on an upward trend over the past 20 years, among both African Americans and whites. Also, both African Americans and whites agree that policing would be made better through the use of body cameras: Ninety percent of black respondents said they were a good idea in 2014; 85 percent of white respondents said the same.