The Baltimore Riot Didn't Have to Happen
Could Monday's violence have been avoided if police officials made better decisions?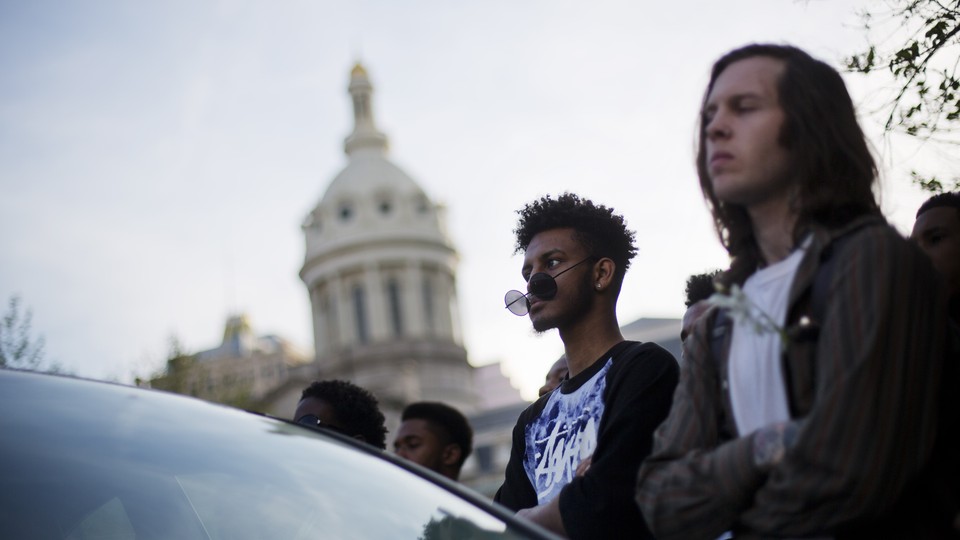 No riot is normal, but after several days of peaceful protests, the violence that broke out on Monday in Baltimore looks more and more like a strange departure.
There's a familiar narrative around this outbreak of violence that makes it fit into our experience of past riots—Ferguson to Los Angeles to Detroit to Hough. The arc is scripted: Citizens get angry, tensions build and build until they boil over, violence erupts, and then people go home and the city begins the process of cleaning up. But after two relatively quiet and calm nights in Baltimore, that arc doesn't seem to apply. Instead, there seems to have been a consistent level of peaceful anger for two weeks, punctuated only by two moments of destruction. In that light, Monday's riots aren't the natural climax of increasing anger but instead an entirely avoidable tragedy that might have been forestalled had city officials made different decisions. What if the riots never had to happen?
People have been demonstrating in the streets of Baltimore since Freddie Gray died on April 19, but violence has only really broken out twice: on Saturday, and then again on Monday, with widely televised standoffs between protestors and police, looting, and fires. Baltimore Police said that 16 people were arrested on Wednesday. By contrast, more than 100 people—that is, six times as many—were arrested in protests in New York City alone on Wednesday.
While the deployment of National Guard troops and a curfew imposed in Baltimore is surely a factor, it is not the case that protests have stopped and people have left the streets—quite the opposite. Hundreds of people marched in Baltimore again on Wednesday, convening at City Hall. Leaders of these marches have made a concerted effort to make sure that they remain peaceful, and hope that large, calm marches can help to bring the focus back from the rioting to Freddie Gray and the larger question of police brutality in the city.
There are other signs of return to normal as well. Mayor Stephanie Rawlings-Blake says she's considering lifting the curfew—which runs from 10 p.m. to 5 a.m., through Tuesday— and sending the National Guard home early, citing the potential damage to businesses but necessarily acknowledging that the streets are basically calm. Meanwhile, half of the roughly 200 people arrested on Monday were released from jail. That's despite the fact that Governor Larry Hogan signed an order that allowed people to be held for longer than usual without charges. Police said they haven't had time to sift through the evidence and might file charges yet, and they insist the arrests were justified. (Kriston Capps notes here that, unusually, the Baltimore city jail is funded and run not by the city but by the state of Maryland.) But the fact that they're simply letting people out suggests that worries about violence breaking out again have subsided.
So why was Monday different? There are competing narratives, likely all with some truth. But with a few days' perspective, it looks like a combination of random chance and strategic errors by city authorities helped to create an explosive situation. First, there was the rumored "purge"—an idea circulating among high-school students, borrowing from the lawlessness in a fantasy movie of that name—to gather at Mondawmin Mall in West Baltimore and head toward the Inner Harbor. It seems there weren't even all that many students interested in a rowdy march—maybe 75 to 100.
But when they got to the mall, they were met by a phalanx of police in riot gear, which increased tensions. (It's also a departure from the general tactics of Baltimore Police over the last two weeks—officers have typically tried to give protestors a wide berth to demonstrate.) The mall is also a transportation hub for students, and many students of all ages who were not involved in the "purge" were therefore present in the same place and trying to get home. But police were forcing riders to get off buses and preventing them from getting on other buses and trains. The result was a large group of young people stranded together with no way to leave, facing off against a line of police, likely scared and unsure of what to expect. Unsurprisingly, the situation boiled over. Once police started backing off, some faction of the crowds took advantage of the anarchy and began setting fires and looting.
The fact that "purge" wasn't enough to create mayhem on its own is borne out by what happened the next day. As Arthur Delaney and Julia Craven report, a call for a second "purge" planned for Tuesday circulated on Monday. Businesses shut down in anticipation. But when the appointed hour came:
The few masked protesters who showed up were vastly outnumbered by prayer groups and gang members who were at the mall in an effort to dissuade violence. Several families came with children, including Mekai Hines, a 12 year old who was there with his mom and brother.

"People have been talking about rioters coming to Security Mall, and I'm here with a prayer group and we're praying that people don't come up here and riot," Hines said.
(Gangs have played a surprisingly central role in helping to maintain peace and order.)
If Monday's riots were an anomaly, it undermines the condemnations by some observers of West Baltimoreans as members of a dysfunctional, self-destructive population determined only to hurt themselves. But if so, it also lends some credence to the complaint that the riots are a distraction from more persistent problems. My colleague Ta-Nehisi Coates decried hypocritical pleas for nonviolence on Monday, noting that even if violence produces little good, it can be an outlet for legitimate grievances. All of that can be true, and it can be true that the violence served to vent building pressure. But it may be that the riots never had to happen, and that Baltimore could have seen two weeks of essentially peaceful protests.
That doesn't mean the city won't boil over again. The central question of these protests—why is Freddie Gray dead?—remains unanswered. Police said Thursday they had completed their investigation and were turning the results over to prosecutors, but that they did not plan to divulge any new information publicly. Meanwhile, there are signs of pushback from within the police force—someone leaked a document to The Washington Post that purports to be the account of another suspect who was in the van with Gray, who claimed that Gray was intentionally trying to hurt himself. Attorneys for the Gray family immediately disputed the report, and WBAL's Jayne Miller said it conflicted with what Police Commissioner Anthony Batts had told her.
The continued paucity of information about Gray's death, especially if paired with an effort by police sources to blame him for his own death, could create new anger. And when, eventually, the details are leaked, it will create another tense situation. For the time being, however, Monday's riots look like neither a spontaneous and unavoidable outbreak of anger nor a self-destructive orgy, but instead like a sad and bizarre fluke.