Steve King Wants to End Birthright Citizenship
A pair of bills in each chamber would repeal the automatic right to citizenship for everyone born in the United States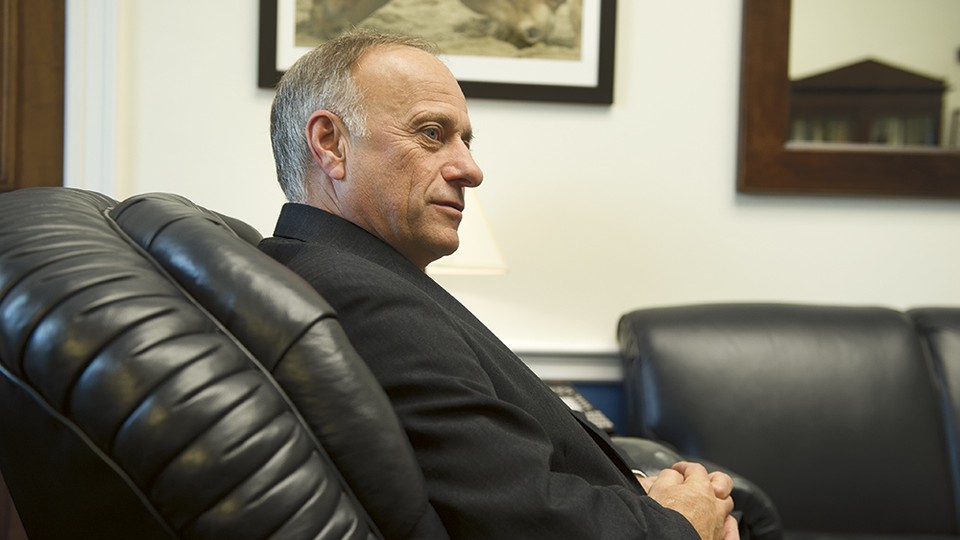 Rep. Steve King is leading a controversial push in Congress to repeal a longstanding American policy that grants citizenship to any child born in the United States--even those born to undocumented parents.
The Iowa Republican and his Louisana colleague Sen. David Vitter have introduced matching birthright citizenship bills that would deny citizenship at birth unless at least one parent is either a U.S. citizen, a "lawfully admitted" permanent resident, or someone who has otherwise served in the U.S. military. King's bill so far has 22 cosponsors, all Republicans.
"The illegal parents, are they going to decide? Or are we going to decide as representatives of the people of the United States of America?" King asked colleagues on the House Judiciary Subcommittee on Immigration and Border Security at a hearing on the issue Wednesday. "I suggest that it's our job here in Congress to decide who will be citizens, not someone in a foreign country who can sneak into the United States and have a baby."
For now, the House committee doesn't plan to take up King's bill. "The Committee is only interested in examining the issue at this time," a House Judiciary Committee aide told National Journal.
King's argument rests on the legal interpretation of whether the Constitution's framers intended for the 14th Amendment to include every child born on American soil regardless of circumstance and the legal status of their parents. Committee Chairman Bob Goodlatte (R-Virginia) says the issue is "far from settled" and "is important as we move forward with any reforms to immigration policy."
King argues that at the very least, a legislative statute clarifying Congress' interpretation of the amendment could trigger standing to allow a Supreme Court review. "We have to have a statute in order to trigger that constitutional litigation," he said at the hearing.
Without congressional clarification, testified Jon Feere of the Center for Immigration Studies, the next president could conceivably end birthright citizenship by simply directing executive branch agencies "to not consider such children U.S. citizens at birth" because Congress has not explicitly granted them that right.
Some other members of the subcommittee, particularly Democrats, were quick to criticize King's push, including Rep. Zoe Lofgren (D-Calif.), who called the hearing a "fruitless effort." "The question that we're asked to consider is whether birthright citizenship is the right policy for America," Lofgren said. "I think the answer is clearly yes, and that, in fact, no other policy would be worthy of this country."