States Enrolling Newly-Eligible Inmates in Medicaid
New state laws are attempting to immediately enroll the incarcerated—the majority of whom have health conditions—in Medicaid upon reentry.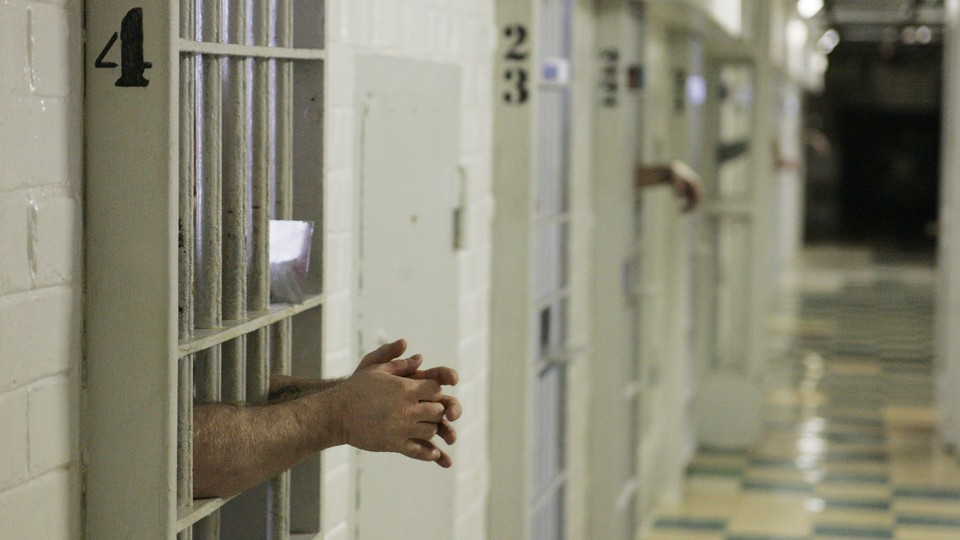 Thanks to Obamacare, there's a growing population enrolling in Medicaid upon their first opportunity: prisoners.
Under the Affordable Care Act, a large proportion of incarcerated adults have become eligible for Medicaid in states that have expanded their Medicaid program. They can't receive Medicaid benefits while behind bars, but many states are now working to ensure they are enrolled immediately upon reentering society.
Doing that, the thinking goes, will help prevent costly emergency health care and, potentially, decrease recidivism rates.
New Mexico has a new law that creates a formal Medicaid enrollment process for jail and prison inmates, signed into action by Republican Gov. Susana Martinez earlier this month.
"This is going to be a way to reduce the jail population. The revolving door has been slowed considerably by this," said Democratic state Sen. Jerry Ortiz y Pino, the sponsor of the New Mexico law.
Illinois has a similar bill, sponsored by Democratic state Rep. Camille Lilly, currently making its way through the legislature.
Whereas Medicaid used to cover primarily the disabled, pregnant women, and children, adults with an income up to 138 percent of the federal poverty line—about $16,245 for an individual in 2015—are now eligible in states that have accepted the expansion. Newly-eligible adults include many of those in the criminal justice system, who can begin receiving coverage upon release from incarceration.
States are increasingly thinking about how to connect incarcerated people with Medicaid coverage immediately upon their release, said Aaron Larrimore, policy director with the National Association of Medicaid Directors.
"You just want to maintain continuity of care whenever you can," Larrimore said. "Otherwise, if someone has a gap in any type of medication or services that they regularly get, they could quickly end up in a situation where they could need emergency services."
Although states are all taking approaches unique to their particular needs, Larrimore said, common policies require a determination of Medicaid eligibility close to the time of reentry and attempt to make the transition into the health care delivery system seamless.
"Before, they're seeing a doctor that's in the jail or in the prison, or they're seeing a pharmacy that's in the jail or in the prison," he said. "It's about making sure they have access to care once they leave the system, in addition to having the eligibility for it."
States that have expanded Medicaid aren't the only ones passing laws to enroll incarcerated adults in Medicaid upon reentry. North Carolina, which hasn't expanded, passed a law in 2010 requiring multiple state agencies to come together to link the Medicaid eligibility system to prison inmate records.
Larrimore said that some states are also increasingly choosing to suspend Medicaid rather than terminate it when an enrollee is incarcerated, which makes the reenrollment process easier upon release.
In Illinois, an estimated 95 percent of those released from the state Department of Corrections are eligible for Medicaid—the "great majority" of whom were not previously eligible, according to a 2014 report by former Democratic Gov. Pat Quinn.
Nationally, more than half of the 730,000 federal and state prisoners who reenter the community each year will be newly eligible for Medicaid or federal subsidies as a result of Obamacare, according to a 2013 Council of State Governments report, and according to the Illinois report, 35 percent of those in the state who are newly eligible for Medicaid only will have a history of criminal justice involvement.
Adults in the criminal justice system are more likely than the general population to have significant physical and behavioral health conditions; among prisoners returning to the community, 80 percent of men and 90 percent of women have a chronic health condition. But they also often do not have health insurance or an income allowing them to afford health care.
That means they are more likely to use emergency rooms, detox centers, crisis centers, and psychiatric hospitals—making their care expensive and inefficient, according to the Illinois report.
Medicaid coverage will be especially beneficial to the mentally ill in the criminal justice system, said Mark Heyrman, a law professor at the University of Chicago. "Of the people in the criminal justice system who have a serious mental illness, a lot of them we could keep them out of the criminal justice system if we would give them mental health services," he said.
Heyrman added that securing federal Medicaid funding and reducing the number of people in the criminal justice system provide a double incentive to pass the bill in Illinois.
Larrimore said it took a couple of years for states to begin recognizing the potential benefits of the Affordable Care Act for health care upon reentry. In Ohio, the state Department of Medicaid and the Department of Rehabilitation and Correction began collaborating in early 2013 to identify Medicaid-eligible inmates and expedite their enrollment into Medicaid managed-care plans.
"A lot of states were trying to focus on the really huge pieces, so it kind of took a little while for some of this stuff to make its real presence known," Larrimore said.