Senate Easily OKs Provision Targeting Advertisers Who Knowingly Support Sex-Trafficking
Effort by free-speech groups and Sen. Ron Wyden to block the amendment fails.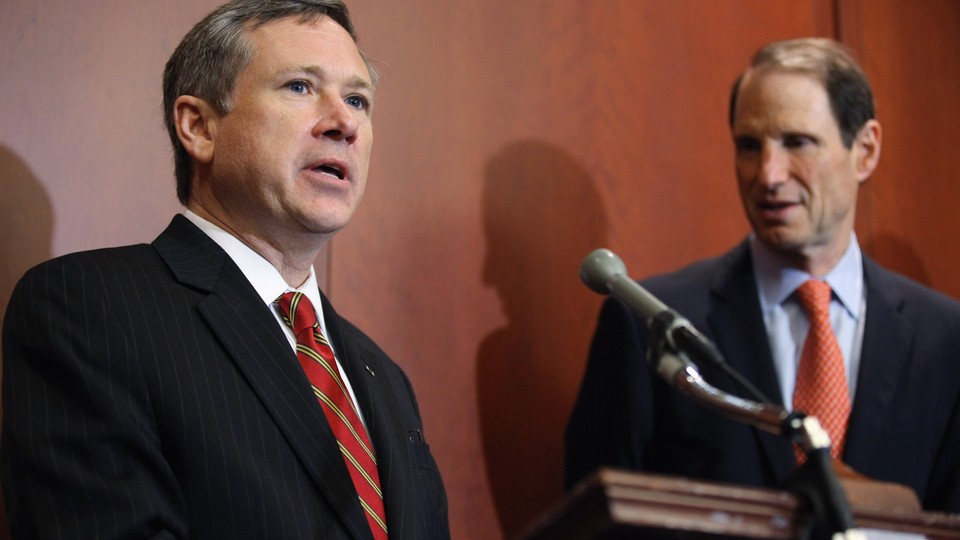 The Senate on Wednesday overwhelmingly agreed to add an amendment designed to target advertisements that promote human trafficking to the trafficking bill that is expected to pass later today.
The amendment was met with criticism from Sen. Ron Wyden and privacy advocates, who said it has the potential to be abused by law enforcement for other purposes.
Ninety-seven senators voted for the amendment. Only Wyden and Sen. Maria Cantwell, D-Wash., voted no.
The amendment, which was put forward by Sen. Mark Kirk, R-Ill., is straightforward. Called the SAVE Act—short for "Stop Advertising Victims of Exploitation"—its stated purpose is to punish "knowingly selling advertising that offers certain commercial sex acts."
The amendment would change a federal law that currently prohibits knowingly engaging in or supporting the trafficking of children or people forced into sex work to also make advertising that supports trafficking a criminal act. The bill targets sites like Backpage.com, a classified-ad website which has been linked to sex trafficking.
In a series of tweets Tuesday night, Wyden attacked the amendment for harming free speech. "Instead of focusing on going after traffickers, it would enable prosecutors to go after websites Americans use for non-nefarious purposes," the Oregon Democrat tweeted.
He continued: "Amdt's vague language means any site that hosts user-generated content could face federal felony charges, which chills innovation."
The text of Kirk's amendment mirrors a bill that passed the House in 2014 and again this January. That bill, sponsored by Rep. Ann Wagner, R-Mo., was met with criticism from privacy and free-speech advocates who expressed concerns similar to Wyden's.
The advocates found fault with the SAVE Act's vague use of the word "advertise," arguing that criminalizing advertisement of adult services would lead online platforms like Craigslist and Ebay to compulsively take down any adult-oriented user-generated content on their sites that's complained about rather than face jail time.
The SAVE Act "could whet the appetite of prosecutors and legislators seeking to go after a wide variety of objectionable or merely unpopular online content by targeting intermediaries," wrote Emma Llansó, director of the Free Expression Project at the Center for Democracy and Technology.
Kirk pushed back against Wyden's reservations in emailed comments Wednesday. "We don't have to turn our backs on the children who are being sold for sex online in order to protect innovation in America," the senator said. "My amendment with Senator [Dianne] Feinstein has been altered to address these concerns and there is no reason to protect the bad actors who make millions from their child victims."
The change Kirk referred to is an added provision stipulating that a prosecutor must prove that an online platform knew that content it hosted advertised an underage or coerced trafficking victim. This would raise the burden of proof necessary to go after an online platform, but free-speech advocates insist the addition's language remains overly vague.
Before the vote, Feinstein emphasized the danger of online sex trafficking.
"We have checked with the Department of Justice. We believe [the amendment] meets constitutional standards," she said. "We believe it is necessary and it is long overdue."
This post was updated with information about the vote.