Senate Democrats Say McConnell "˜Staying Behind' On Climate Rules
Democrats say McConnell's "˜opt out' plan inconsistent with home state's goals.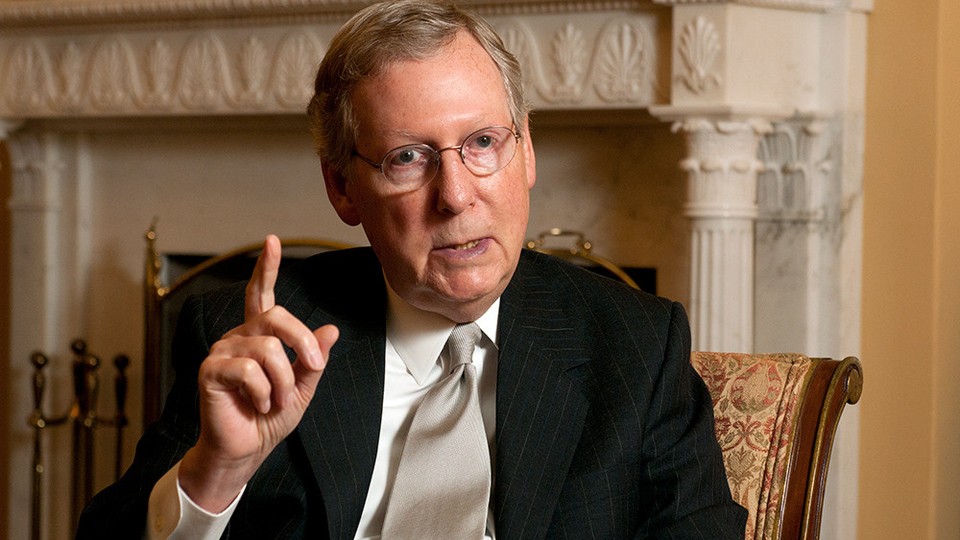 Senate Democrats are fighting back against Majority Leader Mitch McConnell's ploy to get governors to opt out of the EPA's climate rules for power plants, by telling them how his home state of Kentucky is acting to address climate change.
In a letter to all 50 governors, the Democrats—including Massachusetts' Elizabeth Warren—say that states should not listen to the Kentucky Republican, who has called on states to wait for legal challenges to play out before submitting plans to comply with the emissions reduction rules.
The letter quotes from organizations and scientists in McConnell's home state about the threat of climate change, and points out that the state has begun crafting its own compliance plan. It cites language concerning climate change from several state agencies, the University of Kentucky, and Columbia Gas of Kentucky.
"His is not the voice from ahead saying the trail is not safe; his is the voice obstinately staying behind saying, 'Let's not even try,'" the letter says.
Besides Warren, the letter was signed by Rhode Island's Sheldon Whitehouse, California's Barbara Boxer, Minnesota's Al Franken and independent Bernie Sanders of Vermont.
In his own letter to the National Governors Association last month, McConnell said the EPA proposal is "already on shaky legal grounds" and said states wouldn't face legal consequences for not complying.
"Some have recently suggested that failing to comply with the EPA's requirements would be to disregard the law," McConnell wrote. "But the fact is, it is the EPA that is failing to comply with the law here."
The Democrats' letter is part of a larger attack from the left on McConnell. The Natural Resources Defense Council Action Fund on Wednesday will launch an ad targeting McConnell over a GOP agenda that aims to scale back environmental rules.
On Tuesday, several environmental groups held a press call blasting McConnell on his first 100 days as majority leader, with Friends of the Earth president Erich Pica saying the Republican majority was "rewarding big oil, coal, gas, with votes, amendments, bills that attempt to undermine the fundamental bedrock laws that the environmental community has been fighting for the last 45 years."
The EPA this summer will finalize the power plant rule, which requires a 30 percent reduction in carbon emissions from 2005 levels by 2030 from existing power plants. States are required to write their own plans, but EPA can impose a federal plan for a state that does not comply. Opponents have expressed concern that the federal plan could be more severe or less state-specific than what its own regulators would produce.
House Republicans also are getting behind McConnell's strategy—the House Energy and Commerce Committee on Tuesday held a hearing on a proposed bill that would bar the EPA from implementing its power plant rules until all legal challenges were completed. Energy and Power subcommittee chairman Ed Whitfield said the "legal infirmities" in the rule guaranteed a long court battle, but that states would have to "initiate costly and potentially irreversible compliance steps before these legal challenges are concluded."
EPA acting air chief Janet McCabe said the concerns were invalid and blasted the discussion draft as "premature, unnecessary and ultimately harmful."
"To allow governors to opt out is completely inconsistent with the way Congress wrote the Clean Air Act," McCabe said, adding that it would be "disruptive" to have individual states sit out a federal plan.