Secret-Money Group Tied to Marco Rubio Super PAC Has Been Researching Presidential Primary Voters
The new super PAC backing Rubio for president, Conservative Solutions PAC, has an affiliated nonprofit called Conservative Solutions Project.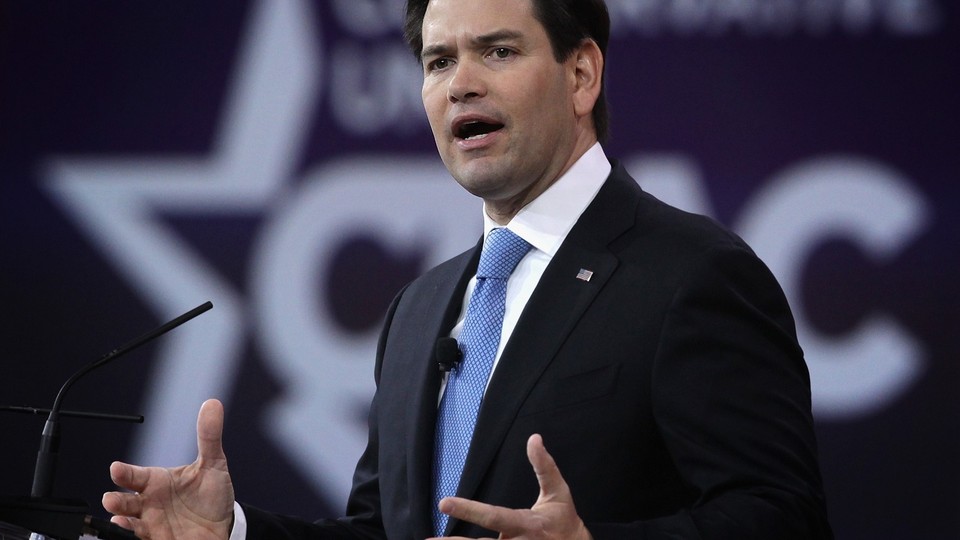 A secret-money group linked to Marco Rubio's new super PAC has existed for more than a year, during which time it conducted extensive research on early-state primary voters.
The nonprofit—whose existence has never been revealed and whose name matches the recently announced pro-Rubio super PAC—commissioned a minutely detailed, 270-page political research book on early-state primary voters last year, and the report was prepared by a firm on Rubio's own political payroll.
The research contains a trove of information on voter demographics and policy positions in states that, at the time of its publication, were expected to host the first five nominating contests of the 2016 Republican presidential primaries: Iowa, New Hampshire, South Carolina, Nevada, and Florida.
Political data this detailed is often expensive to produce, and closely guarded. But nonprofits and other outside groups are not allowed to coordinate with campaigns, and by posting the research publicly, the group has made its findings available free of charge to Rubio or anyone else who might want to use it.
The report was prepared for a nonprofit, called Conservative Solutions Project Inc., which was incorporated in Delaware in January 2014, according to state records. Just this week, Rubio allies publicized a super PAC that will support Rubio for president next year. It is called Conservative Solutions PAC. While the super PAC will have to disclose its donors and expenses regularly, nonprofits do not have to disclose donors.
"Absolutely, the two groups are related," Conservative Solutions PAC spokesman Jeff Sadosky told National Journal Friday. "But they are separate and distinct entities. One is focused on supporting Marco Rubio's potential presidential campaign, and one is focused on issue education."
Sadosky said the nonprofit was established by Warren Tompkins, who is also heading the super PAC, as well as fellow Republican operatives Joel McElhannon and Pat Shortridge. The research was published publicly, Sadosky said, to "make sure everyone's advocating and communicating, as effectively as possible, the conservative ideals Conservative Solutions Project wants to push forward."
According to the report cover, the research book was drafted by Optimus Consulting, a Republican data-analytics firm that started working for Rubio's leadership PAC in 2013. Rubio's PAC paid Optimus $200,000 in 2013 and 2014 for data and analytics consulting, according to federal campaign-finance disclosures. The report was published in December 2014 and is available on Conservative Solutions Project's website. It is also on the Optimus website, where a description says it was produced "in conjunction with the Conservative Solutions PAC," though the report itself is branded with the nonprofit's name.
Elements of the book seem tailor-made to aid a Rubio presidential campaign in particular (if, as expected, he announces Monday that he will run for the 2016 Republican nomination). In addition to exhaustive breakdowns of voter attributes and historical data in the five states, the research includes detailed findings about voters' views on issues such as immigration reform—which Rubio championed in the Senate in 2013—as well a muscular, Rubio-style foreign policy.
The report goes into particular detail on how voters in Iowa, the first caucus state, view immigration reform. Rubio's sponsorship of bipartisan immigration-reform legislation in the Senate two years ago damaged his standing with some conservatives. The research showed Iowans overall, but not Iowa Republicans, supporting immigration reform.
In Florida, the research found that Republican primary voters were supportive of the idea that "the future success or failure of the party" depended on performance with Hispanic voters—an argument echoed by Rubio advisers like pollster Whit Ayres, who recently argued that Rubio could be "transformational" in expanding the GOP's appeal. The report showed that Republican primary voters accepted the premise at about the same rate as the general population.
Forming nonprofit outside groups, which don't have to disclose donations, is a growing trend in presidential politics. The nonprofits, which often have similar names to affiliated super PACs, cannot spend all their money on political purposes, but they can work hand-in-hand with super PACs and other outside groups on things from policy research to airing their own "issue ads" on TV. Last month, The Washington Post reported that an ally of former Florida Gov. Jeb Bush established a nonprofit, Right to Rise Policy Solutions, to back a potential Bush campaign—along with Bush's Right to Rise PAC and Right to Rise Super PAC.
"The reality is there are now ways to fund activity that's very helpful to candidates, and do so on a secret basis so no one knows who's funding it, no one knows it's happening until much later, and types of money can be used that could not otherwise be used in an election," said Campaign Legal Center President Trevor Potter, a former chair of the Federal Election Commission and Republican election attorney.
Alex Conant, a spokesman for Rubio, and Scott Tranter, a partner with Optimus, did not respond to questions about the nonprofit and its links to Rubio's political operation.
"In sum, the three sections of this report provide unique data, original insights, and wide-ranging analysis of the American electorate that should provide a valuable educational resource of interest to many," the report's introduction reads.
The only known donor to Conservative Solutions Project is a political group: Super PAC for America, an organization once led by Michael Reagan and Dick Morris that raised and spent millions of dollars in the 2010 and 2012 elections but spent down its remaining money last year. The super PAC's campaign finance reports include a $10,000 donation to Conservative Solutions Project in June 2014.
In late 2014, commenters on online forums made note of robocalls from a Las Vegas-based number asking respondents to complete a survey for "Conservative Solutions Project." A Nevada politics blogger wrote that, in addition to the policy question, the call also asked for opinions about potential presidential candidates, including Rubio. The Conservative Solutions Project report does not include any findings about individual politicians.