Schumer: Fix Sequester or We'll Block Approps Bills
Democrats fear the GOP will raise the caps for defense but not domestic spending.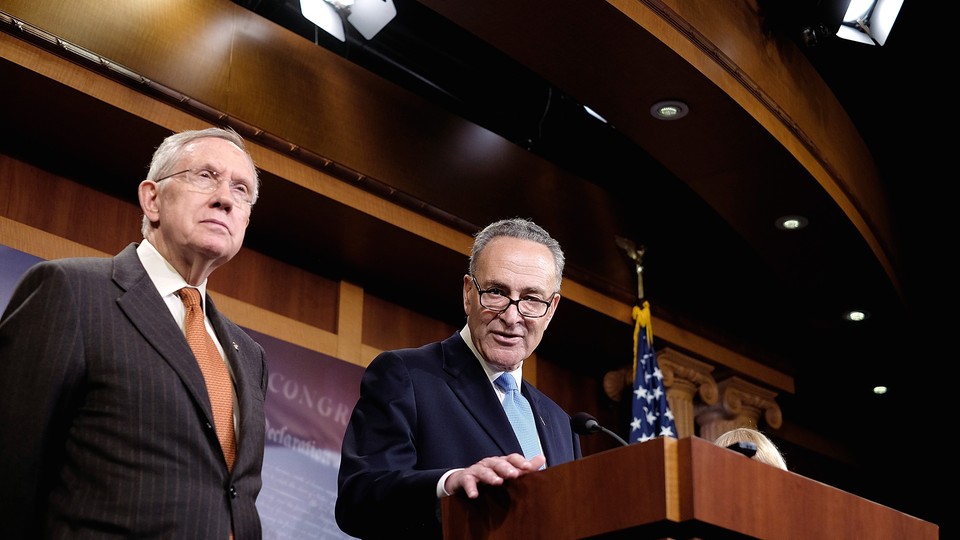 The new Republican majority is preparing to pass its budget as soon as this week, finally giving the green light to appropriators to begin funding the government before their October 1 deadline and another federal shutdown.
But already Democrats are saying they won't go along with Republicans' funding plans.
Sen. Chuck Schumer, the current No. 3 in Democratic leadership and Minority Leader Harry Reid's handpicked replacement, threatened Tuesday to block all funding bills until Republicans agree to do something about the dreaded sequester.
"We're putting them on notice," Schumer said in a press conference Tuesday. "Republicans should be warned right here, right now, Democrats are not going to help you pass appropriations bills that lock in senseless, automatically triggered cuts that hurt the middle class."
Congress has long hated the sequestration caps, which will again take effect early next year, preventing increases in spending for both defense and nondefense programs. But Democrats are terrified that Republicans will only adjust the caps for defense programs, as they forecast in their compromise budget deal (the final details of which were still being worked out late Tuesday). It's a difficult bargain given that they'll need at least six Democratic senators, not to mention President Obama, to agree to do so, but it's a possibility nonetheless, particularly if another federal shutdown is on the line.
And so, Schumer is laying down the law early. Republicans will need six of his conference's members to pass any funding bills, just as they'll need at least six to deal with sequestration. And they now have just over four months to thread those needles.
That won't be popular with Republicans in either chamber, who have proudly touted that they're beginning the often rushed appropriations process earlier this year than Congress has in several decades. The House is set to begin taking up its funding bills this week, with the Senate planning to follow soon after, hoping to give appropriators time to complete all 12 spending bills and pass them through both chambers. Congress hasn't done that since 2002, and they haven't done it on time since 1997, according to the Congressional Research Service.
Schumer aimed high with his ask on Tuesday, telling Republicans to provide Democrats with a deal that would raise the spending caps evenly. "One dollar for defense, one dollar for the middle class," he said.
"I think that's been their position for a number of years, so it's certainly not surprising," Senate Majority Leader Mitch McConnell said when asked about the dollar-for-dollar demand at his own press conference minutes later.
The appropriations process will be open to amendment, McConnell noted, and Democrats can "make their complaints" there. "I'm sure the Democrats will complain—as they did to you a few moments ago—that we're not spending enough on the domestic side. But all of that could be sorted out in the appropriations process," he said.
But altering the sequestration caps will require a grand bargain that's unlikely to be resolved in a single appropriations bill or amendment.
Absent a deal, Schumer vowed that Republicans will "find Democrats standing shoulder to shoulder [on] both ends of Pennsylvania Avenue to stop them. But instead, if Republicans reach out to Democrats to work to prevent—in a balanced way—these cuts from harming our economy, they'll find an outstretched hand."
Republicans have shown some signs that they're open to a deal with Democrats on sequestration. The action is largely in the Senate, where members are more intimately familiar with the power of a united minority (see: the human-trafficking bill).
Sens. Kelly Ayotte, Lindsey Graham, and Roger Wicker, all of whom are pushing strongly to alleviate the caps on defense spending, have already engaged in talks with members of the minority including Democratic Sen. Tim Kaine and independent Sen. Angus King, to find a solution. And Senate Budget Chairman Michael Enzi left in place a small provision in his chamber's budget document that could be the first step toward a sequestration deal on defense and nondefense spending as well.
Just last week, House Speaker John Boehner also left the door open to a deal, telling reporters that, "if there's a way to reduce mandatory spending in a way that would provide relief to the sequester, like we did with the Ryan-Murray budget plan, have at it."
"That could happen again," Boehner said, when pressed on the possibility of another Ryan-Murray-type deal. But the speaker remained cautious.
"If such an effort is called for in a budget agreement and if such an effort can get off the ground, hope springs eternal," he said.