The Case Against Robert Menendez
The Democratic senator from New Jersey faces a long list of charges, centered on his mutually beneficial relationship with Dr. Salomon Melgen.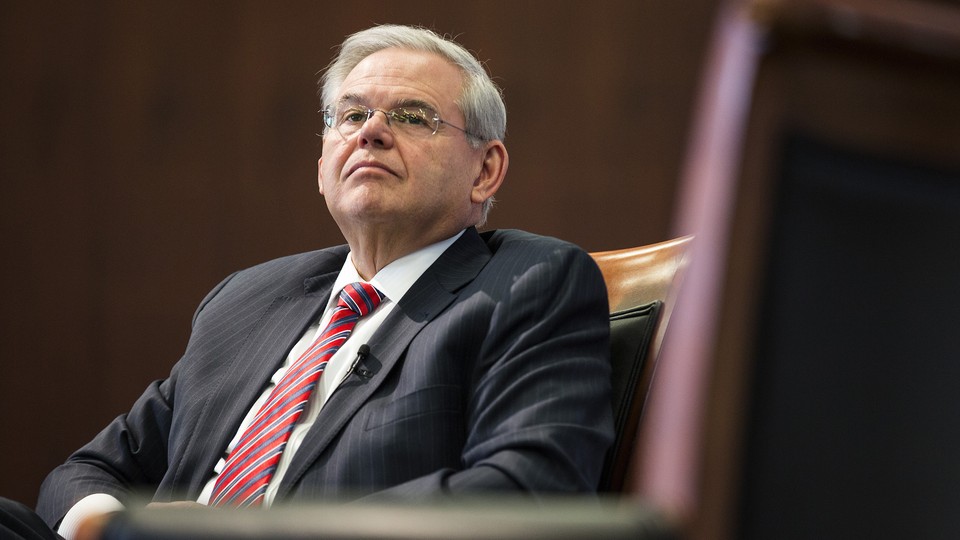 "Politics as usual"—it's a phrase that's rooted in a cynical view of how our elected officials operate. The assumption is that even if what they're doing isn't exactly illegal, it's probably untoward.
The central theme of the Department of Justice's 68-page indictment of New Jersey Senator Bob Menendez is the line between what's usual and what's illegal. The indictment concerns the Democrat's relationship with Dr. Salomon Melgen, a Florida ophthalmologist. The two have been friends for years, and their relationship has been under media scrutiny for some time. The federal investigation has also been underway for some time, and the charges have seemed imminent for weeks. On Wednesday, prosecutors charged Menendez and Melgen with one count of conspiracy, one count of violating the travel act, eight counts of bribery, and three counts of honest services fraud. Menendez was also hit with an extra count of making false statements.
Some of what's in the document seems difficult to explain away. It alleges, for example, that Menendez asked Melgen to pay for a nearly $5,000 stay in a five-star Paris hotel using AmericanExpress points. Here's the relevant passage:
Then again, other passages seem comparatively benign. Justice says that Menendez solicited a donation from Melgen to a colleague in the Senate, to reciprocate $25,000 in contributions to Menendez's own campaign. Of course, politicians fundraise for each other regularly.
(Public records match these contributions to donations received by Senator Amy Klobuchar of Minnesota. After The Atlantic brought the indictment to the attention of Klobuchar's office, she moved quickly to distance herself from the donations. "Our campaign has never received questions from federal authorities about these contributions," Klobuchar campaign aide Justin Buoen said. "The campaign is returning the contributions and will also be returning the contributions received from Senator Menendez's PAC.")
But in delivering the lengthy indictment, prosecutors paint a picture of a long-running, intimate, and lucrative quid pro quo. The $8,000 that Melgen and his wife gave to the other senator's campaign constitutes just a small fraction of what prosecutors say totaled $751,500 in contributions to Menendez's 2012 reelection campaign alone. Prosecutors allege that Menendez concealed these gifts, although some of that is already known—in 2013, he repaid Melgen for $53,000 in flights that he admitted he should not have accepted.
As for the quo part of the equation, the indictment fills in some of the details on press reports. Menendez and his staff are portrayed as working to assist Melgen on variety of fronts: in winning a contract for port security in the Dominican Republic for a company Melgen controlled; with a federal investigation into Melgen's Medicare billing practices (Melgen bills more to Medicare than any other doctor in the United States); and in acquiring visas for young girlfriends of Melgen's from Brazil and Ukraine (in an email, one staffer boasted to another, "In my view this is ONLY DUE to the fact that RM intervened. I've told RM").
Taken individually, many of the individual incidents in the indictment seem questionable, but more like the sort of favors many elected officials perform for friends than like smoking guns. But in aggregate, prosecutors use them to create a picture of long-running corruption. The intent seems to be to present a reader—or, more importantly, a juror—with such a litany of questionable acts that the appearance of a tradeoff becomes unavoidable.
The stakes are high for Menendez—it's his political life and perhaps his freedom. He has repeatedly denied any wrongdoing and insists he is innocent. So far, his state's other senator, fellow Democrat Cory Booker, is sticking with him. The state's largest newspaper, The Star-Ledger is not—it published an editorial calling on Menendez to "resign and spare us the drama." (That said, the paper also issued a conditional demand for Governor Chris Christie to resign more than a year ago, and he's still kicking.)
But there's lots of risk for the Justice Department, too. Its public-corruption unit was rocked by the disastrous prosecution of Senator Ted Stevens. The Alaska Republican was convicted of corruption and lost his seat, but an inquiry later found that prosecutors engaged in "reckless professional misconduct" and withheld evidence from the defense. Attorney General Eric Holder eventually asked for the conviction to be thrown out. The department hasn't indicted a sitting senator since. That may explain the painstaking list of facts here, and the deliberate pace of the indictment. But will the procession of facts be enough to prove that what Menendez did was more than just politics as usual?