Robert Menendez: 'I Am Outraged' Over Federal Corruption Charges
The New Jersey Democrat fought back Wednesday night against a 14-count indictment from the Justice Department.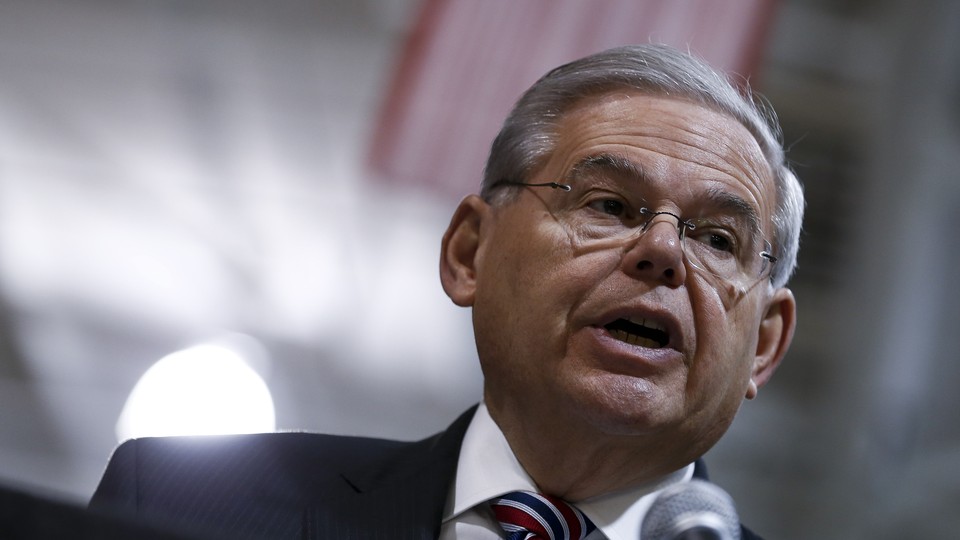 A 14-count indictment of corruption charges doesn't faze Sen. Robert Menendez.
Entering a press conference Wednesday to loud applause and shouts of support, the New Jersey Democrat said he's "angry" at the charges leveled against him Wednesday by the Justice Department, calling investigators "dead wrong."
"I am outraged that prosecutors at the Justice Department were tricked into starting this investigation three years ago with false allegations by those who have a political motive to silence me," Menendez said. "I will not be silenced. I'm confident at the end of the day I will be vindicated and they will be exposed."
The Justice Department indicted Menendez on 14 federal corruption charges. The charges, including conspiracy and bribery, are linked to his relationship with longtime friend and donor Salomon Melgen, an ophthalmologist in Florida. He's accused of accepting gifts from Melgen, who also was charged, in exchange for political favors. Read more about what's in the 68-page indictment here. (It's a doozy.)
(RELATED: Sen. Robert Menendez Just Got Indicted. Here Are the Charges)
Menendez is expected to appear in court Thursday.
Menendez said he's lived under a "Justice Department cloud" for three years, one he's upset "has not been lifted." He vowed to fight the charges.
"Today contradicts my public service career and my entire life," he said. "I am angry because prosecutors at the Justice Department don't know the difference between friendship and corruption, and have chosen to twist my duties as a senator and my friendship into something that is improper. They are dead wrong and I am confident they will be proven so."
Menendez said he began his public career combatting corruption in city government, at great personal risk.
"That's how I began my career in public service, and this is not how my career is going to end," he said. "I've always conducted myself in accordance with the law, I've always stood up for what is right."
Menendez, a Cuban-American who has close ties with the Hispanic community in his state, gave a press statement in Spanish after his initial remarks in English.
(RELATED: Menendez Gives Up Foreign Relations Post)
Charges against the senator had been expected for weeks, and they've come at a politically fraught time. Menendez, as the ranking Democrat on the Foreign Relations Committee, has been deeply involved in the debate surrounding the U.S.-Iran nuclear deal and the Obama administration's request for an Authorization for Use of Military Force against the Islamic State. He's well-respected by Republicans—especially for his more hawkish views on Iran—and his absence may hurt Democrats. Foreign Relations is expected to vote soon on legislation mandating that the Obama administration send any potential deal to Congress for review, before switching gears to focus on the AUMF.
The Justice Department indictment details how Melgen allegedly gave about $1 million to Menendez in campaign support and other gifts. Among the alleged perks: flights aboard Melgen's private aircraft, stays in luxury hotels, golf outings, and pricey meals. Menendez allegedly didn't report the gifts, violating disclosure rules. Menendez, in exchange, allegedly "engaged in advocacy for Melgen all the way up to the highest levels of the U.S. government."
The senator also allegedly helped Melgen acquire visas for several girlfriends; tried to "pressure" the State Department to intervene in a contract dispute that Melgen had in the Dominican Republic; and attempted to "influence" the Centers for Medicare and Medicaid Services when the agency sought "millions of dollars in Medicare overbillings" from Melgen.
Menendez had been preparing for the charges to drop for more than a year, amid rumors that the Justice Department was looking into his relationship with Melgen. In January 2014, he established the Robert Menendez Legal Defense Trust, which—according to the indictment—Melgen gave "tens of thousands of dollars" to.
After news of the imminent indictment broke in early March, Menendez rejected the rumored accusations, saying he'd always conducted himself appropriately and lawfully. "And I'm not going anywhere," Menendez said.
Menendez is the 12th sitting senator to be indicted in U.S. history. The last was Ted Stevens of Alaska in 2008, for not disclosing gifts he received from oil company executives. Stevens's guilty verdict was later overturned, but not before the senator lost reelection.