Rand Paul's Team Shopping for TV Time In Iowa, New Hampshire, and South Carolina
He's not a candidate yet, but Paul's longtime media buyers are already on the market for early-state air time.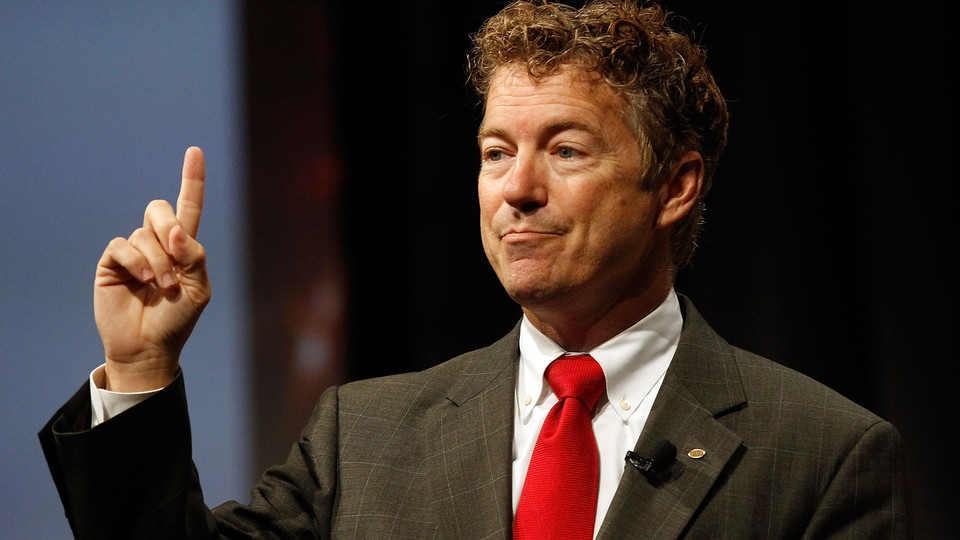 Days before Rand Paul plans to officially launch his presidential campaign, his longtime media-buying firm is shopping around for April and May television ad time in the first three states on the primary calendar—potentially including a half-hour, infomercial-style block in Des Moines.
Scott Franklin of Strategic Media Placement, a media firm that has worked with Paul in the past, inquired Thursday about buying mid-April ad time in a total of nine media markets covering Iowa, New Hampshire, and South Carolina, according to Federal Communications Commission records.
Franklin sought the ad rates in Iowa's Des Moines, Cedar Rapids, Sioux City, and Davenport markets, in South Carolina's Greenville, Charleston, Columbia, and Myrtle Beach markets, as well as in the pricey Boston media market, to target New Hampshire.
The FCC records also reveal that Franklin asked in late March about buying time for a 30-minute program on KCCI-TV, Des Moines's CBS affiliate.
"I'm not really sure on flight dates. Likely sometime in late April or early May," Franklin wrote in an email on March 30 to a TV sales representative. "They would probably only be interested in purchasing one or two shows, preferably during the week."
Reached by phone, Franklin declined to specify which campaign he was making the inquiry for. Asked whether Strategic Media Placement was shopping for ad time on behalf of Paul's campaign, Paul spokesman Sergio Gor said over email, "That's a question for them, not for us."
Paul is set formally to announce his candidacy on April 7 in Louisville, Kentucky. Over the following four days, he plans to travel to New Hampshire, South Carolina, Iowa, and Nevada.
Ted Cruz will become the first presidential candidate to hit the airwaves this weekend. He's prepared to run ads on local TV affiliates in the four early-voting states as well as nationally on Fox News, according to The Washington Post.
---
Shane Goldmacher contributed to this article