Poll: Indiana Gov. Mike Pence's Approval Rating Plunges After 'Religious Freedom' Law
The Republican has spent the week telling reporters the religious-freedom debate won't cause lasting damage, but the short-term pain appears evident.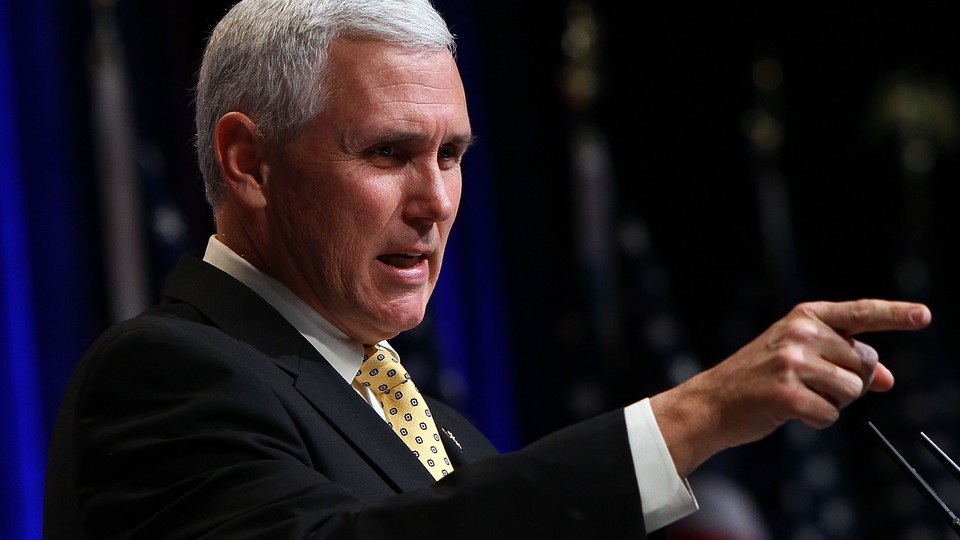 Indiana Gov. Mike Pence spent the week telling reporters, "I think the difficult time that Indiana just passed through two weeks ago is behind us."
But a new poll released Thursday suggests the governor could have a tough time recovering from the controversy surrounding Indiana's "religious freedom" law.
The poll, from Howey Politics and conducted by a Republican-affiliated research firm, said that 46 percent of voters disapprove of Pence while 45 percent approve of him.
That approval rating is double digits below Pence's performance in other recent polls in the state. A January survey from Public Opinion Strategies conducted for Americans for Prosperity put Pence's approval at 66 percent, and a poll from February for the Indiana Association of Realtors had Pence at 62 percent.
Howey Politics editor Brian Howey described the hit to Pence's public profile as "significant, if not historic," adding: "In the 20 years that HPI has been publishing ... an Indiana governor has never experienced this kind of survey decline in this short time frame."
The drop follows Pence's controversial signing of a law that sparked a nationwide debate. The measure's supporters say the law was aimed at protecting individuals and businesses from participating in activities that go against their religious beliefs, but the law was widely interpreted as sanctioning discrimination against gay, lesbian, and transgender individuals. The law was criticized by left-leaning groups, as well as by prominent business organizations inside the state and out—including some firms that promised to pull their business from Indiana.
In the Howey Politics poll, 50 percent said they think the controversy over the religious-freedom issue will have a negative impact on Indiana's economy, even when it isn't "front page news" anymore. Fifty-nine percent of voters said they thought the bill was unnecessary. A majority of Indiana voters (54 percent) would support adding legal protections against discrimination based on gender and sexual orientation.
Indiana Democrats are confident that Pence's handling of the religious-freedom measure caused him long-term damage, particularly when it comes to the perception that Pence caused an "economic panic," as Indiana Democratic Party chair John Zody phrased it.
Pence's newfound vulnerability has inspired Democrats and Republicans who weren't previously considering running for governor in 2016, when Pence will face reelection, to give the race fresh consideration. One of those Republicans is Angie's List founder Bill Oesterle, who announced his plans to step down from his role as CEO on Wednesday and said he wasn't ruling out a primary challenge against Pence.
In the latest survey, Pence did maintain a lead in matchups against three potential Democratic challengers. Pence leads Indiana Superintendent of Public Instruction Glenda Ritz, 42 to 39 percent, and leads 2012 Democratic gubernatorial candidate John Gregg, 43 to 37 percent. Pence also leads former Rep. Baron Hill, 43 percent to 36 percent.
The Howey Politics poll was conducted by the Republican-affiliated Bellwether Research from April 12 to 14, and surveyed 607 registered voters with a margin of error of plus or minus 4.0 percent.