Poll: American Men Embracing Gender Equality
The consensus cuts across nearly all demographic lines.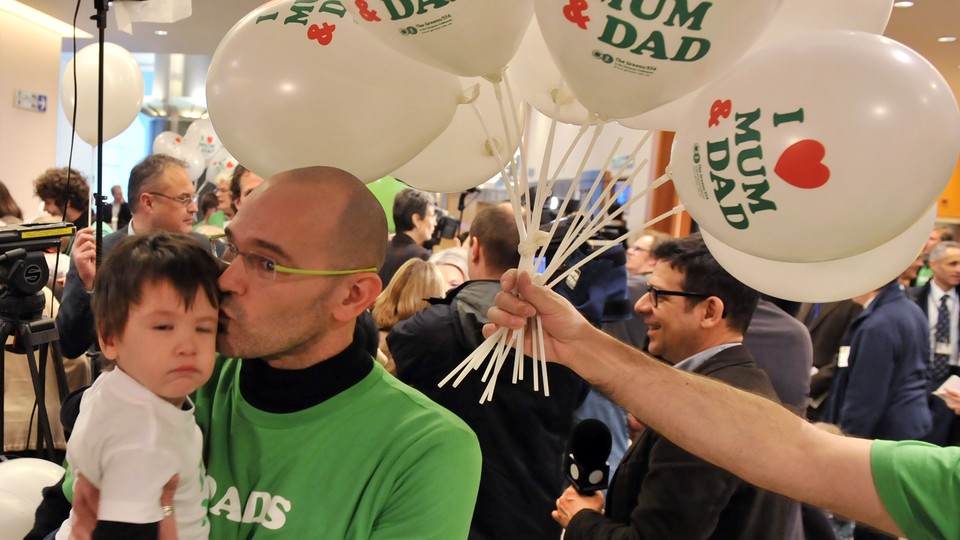 The gender revolution has met the demographic revolution.
A new survey of men's attitudes toward women, family, and relations between the sexes has found much more similarity than difference among the perspectives of whites, African-Americans, Hispanics, and other minorities.
That convergence suggests that changes in family and gender dynamics are permeating minority and working-class communities that many researchers have long assumed held more culturally traditional or conservative views about the role of women.
The poll, conducted by the Democratic polling firm Hart Research Associates for The Shriver Report, founded by Maria Shriver, explored men's attitudes about an unusually wide range of issues related to gender roles in society. In the survey, the samples of African-American and Hispanic men were too small to allow for statistically valid results for each of those groups individually. But The Shriver Report provided Next America with combined results among minorities that did provide a statistically valid sample to compare with whites; it also provided statistically valid results among whites with and without four-year college degrees.
Many key questions in the survey underscored how much all of those groups have converged around a new consensus on gender relations. That agreement offered a stark contrast to the routine chasms in attitudes between whites and minorities, and often between college and noncollege whites, on many political questions. "In every community, women have gone out and are working and very often they are making more than their husbands or their partners," Shriver said in an interview. "I think people assume that Latinos and African Americans are more culturally conservative on certain issues. But I think the 21st-century man, as we are calling him, is very different from five, six, nine years ago [in all racial communities]."
Put another way, the survey suggests that men from all rungs on the economic and social ladder were open to the "partnership of equals" that is often assumed to thrive most in white-collar and upper middle-class families where both spouses earn substantial incomes.
One survey question, for instance, asked men to rate how comfortable they would be in a series of potential life experiences. Responding to those questions, 85 percent of white men and 82 percent of minority men said they would be comfortable with a wife or partner who worked outside the home; 74 percent of white men and 71 percent of minority men said they would be comfortable having a woman as a boss; and 77 percent of white men and 75 percent of minority men said they would be comfortable with a partner or spouse who earned more than they did.
About an equal, though substantially smaller, share of white (at 46 percent) and nonwhite men (at 40 percent) also said they were comfortable with the prospect of "being a stay at home dad and not working outside of the home to focus on raising a child." Similarly small percentages of white (38 percent) and minority men (37 percent) agreed that they feel "uncomfortable around homosexual men."
Although the samples were too small for detailed analysis, the results showed very small differences between African Americans and Hispanics on all of those questions (except that Hispanics were less likely than African Americans or whites to say they were uncomfortable around gay men). The variation on these questions was also modest among whites with and without a four-year college degree (though noncollege white men were notably less comfortable about the prospect of working for a woman).
The poll also found more agreement than disagreement across racial lines on the qualities men said they wanted in a wife or partner. Asked to identify the top two or three qualities they would want in a partner, similar shares of white and minority men picked "intelligent" (75 percent white, 64 percent minority); "sweet" (32 vs. 37); "nurturing" (28 vs. 24); "principled" (26 vs. 27); and "homemaker" (14 vs. 14). Wider differences emerged in some other areas. Whites were more likely to emphasize "attractive" (49 percent vs. 35 percent among minorities), while minority men were more likely to stress "strong" (36 minority vs. 24 white) and "independent" (40 minority vs. 31 white). Black and Hispanic men differed little on these issues, too, though the former put more emphasis on "strong" and the latter more on "sweet."
White and minority men also mostly converged in the qualities they said they would prize in a daughter—though in each case, those qualities diverged in revealing ways from their priorities in a spouse or partner. In thinking about a daughter, both white and minority men put top priority on intelligence (78 percent among whites, 87 percent among nonwhites), independence (66 white, 65 minority), and strength (47 white, 49 minority). White men put greater emphasis on "principled" (40 percent vs. 24 percent for minorities), while minorities put relatively more stress on "sweet" (26 percent for minorities vs. 16 percent for whites).
Jeff Horwitt, who directed the survey for Hart Research Associates, noted that both white and minority men mostly prized qualities in a daughter that correlate with success in the workplace. "Reading the survey as a whole," Horwitt wrote last week in The Wall Street Journal, "the qualities that men want most in a daughter—intelligent, independent, strong, and principled—are the qualities that help women thrive in the workplace." In the interview, Shriver summed up the contrast in attitudes more archly: "Men are saying they don't want their daughters to be beholden to a guy like them."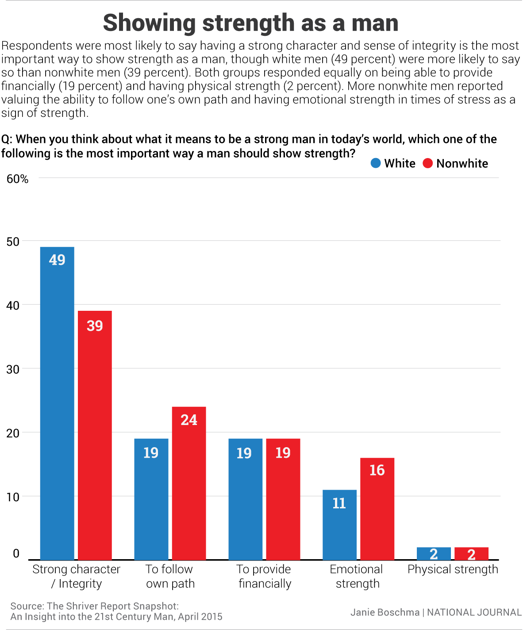 White and minority men mostly agreed as well on a question that asked them to define "what ... it means to be a strong man in today's world." About one-fifth of both groups picked providing financially for their families or "having the confidence to be free to follow your own path." Another one-in-nine whites and about one-in-six-minorities selected "having the emotional strength to deal with stressful situations." The largest group among both whites (at 49 percent) and nonwhites (at 39 percent) said the most important way to demonstrate strength today was "having a strong personal character and sense of integrity." College and noncollege white men again differed relatively, except that the former placed greater emphasis on personal character. Hispanics tilted relatively more toward emotional strength while African Americans put greater stress on character.
Two summary questions in the survey also produced mostly convergence across racial lines. Asked about the difficulty of being a man today compared to "your father's generation," the two groups almost completely agreed on whether it was harder (45 percent among both whites and minorities), easier (19 whites and 22 nonwhites), or about the same (36 whites vs. 33 nonwhite).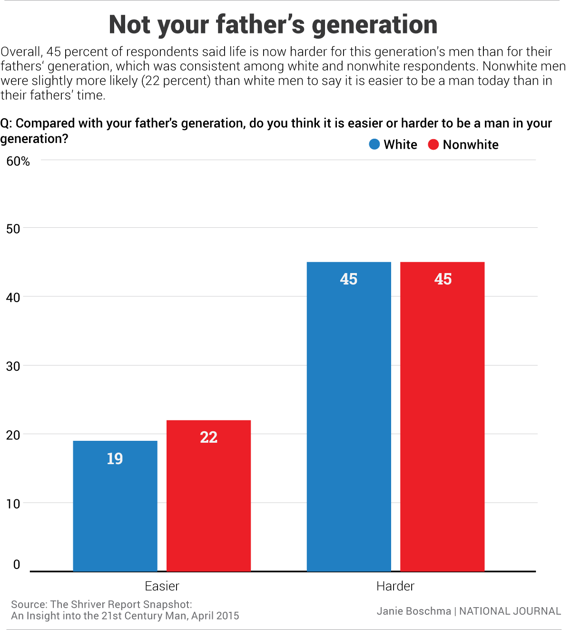 Likewise, whites and minorities varied only modestly when the poll asked men whether it was "more important to you as a man" to "provide" for one's family and spouse or partner, or to "be present" for them. Each group divided about in half: 47 percent of whites and 45 percent of nonwhites said it was more important to provide, while 53 percent of the former and 55 percent of the latter said it was more important to "be present."
African Americans tilted more toward providing, while Hispanics edged more toward "being present"; noncollege whites were also much more likely than their college-educated counterparts to stress providing. For both African Americans and noncollege whites, the relative emphasis on providing may reflect the difficulty each group has faced doing so in the modern economy.
Still, the overall picture in all racial communities was that men are mostly accepting, if sometimes confused, about women's growing financial independence and prominence in the workplace and are seeking ways to engage with their partners and families as something other than just emotionally distant economic providers. "The men know that women have changed the dynamic in the home and in the workplace," Shriver said. "They are struggling to figure out what it means for them overall ..., [but] men have caught up with the change much more than they are given credit for."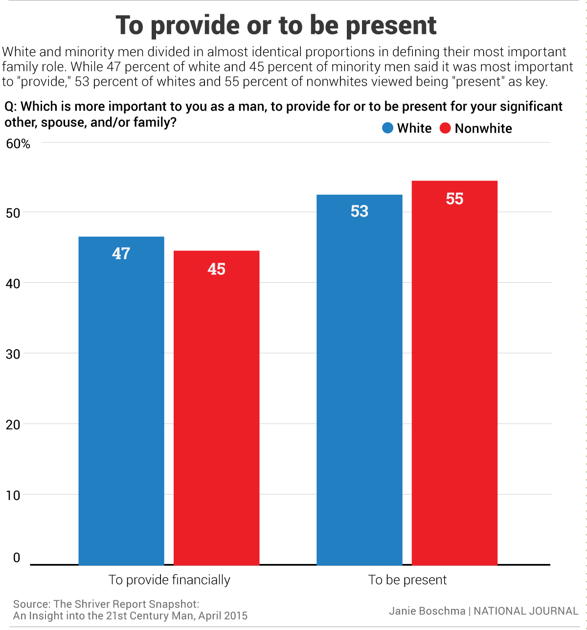 The survey polled 818 adult men from April 10 through 13; it was conducted online, which most analysts do not consider as accurate as polls conducted through landline and cell phones. But in their release, the sponsors argue that "a self-administered online survey is particularly useful to explore potentially controversial and sensitive topics such as attitudes about gender and sex."
---
Janie Boschma contributed to this article