Perry 'Advisory Board' Members Give Cash to Cruz's White House Bid
A handful of donors on Rick Perry's PAC advisory board cut checks to Ted Cruz last month as he kicked off his presidential campaign.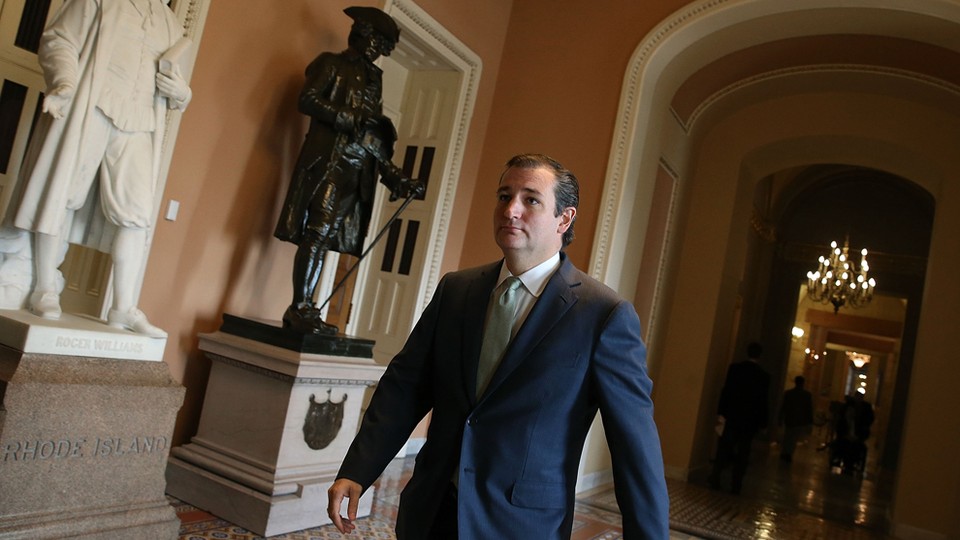 Ted Cruz hauled in more than $4 million during his first nine days as a formal presidential candidate—with help from some of Rick Perry's top donors.
Five members of Perry's leadership PAC advisory board contributed to Cruz's presidential campaign in late March, a National Journal review of Federal Election Commission records found.
San Antonio auto dealer Red McCombs, Austin oil executive Ben "Bud" Brigham, Houston chemical company executive Steven P. Mach, retired Houston technology executive Holloway Frost, and Houston Republican Kathaleen Wall each wrote four-figure checks to Cruz's campaign in late March. Those five donors also were among the 80-plus individuals Perry named to his PAC's advisory board in February.
All but Mach gave $5,400, the maximum contribution allowed, to Cruz. McCombs, Brigham, and Mach donated to Perry's last presidential campaign.
Aside from that group, Houston Texas owner Robert McNair, one of Perry's top donors during his tenure as governor, also contributed $5,400 to Cruz's campaign March 31.
Another member of Perry's advisory board, Paul Mitchell co-founder John Paul DeJoria, did not donate directly to Cruz's campaign in March, but he held a fundraiser for the senator in Austin earlier this month, according to The Dallas Morning News. McCombs also hosted a San Antonio fundraiser for Cruz on Wednesday.
While it wouldn't be unusual for some donors to hedge their bets and contribute to more than one White House contender at this stage in the race, the splitting of loyalties between Cruz and Perry shows how the race for cash in donor-rich Texas is even more competitive than usual. Jeb Bush, Rand Paul, Chris Christie, Scott Walker, Mike Huckabee, Ben Carson, and Carly Fiorina visited Texas in March alone.
(RELATED: National Journal's Presidential Candidate Travel Tracker)
Cruz spokesman Rick Tyler declined to comment. Perry representatives could not immediately be reached for comment.
Cruz's campaign raised a total of $4.3 million from March 23 through the end of the month and finished with $3.9 million in the bank.