Pence's Problems a Preview of GOP's Biggest 2016 Hurdle
Republicans used to trumpet social issues to their advantage in White House races. Now, they'd prefer to change the subject.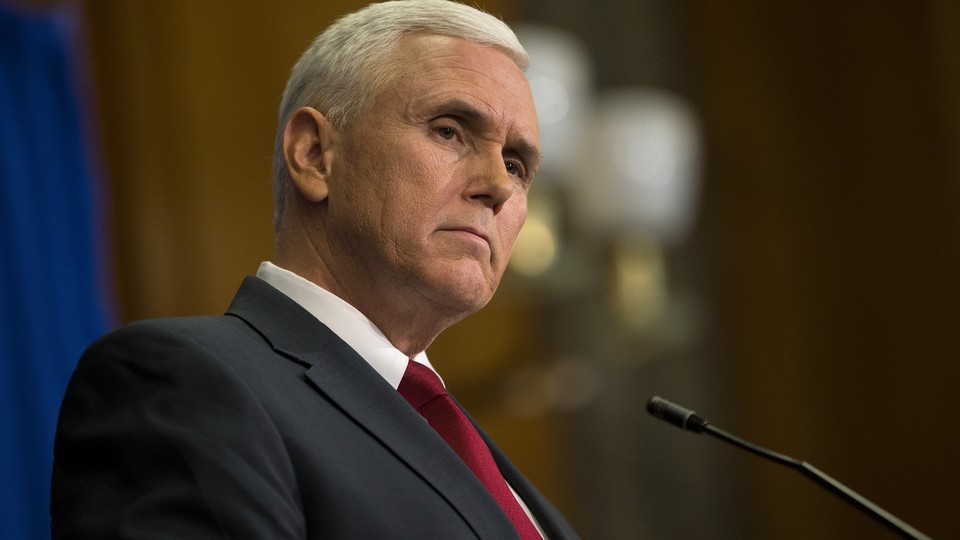 Indiana Republican Gov. Mike Pence has long been a big fish in conservative circles. And this week he looked every bit the part, raging and writhing like a shark caught in a net after the "Religious Freedom Restoration Act" that he signed to cheers from social conservatives provoked a furious backlash, not only from gay-rights and liberal groups but pillars of Indiana's business community.
Pence's agonies underscore the challenge Republicans face reconciling the demands of their culturally conservative base with the evolving realities of an America steadily growing more diverse, secular, and tolerant. That widening gap may be the biggest obstacle to Republican hopes of recapturing the White House next year.
Republicans have many reasons for optimism about next year's presidential election. Since 1948, only once has one party held the White House for three consecutive terms. In Hillary Clinton, the Democrats have a presumptive nominee who is talented, tenacious, and offers voters a chance to make history, but is also older and prone to ethical controversy.
Voters once disillusioned by George W. Bush's iron fist abroad are now showing enough doubts about President Obama's velvet glove that "Republicans have developed a lead on the national security issue, which is a turnaround from four or five years ago," says GOP pollster Kristen Soltis Anderson. On the economy, stagnant wages for many workers could blunt the benefit Democrats might expect from resurgent job growth. Any of these dynamics might look different by next year. But today, all offer Republicans reason for hope.
(RELATED: Pence's 2012 Opponent: Rematch Interest "Heightened" by Indiana Religious Freedom Controversy)
Yet with the Indiana religious-freedom law, Pence detonated what could be the biggest land mine facing his party in 2016: the sense that the GOP wants to reverse the cultural and demographic changes relentlessly remaking America. Multiple cultural issues—legalizing same-sex marriage, requiring businesses to serve gay customers, preserving gay rights in the workplace, mandating that employers include contraception in health insurance, legalizing undocumented immigrants, and maintaining legal abortion—all now sharply divide the parties and align the public along consistent demographic and ideological lines. (Though not a social issue, the debate over transitioning from fossil fuels to fight climate change splits the parties and public in very similar ways.)
Across these issues, Democrats represent the groups and interests most comfortable with change—what I've called a "Coalition of Transformation" revolving around minorities, white-collar whites (especially college-educated and single women), and the millennial generation. Republicans now rely heavily on the groups most unsettled by these trends. This GOP "Coalition of Restoration" centers on older, blue-collar, religiously devout, and nonurban whites.
Those groups display considerably more unease about cultural and demographic change than other voters—even younger and more upscale Republicans. In polling last year by the Pew Research Center, about three-fifths of all Americans agreed that society should accept homosexuality; about the same number said the growing number of immigrants "strengthens American society." Even most Republicans who are college-educated or younger than 50 endorsed those verdicts. But, in each case, most Republicans who are either blue-collar or 50-plus expressed a negative view about the change. And those voters are increasingly central to the party's fortunes.
Pence's struggles powerfully illustrate the difficulty of satisfying that disaffected base without projecting intolerance about big social changes that most Americans now accept. Even as Pence and his legislative allies moved toward a qualified retreat this week, virtually every major 2016 GOP contender felt compelled to support Indiana's original bill.
(RELATED: How Indiana's "Religious Freedom" Law Turned Into a Nationwide Political Storm)
That stampede underscored how little flexibility the 2016 candidates feel to confront the GOP constituencies resistant to social change; even Jeb Bush, who has otherwise urged "respect" for same-sex couples, quickly fell into line over Indiana. (Bush then fuzzed his position at Silicon Valley fund-raiserWednesday by indicating qualified support for revising the law.) Apart from Bush, the other leading contenders have also already underscored opposition to providing undocumented immigrants a pathway to citizenship. No leading candidate is likely to back mandating employers to include contraception in health insurance, as President Obama has required.
Democrats face their own cultural divisions, because more African-Americans and Hispanics than upscale whites hold conservative positions on some social issues, like gay marriage. But the groups in the Democrats' "Coalition of Transformation" all mostly welcome the boisterous modern remixing of America's identity—and they remain among the electorate's fastest-growing components. That's why, as Anderson notes, Democrats "feel they have the wind at their back" on social disputes and are likely to seek new confrontations "every couple of weeks between now and 2016" that illuminate their cultural differences with the GOP.
In that way, Indiana's imbroglio traces a closing circle. From Richard Nixon through Ronald Reagan and George H.W. Bush, Republicans escalated most cultural clashes, confident that such collisions would help them dislodge socially-conservative whites from the Democrats. Those voters anchored the Republican dominance of the White House from 1968 through 1992. But while those traditionalist voters still underpin the GOP's congressional strength, as the country has grown more diverse and culturally tolerant, they no longer represent a winning presidential race coalition. As Indiana shows, fear of alienating the voters who built their last durable presidential majority is preventing Republicans from taking steps that might help them construct a new one.
This article has been updated.