Paul Ryan: Limiting Campaign Spending Would Have 'Chilling Effect' on Free Speech
The chairman of the RNC's Presidential Trust says Citizens United is good for free speech.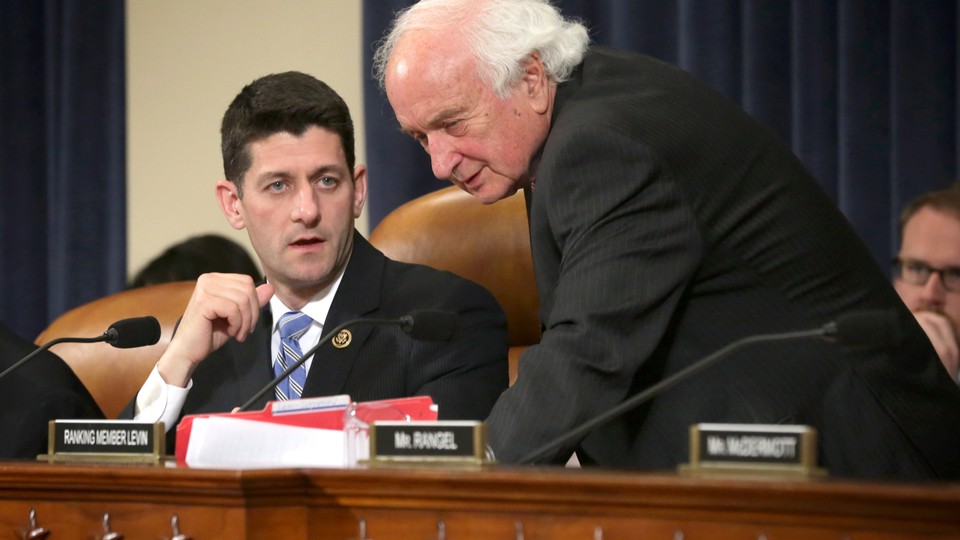 Rep. Paul Ryan has absolutely no interest in wading into presidential politics. The chairman of the House Ways and Means Committee turned down a shot at the 2016 election months ago and is seemingly content immersing himself in the minutia of tax and trade policy. But there is one place where Ryan can't deny he has a political role.
As chairman of the Republican National Committee's Presidential Trust—its de facto bank account that will help fund the eventual nominee—Ryan does have some insight on campaign finance.
Despite the fact that this upcoming election is predicted to be the most expensive ever, despite the fact that Hillary Clinton's team has been forecasted to raise more than $1 billion, Ryan said he has strong concerns that reining in campaign spending could have a "chilling effect" on free speech. If donors had to disclose their identities when they gave to charitable groups or some nonprofits, he fears that individuals could be retaliated against for expressing themselves politically.
"I see an attempt to infringe on First Amendment rights, to give some people more tools to harass citizens from participating in democracy and expressing themselves, and I don't think that is a good thing," Ryan said during a Christian Science Monitor breakfast Thursday morning.
Ryan said that if Americans put campaign spending "in perspective" compared to the cost of advertising other products, it does not seem as excessive.
"The last thing you want to do is knee-jerk, overreact, and put a chilling effect on free-speech rights," he said.
He said he opposes reestablishing public financing for presidential campaigns.
"The mistake would be to ask hardworking taxpayers to finance politicians' campaigns," he said.
Instead, Ryan proposed a textbook conservative solution. His argument is that shrinking the size of the federal government would reduce the amount of money that candidates would raise.
"Money is always going to follow power, so why don't we decentralize power out of Washington?" Ryan said. "Big government leads to a government that is corruptible or corrupt. So let's limit and restrict the power in government and send it back to the people in the states, so that we can decentralize power and decentralize the role of money on influencing public policy."
But in the meantime, he said that he and RNC Chairman Reince Priebus are preparing to ensure that whoever the Republican nominee is, he or she will have plenty of money to be competitive against Clinton.
"What I am trying to do with Reince is build a general-election campaign pre-nominee so it is already built by the time the person arrives in the nomination, so they can get kind of a turnkey operation to be competitive with Hillary, who is effectively an incumbent," Ryan said. "We see her getting a huge head start just like Obama had a massive head start on Mitt, so we are trying to do everything we can as a party to minimize that delta. "
But on the rest of the 2016 election, Ryan is staying mum.
"I don't really want to get involved day-to-day in the political-intrigue stuff," he said.
During the breakfast, Ryan declined to take swings against Sen. Marco Rubio, a Republican presidential candidate, over his tax plan that got a lot of conservative flack for expanding the child tax credit and not reducing the individual tax rate as much as some conservatives would have liked. He also dodged a chance to criticize Clinton for waiting to take a stand on the ongoing trade deal being negotiated between Congress and the White House. That deal is fraught with political land mines for Clinton, as it divides labor groups and the White House and has split Democrats on Capitol Hill.
"I am not going to tell Hillary Clinton what to do," Ryan said. "I don't think she'd listen anyway."
At the moment, Ryan says he is much happier in the background crunching numbers and helping the GOP lay out a policy vision for the future.
"The role I see myself playing is helping prepare for governing in 2017," he said. "Helping the party prepare an agenda to show the country in 2016, to run on in 2016 so that we can have a real choice-based election in 2016, so that we can have an affirming mandate election in 2016, so that we can govern in 2017, so we can fix this country's problems before they get out of control."