Outlook: Senators See Progress on Trafficking Bill, Lynch Nomination
Elsewhere, the House turns to cybersecurity—while President Obama meets a foreign dignitary and the New England Patriots.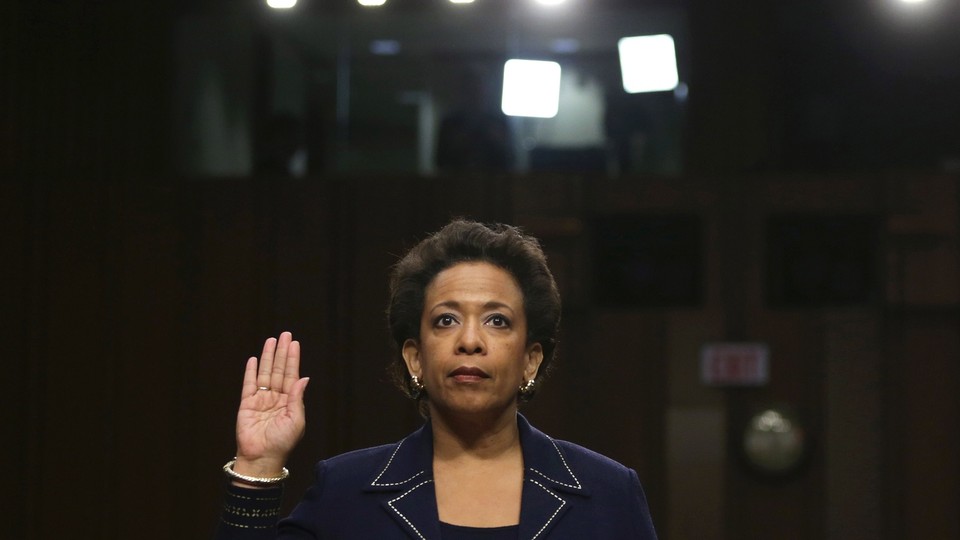 The Senate returns this week in much the same position they were last week: still stuck on its human-trafficking bill, still keeping Loretta Lynch's attorney-general nomination in limbo, and still reviewing Congress's review role in any U.S.-Iran nuclear deal.
But members say they're making progress—and that this week could be different. Democrats and Republicans said Thursday that they were getting closer to a deal on human-trafficking, the first domino in a row that would allow the Senate to take up the Lynch nomination later in the week.
Senate Majority Leader Mitch McConnell said in Thursday evening's wrap-up that he expected the trafficking bill, which has caused a rift between the two parties over abortion language, could be finished early this week. That would put Lynch's nomination on the calendar, after 23 weeks of waiting, as early as Wednesday.
Senate Minority Leader Harry Reid has plans of his own, threatening last week to engage in some tricky procedural maneuvers to force a vote on Lynch even earlier. But with two of Lynch's supporters, Sens. Jeff Flake and Lindsey Graham, saying they won't go along with Reid's plan, it looks likely to fail.
(RELATED: Key Pro-Lynch Republicans Reject Reid's Maneuver)
The Senate will turn later in the week to the Iran nuclear-deal approval legislation, cosponsored by Sens. Bob Corker and Robert Menendez. After some massaging by Corker and new Foreign Relations Committee ranking member Benjamin Cardin, the bill is now poised to pass the upper chamber with bipartisan support and the White House's stamp of approval.
House Majority Leader Kevin McCarthy has said that the House will take up the Iran legislation once it passes the Senate, but as that process plays out, the lower chamber will turn instead to a series of cybersecurity bills.
DEFENSE
With the Iran-deal approval bill expected to pass this week, the next question becomes whether opponents of the emerging U.S.-Iran deal can gather sufficient votes to override an expected presidential veto. Those conversations will begin in earnest after the approval legislation passes this week.
The House Foreign Affairs Committee will hold a full committee hearing on Wednesday morning titled, "Nuclear Agreement With Iran: We Can't Trust, Can We Verify?" that will include testimony from former Assistant Secretary of State Stephen G. Rademaker.
(RELATED: White House Mounts Massive Lobbying Campaign on Iran Deal)
With the Iran approval bill off its agenda, the Senate Foreign Relations Committee is turning this week to the State Department, holding two hearings on spending and budgetary requests for the department on Tuesday and Wednesday. Meanwhile, the Senate Armed Services Committee will hold a hearing on Tuesday with Defense Department officials to discuss counterterrorism policy and programs. In the House, several Armed Services subcommittees will hold markups on the National Defense Authorization Act, which is expected to see the floor next month.
TELECOMMUNICATIONS
The House is set to kick off "cyber week" with consideration of a number of proposals that would grant companies expanded liability protection if they choose to share certain "cyberthreat" data with the government. House Majority Leader Kevin McCarthy has indicated the chamber will vote individually on two separate information-sharing measures that passed the House Intelligence and House Homeland Security Committees. It is unclear how the two similar bills will be reconciled. The Senate may also take up consideration of its own information-sharing bill, though that will likely be shelved until the following week.
Members of the House Judiciary Committee are also poised to reintroduce the USA Freedom Act as soon as Tuesday. Sources close the negotiation say it will closely resemble a version of the bill that narrowly failed to advance in the lame-duck Senate last year. The Senate, meanwhile, appears likely to wait until the House votes on the measure, as Senate Judiciary Chairman Chuck Grassley has not yet thrown his support behind the bill.
ENERGY
The House Appropriations Committee will take up a $35.4 billion fiscal 2016 spending bill for the Energy Department, Army Corps of Engineers, and other agencies at a Wednesday hearing. The bill, which cleared the subcommittee last week, would boost spending on fossil-fuel development and continue funding the controversial Yucca Mountain nuclear-waste repository. It also includes a rider scaling back a proposed expansion of federal Clean Water Act authority.
(RELATED: Obama Heads To Marco Rubio's Backyard To Promote Climate Change)
On Thursday, House Republicans will take another swing in an ongoing attack against the administration's alleged attempts to rein in fracking, a controversial drilling technique. The House Science, Space, and Technology Committee holds a hearing in which Republicans are likely to slam freshly minted Interior Department regulations on fracking and talk up the economic benefits of the oil and gas boom.
The House Energy and Commerce Committee will also take another step toward crafting a large-scale bipartisan energy bill with a hearing Thursday on legislative language dealing with training and education for energy and manufacturing jobs.
FINANCE
Senate Finance Committee Chairman Orrin Hatch and ranking member Sen. Ron Wyden announced legislation for Trade Promotion Authority this week. Hatch said he'd like to have the markup for Trade Promotion Authority by next week, but some Democrats are worried they are trying to "fast-track" fast-track authority.
The House Ways and Means Committee's Subcommittee on Oversight will hold a hearing on Wednesday about the 2015 tax-filing season. The IRS commissioner has previously said budget cuts to the IRS have constrained the hiring of new employees.
(RELATED: How High are the One Percent's Taxes?)
HEALTH
Starting Tuesday, the National Food Policy Conference will explore dietary guidelines, local food and agriculture policy, and child nutrition. Republican Rep. Scott Perry will speak at a news conference on Wednesday about his proposed act to legalize medical marijuana, after 14 states have already done so.
And on Thursday, the Oversight and Investigations Subcommittee of the House Energy and Commerce Committee will bring in experts to discuss best treatment options and best practices for those suffering from opioid addiction and abuse.
WHITE HOUSE
President Obama's official schedule this week is full of visiting athletic champions and concludes with a big party—with a piece of policy pitching tucked in between. But that schedule also leaves him plenty of time to lobby members of Congress as he tries to win fast-track authority for trade deals. On Monday, he also will meet with Crown Prince Mohammed Bin Zayed Al Nahyan of the United Arab Emirates for a working lunch and discussions on the battle against extremism and the talks with Iran. In the afternoon, he will hold the first of three meetings with sports champions. He'll start with the college football champion, the Ohio State Buckeyes. On Tuesday, it will be Kevin Harvick, winner of the NASCAR Spring Cup Series championship. Then on Thursday, he'll host the Super Bowl champion, the New England Patriots. On Saturday, he'll conclude the week by attending the annual dinner of the White House Correspondents' Association.
In between the visits, Obama will take his climate-change message to a state already being affected by sea-level rise: Florida. Obama will address the issue from the Everglades, and get a response from the two GOP presidential hopefuls from Miami, Jeb Bush and Marco Rubio.
---
S.V. Dáte, George Condon, Eric Garcia, Daniel Newhauser, Caitlin Owens, Jason Plautz, and Dustin Volz contributed to this article