Obama on Baltimore: Violent Rioters 'Need to Be Treated as Criminals'
The president spoke Tuesday about protests and looting in the city following the funeral of a black man who died while in police custody.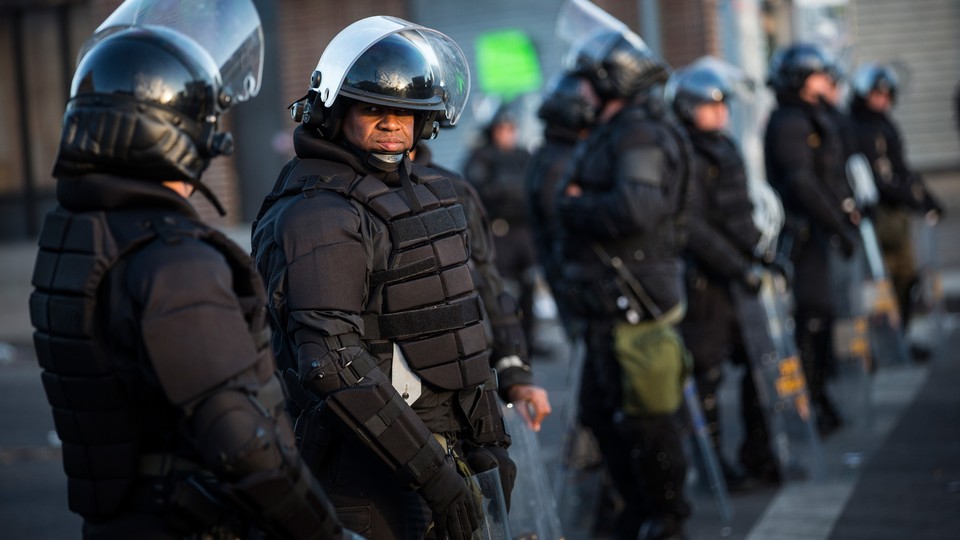 President Obama on Tuesday afternoon condemned the violence and looting in Baltimore after the funeral of a 25-year-old black man, who died this month after an encounter with city police officers.
In a lengthy, six-part answer to a reporter's query, Obama said looters are hurting businesses and opportunities in their own community.
"There's no excuse for the kind of violence we saw yesterday. It is counterproductive," Obama said. "When individuals get crowbars and start prying open doors to loot, they're not protesting. They're not making a statement. They're stealing. When they burn down a building, they're committing arson."
(RELATED: Photos of the Protests in Baltimore)
The president said that peaceful protests—which had been ongoing through much of the past week—"were focused on entirely legitimate concerns of these communities in Baltimore." Local and state law enforcement, however, should do what they need to do to quell the storm. "A handful of people [are] taking advantage of the situation for their own purposes, and they need to be treated as criminals," Obama said.
Obama's comments came during a press conference with Japanese Prime Minister Shinzo Abe, whose trip to Washington is centered on Japan's trade relationship with the United States. But their joint appearance was overshadowed by the tumult in Baltimore.
Riots began in Baltimore on Monday afternoon just hours after the funeral of Freddie Gray, who died April 19 after an encounter with city police officers. The events of that day are under investigation by the Justice Department, which launched a probe last week.
(RELATED: How Loretta Lynch's Justice Department Is Going to Act in Baltimore)
Obama said Tuesday that clashes between police and citizens were a result of a "slow-rolling crisis."
"This is not new," he said. "And we shouldn't pretend that it's new."
He said circumstances within disadvantaged communities could be improved if the nation considered them a priority. Some police departments and communities "have to do some soul-searching," he said.
"If we really want to solve the problem, if our society really wanted to solve the problem, we could. It would require everybody saying, 'This is important, this is significant,'" Obama said, "and that we don't just pay attention to these communities when a CVS burns. And we don't just pay attention when a young man gets shot."
(RELATED: Is the Police Brutality Debate Helping Republicans?)
Otherwise, the president said, "we'll go through the same cycles of periodic conflicts between the police and communities, and the occasional riots in the streets, and everybody will feign concern until it goes away and we go about our business as usual."
Obama cited the work of his Task Force on 21st Century Policing, which is developing proposals for local police to improve relations between officers and civilians. He also referenced federal grants that will be issued to police departments to try out new training and enforcement techniques, including the use of body cameras.
Late Monday, newly sworn-in Attorney General Loretta Lynch released her department's plan to mitigate the unrest. In one of her first acts as attorney general, Lynch briefed President Obama about the Baltimore situation as it stood. Obama also spoke with Baltimore Mayor Stephanie Rawlings-Blake and Maryland Gov. Larry Hogan, who declared a state of emergency within city limits and activated the National Guard on Monday night.
Nearly 200 guard troops are now on the ground and more are awaiting deployment, according to Hogan's office. Maryland state troopers and police officers from five Maryland counties also deployed to the city.
During a press conference Monday night, Rawlings-Blake issued a citywide curfew from 10 p.m. to 5 a.m. for a week, beginning Tuesday. Baltimore public schools also were closed for the day.
The first night after the protests escalated was tense. According to statistics released Tuesday morning by the mayor's office, there were nearly 200 arrests, 144 vehicle fires, and 15 building fires overnight. Nineteen police officers were injured.